While, the three phase election concluded for the 14 parliamentary constituencies of Assam April 23, the controversy surrounding allegations of manipulation of Electronic Voting Machine (EVM) refuses to die down. Trouble began at about 10.30 pm on April 28 when trucks loaded with a large number of EVMs and VVPAT machines were parked in Amingaon area under Julukbari Assembly Constituency in North Guwahati. The constituency is famous as it has been represented by BJP's Himanta Biswa Sarma, who is presently second highest ranking minister in Assam.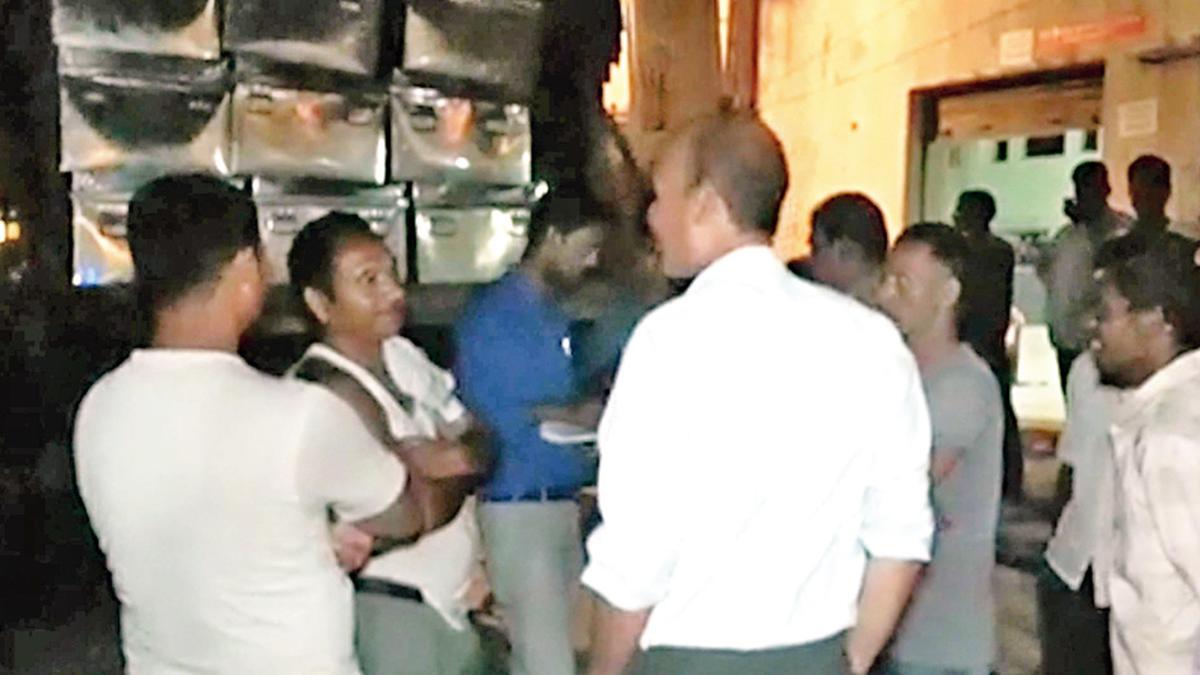 Unused EVM and VVPAT machines stacked in a truck at Amingaon in Guwahati on Sunday. Picture by UB Photos
When the EVM loaded trucks allegedly reached a private godown owned by a businessman said to be close to Sarma, the news spread like wildfire! Local people and media persons rushed to the Himmatsinka Workshop and found that the EVMs and VVPAT boxes were being secretly unloaded from the trucks.
As the godown was under the jurisdiction of Kamrup (Rural) District, the media persons tried to contact the Deputy Commissioner Kamal Kumar Baishya, who admitted that some unused EVMs have been transferred from Tezpur to North Guwahati as there no place to store those EVMs under Tezpur parliamentary constituency. This led to graver concerns given how there is a close contest between Congress and BJP in Tezpur parliamentary constituency. It may be mentioned that in Tezpur, which was went on poll on April 11, former IAS officer and Congress candidate MGVK Bhanu is in a face off against BJP candidate and state minister Pallav Lochan Das, who is close aid of Himanta Biswa Sharma.
In a letter addressed to Election Commission of India (ECI), the Assam Pradesh Congress Committee (APCC) has alleged that there has been suspicious storage of 'EVMs' sent from different districts of Assam near the Strong Room in North Guwahati's Amingaon. "It has been done only to manipulate and change the EVMs", said Durgda Das Boro, senior spokesperson of APCC. He also demanded immediate removal of the Deputy Commissioner of Kamrup (Rural) District Kamal Kumar Baishya alleging that he is close to Himanta Biswa Sharma. 
Speaking to Sabrang India, Kishore Kumar Bhattacharyya, General Secretary of Assam Pradesh Congress Committee said, "Kamal Kumar Baishya is most controversial person as he issued winning certificate to the defeated candidate of BJP, just three months back on the instruction of Himanta Biswa Sharma during the last Village Panchayat election." He further said, "Election Commission can't transfer either used or unused EVMs keeping political parties in the dark. It was a part of greater conspiracy on the behest of BJP."
The letter sent to Election Commission of India, the Congress has alleged, "around 10.35 pm on Sunday trucks laden with supposedly EVMs were brought to the Himatsingka Workshop, which is a private property, situated opposite to the DC Office, Kamrup (Rural)". As the area in which the EVMsare being stored comes under the jurisdiction of the DC, Kamrup (R), the party has also alleged the Kamal Kumar Baishya, ACS, who is also claimed to be close to Cabinet Minister Himanta Biswa Sarma, of being involved in the act.
Citing such discrepancies during election period, APCC has urged the CEO of the ECI, to look into the matter and take strict action against the defaulters.
Copy of the complaint may be read here: