In the last three years, under BJP rule at the Centre, the NPAs of the banks have tripled - from Rs. 2.3 lakh crores to Rs. 6.8 lakh crores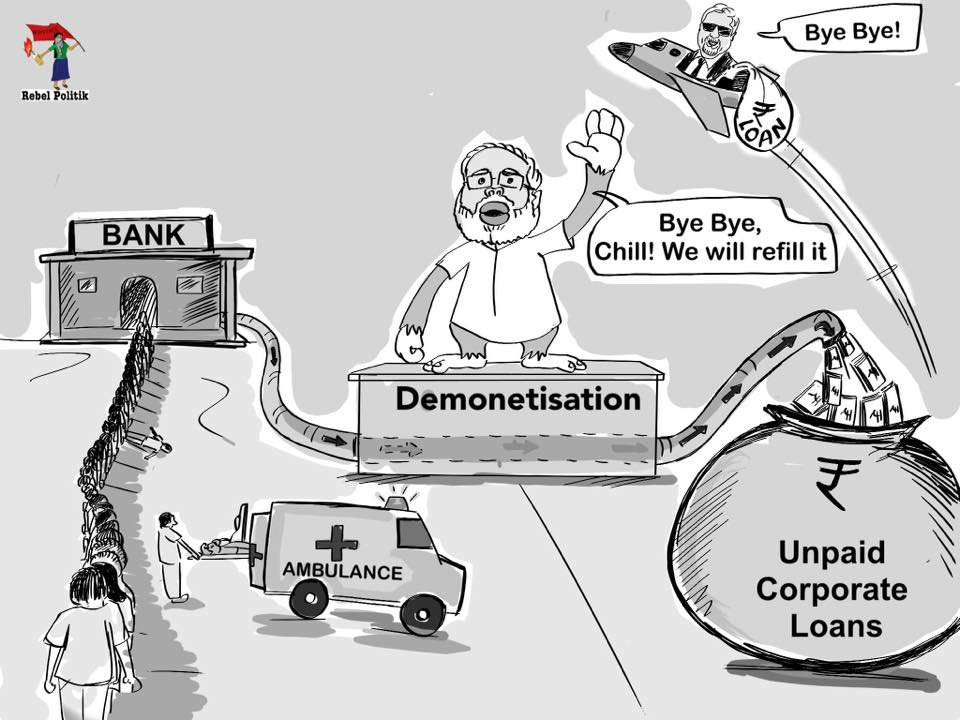 India's banking system, which was robust enough to withstand the financial crisis of 2008, is facing a crisis today. The banks, particularly the public sector ones, are burdened with huge amounts of non performing assets (NPAs), which are threatening the viability of the banking sector.
In the last three years, under BJP rule at the center, the NPAs of the banks have tripled - from Rs. 2.3 lakh crores to Rs. 6.8 lakh crores. Currently, the NPAs of public sector banks stand as high as 11% of their total advances.
Non-repayment of loans by some of India's biggest corporate houses is the major cause of this huge accumulation of NPAs. According to the chairman of Parliamentary Accounts Committee, K V Thomas, a handful of big corporate houses account for 70% of the NPAs of the banks.
The Finance Minister Mr. Arun Jaitly, tried to absolve himself and his government of all the blame, claiming that the NPAs are a legacy problem. According to him the loans that were given during UPA government have turned bad and are accumulating as NPAs today.
While it is true that the UPA government compelled the public sector banks to dole out loans worth lakhs of crores to a handful of corporates, the BJP government is not far behind. It is helping the same corporates in continuing to default on the repayments – with the aid of loan refinancing and restructuring schemes introduced by the Reserve Bank.
In the last three Modi years, public sector banks have been pressured to restructure bad loans (under various schemes of RBI) worth Rs. 3.5 lakh crores belonging to the corporate houses.. These restructuring deals simply meant that the companies get new loans to pay off their old loans, which they have already defaulted on. These schemes also involve changing the terms of payments in favour of the defaulting corporates.
The infamous case of Vijay Mallya defrauding the public sector banks, is all too well known. Less publicised are those of Modi's own crony capitalists. It is estimated that companies controlled by Adani, owe a debt of Rs. 72,000 crores mostly to public sector banks.
Since 2014, two power companies controlled by Adani's firms have been extended loan refinance worth Rs. 15,000 crore by the public sector banks. This was done when both the companies' earnings -before tax- were not even enough to cover the interest cost on the loans they have taken. In this sweetheart deal, the previous defaulted loans were replaced with new loans and loan repayment date was extended by one more decade. Additionally, a moratorium on interest payments was given for a considerable period, meaning that in this period these two firms need not pay even the interest amount.
Similarly, after Modi came to power, Mr. Mukesh Ambani's Reliance Gas Transport Infrastructure Ltd. (RGTIL), was given a loan refinance of Rs. 4,500 crores and an extension of payment period by more than a decade.           
According to Arun Jaitly, most of the NPAs and bad loans are due to projects in power, infrastructure, mining and steel sectors - which are owned by the large corporates like Reliance, Adani and Vedanta. Let us not forget, these are the same companies (remember Vedanta's land grab in Orissa), whose factories and plants were set up by grabbing thousands of acres of land belonging to famers and tribals.
These billionaire promoters and owners of the companies should have been compelled to transfer the shares (equity) of these companies, to the public sector banks, in lieu of the unpaid loans. Or, they should have been made to inject fresh capital in to the defaulting companies. Refinancing of the loans, extension of payment schedules and moratoriums on interest payments – without placing any responsibility on those who control the companies are bound to bring even heavier losses to the banks in the coming days.
The government seems to think that Mukesh Ambani, with net worth of more than Rs. 1.5 lakh crore rupees needs assistance in paying back the loans of his companies, while the farmers of this country are given no recourse after severe droughts and crop losses. Desperate after years of draught, farmers from Tamil Nadu and elsewhere have been agitating for months for loan waivers. Their appeals to the central government have fallen on deaf ears. Modi government steadfastly refused to provide any assistance to the debt ridden farmers. Are the farmer's making ridiculous demands? Consider this – The entire amount of crop loans in India is worth Rs. 75,000 crore, while Mr. Adani's firms alone owes Rs. 72,000 crores to the banking system. Adani gets a generous restructuring on the defaulted loans, while the farmers get tough love.
While the corporates are being given a free pass, Mr. Modi's pets in RBI are baying for the blood of public sector banks. Recently, RBI's deputy chairman Viral Aacharya suggested that the solution to the NPA crisis is re-privatisation of some of the public sector banks and some divestment of government's stake in others, in favour of private players. RBI Chairman, Mr. Urjit Patel was not far behind, with suggestion that small banks afflicted with NPA problems should be allowed to perish naturally. The RBI satraps seem to be forgetting that it is the bulwark of public sector banks that protected India's financial system from the crisis of 2008.
For Mr. Modi it is not enough, that Indian corporates have defrauded banks of the public money, they are now being offered the ownership of these banks.
Concession after concession given to corporates is what marks Mr. Modi's 3 years at the helm and there is no indication of change in course away from this. Mr. Modi is making sure that those whose money purses have brought him power are going to stay safe and sound from the consequences of their own financial and business follies. Now that he has passed a law allowing corporates to make anonymous donations to political parties, grateful corporates will no doubt be flooding him with gratitude funds for his never ending election campaigns.
Courtesy:
Newsclick