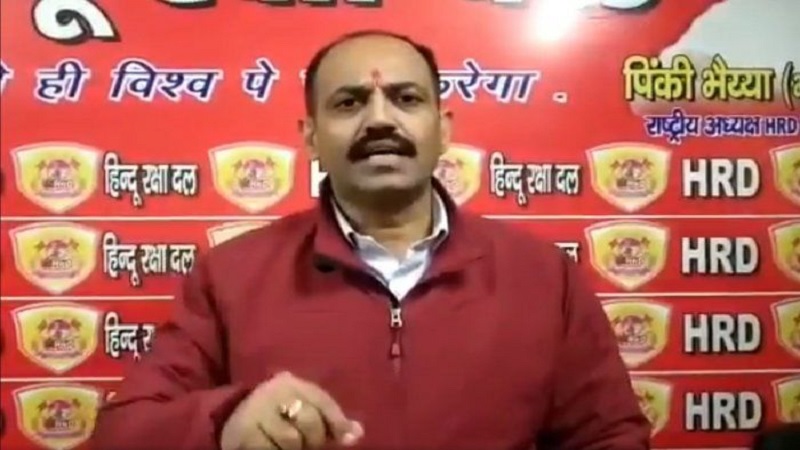 Image Courtesy:livelaw.in
A Sessions Court in Delhi denied pre-arrest bail to Hindu Raksha Dal President Pinky Chaudhary who was involved in communal sloganeering at Jantar Mantar. No surprises that Chaudhary, a fringe group leader, who has been involved in hate speech earlier as well however, has always enjoyed the impunity of law. Even if a case is registered against him, he is either not arrested or is released after arrest. The denial of pre-arrest bail to him in this case is important considering the observations made therein by the Sessions Judge, however, it's too soon to hail it.
The Magistrate court, Delhi has already denied bail to other accused in the case, Deepak Singh, Preet Singh and Vinod Sharma, who have been booked for hate speech. The three allegedly called for the slaughter of Muslims on August 8 as part of a rally organised by Supreme Court lawyer Ashwini Upadhyay under the "Bharat Jodo Movement" against colonial-era laws in the country.
In an area that is supposedly a high security zone, just a few kilometres from the Parliament, slogans like "Jab M***e Kate Jaenge, Ram Ram Chillaayenge" were chanted that have been recorded and widely circulated online. The Delhi Police had filed an FIR in the matter against "unknown persons" and subsequently arrested Ashwini Upadhyay and five others (including Preet, Vinod and Deepak).
Deepak Singh, is said to be president of an outfit called Hindu Force, and Vinod Sharma heads an outfit called Sudarshan Vahini.
Pinky Chaudhary's bail application
The counsel for Chaudhary submitted that he did not organise the event, was not present at any protest and that he had not made any hate speech. All offences against him are bailable except the charge under section 153A (Promoting enmity between different groups on grounds of religion, race, place of birth, residence, language, etc., and doing acts prejudicial to maintenance of harmony) of IPC. The counsel called into question the authenticity of the incriminating video but for the sake of argument stated that when read as a whole, no offence was made out under section 153A of IPC. He further argued that the right of freedom of speech was indefeasible and that it was not deliberate or intentional on the part of the applicant to incite any hatred or violence.
The Additional Public Prosecutor, SK Kain opposed the bail and submitted that the video clippings showed that hateful slogans were passed against a particular religion by the applicant. He further argued that recovery of mobile phone and other articles was still to be done and one of the accused is still absconding and if released, he may create unruly situation which will be prejudicial to public tranquility.
The Additional Sessions Judge, Anil Antil, after perusing the video and its transcript observed that the applicant's interview is "impregnated with high octane communal barbs, laced with inflammatory, insulting and threatening gestures, ex facie indicative of the calculative design on the part of the applicant to promote hatred and ill will amongst other section of the community".
The court said that freedom of speech is the most cherished natural right, but is not unfettered nor is it absolute. The court stated that the right cannot be extended to acts prejudicial to maintenance of peace, harmony and public order and not can it be permitted to invade erode the secular fabric of our society. "In the garb of libertarian concept of free speech, the applicant cannot be allowed to trample the constitutional principles which promote inclusiveness and common brotherhood," the court said.
The court further said, "We are not a Taliban state. Rule of law is the sacrosanct governing principle in our plural and multi-cultural society. While the whole of India is celebrating Azadi ka Amrut Mahotsav, there are some minds still chained with intolerant and self centric beliefs".
The court held that the applicant's complicity in the alleged crime is prima facie apparent from the material before the court, and that the allegations are serious and the offence alleged is severe. "History is not immune where such incidents have flared communal tensions leading to riots and causing loss to life and property of general public," the court observed.
The court also pointed out that the investigation is at nascent stage and persons acquainted with the facts of the case are yet to be identified, also entire incriminating material is yet to be seized. The court also noted that Chaudhary is the president of Hindu Raksha Dal and "taking note of the tone and tenure of the speech and the threatening words used therein via the alleged interview and analyzed in the backdrop of his stature and influence exerted, there is strong possibility, if released on bail, at this stage, the applicant shall hamper the investigation and shall influence and/or threaten the witnesses".
The court said that keeping in mind these observations, custodial interrogation will serve the best interest of justice to unearth the entire conspiracy and hence the court was not inclined to grant pre-arrest bail and thus disposed the application accordingly.
The Delhi court order may be read here:
Who is Pinky Chaudhary
Pinky Chaudhary also known as Bhupinder Tomar, is the President of Hindu Raksha Dal. His infamy stems from the many communal incidents he has been involved in and brazenly owned to making such statements as well. Chaudhary is a former member of Bajrang Dal
For instance, in January 2020, Chaudhary had owned up to the attack on JNU campus, in a video he posted on twitter. "JNU is a hub of communists and we won't tolerate this. They abuse our religion and our country. Their attitude towards our religion is anti-national. In future, too, we will take the same action in other universities if someone tries to indulge in anti-national activities," he says in the video. In the attack on JNU, a masked group of people entered the JNU campus and vandalised the property with several students and teachers getting injured in the attack.
Hindu Raksha Dal was formed in July 2013 by Chaudhary, and has more than 1 lakh registered members, mainly in Delhi-NCR. Sanket Katara, the spokesperson told The Print that Hindu Raksha Dal fights against "love jihad", works towards gau raksha (cow protection) and other "Hindu issues".
In April, an FIR was lodged against Chaudhary for announcing reward of Rs. 51,000 for anyone who brings him Aam Aadmi Party MLA Amanatullah Khan's head. He had made this declaration in a Facebook live session.
Fringe outfit leaders and the law
While the Delhi Court rightly pointed to the egregious slogans raised by the men and refused to grant pre-arrest bail for hate speech, this brings to memory an incident of 2014 where a Muslim youth was killed and the mastermind of the incident, a Hindutva fringe outfit leader was granted bail in 2019 by the Bombay High Court. In June 2014 Mohsin Sadik and his brother on their way to offer namaz were assaulted by a group of men and motorcycles blurting communal slurs at them. They were assaulted with hockey sticks and Mohsin who was hit with a cement block succumbed to his injuries. The accused, Dhananjay Desai, founder President of Hindu Rashtra Sena had 17 cases under section 153A of IPC against him yet no coercive action was taken against him.
While chasing the victim and other Muslim men, the members of Hindu Rastra Sena were raising slogan such as "Dhananjay Zindabad", and "Hindu Rashtra Sena Zindabad".
A precursor to this incident was a hate speech made by Desai at a public meeting inciting feelings of hatred in the minds of Hindus against Muslims and urging people to wage a war against Muslims. He was thus, denied bail. After filing of chargesheet an application to discharge him was filed which was rejected by a Sessions Court in Pune, in June 2016. In December 2017, the Bombay High Court stayed the trial against Desai while admitting his revision application against the denial of discharge order. Since the trial was stayed against him and since 20 other accused in the case who were directly involved in the murder were already on bail, the court granted bail to Desai. At the time of granting bail, the single-judge bench of Justice SS Jadhav had imposed restrictions and taken an undertaking from Desai that he will not involve himself in any political activities for Hindu Rashtra Sena or otherwise and will not deliver public speeches until trial is completed. The chargesheet had stated that the accused had executed the attack on the behest of Desai.
Soon after his release, though, his followers carried out a processions and celebrated his release from jail. The Yerwada police booked him and his followers under several non-bailable sections of rioting and unlawful assembly but no arrests were made, reported The Wire.
The Bombay High Court order may be read here:
A careful reading of the Bombay High Court order granting bail indicates that bail was granted because trial was stayed. However, the exact reason for granting bail was not explicitly stated in the bail order. The reasons for which he was denied bail before the filing of chargesheet were not really taken into consideration, merely mentioned in the order. Desai was charged for inciting and being the mastermind behind the attack against Muslim youth in the bylanes of Pune, resulting in the death of Mohsin Sadik. In Delhi, Pinky Chaudhary has been denied bail for his inflammatory speeches against the Muslim community. Both, Desai and Chaudhary are leaders of hindu right wing fringe outfits that portray themselves as protectors of Hindutva and indulge in "cow vigilantism" and crusade against the whimsical phenomena of "love jihad". While it's too early to say for the case of Chaudhary and other accused who have been denied bail so far, whether or not they will be dealt with a free hand as the case progresses, only time will tell. It is too early to draw a comparison between Desai's case and Chaudhary' case, both of whom have had a fare share of hate speech and communal stirrings attributable to them. Both of them have largely stayed away from arrests due to their hardline positions. When Desai was jailed, Congress government was ruling in Maharashtra, yet the case did not gain much traction and the Mohsin's family still awaits justice in the case.
Naturally, unless political parties take a stand against hate speech and targeting of minority communities, mostly Muslims, at least in states where non-BJP parties are ruling, the fight against hate speech will remain limited to human rights and other civil society organisations raising their voices against them.
Related:
Delhi Court rejects bail pleas of three accused in the anti-Muslim sloganeering in Jantar Mantar rally
Jantar Mantar rally: BJP leader, SC lawyer Ashwini Upadhyay among six arrested
Anti-Muslim hate speech at Delhi rally calls for communal violence