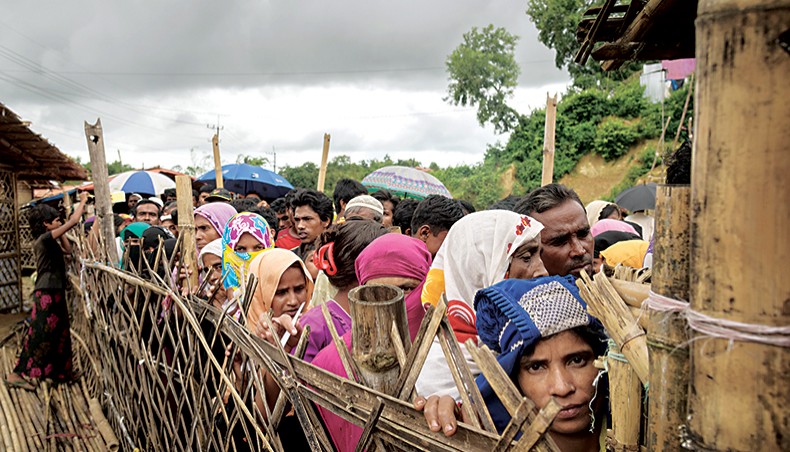 Dhaka: Nearly six years after the Rohingya refugee crisis shook the world's conscience, and with neighbouring countries responding to the humanitarian crisis, for the first time the WFP is forced to cut back its lifesaving assistance for all Rohingya living in the camps in Cox's Bazar, Bangladesh. Starting 1 March, WFP will have to reduce its General Food Assistance voucher value from US$12 to US$10 per person per month, due to a US$125 million funding shortfall says a press note of the organisation.
"This is a devastating blow to the Rohingya and an equally devastating blow to the humanitarian community," said Domenico Scalpelli, WFP Country Director in Bangladesh. "With other critical services already dwindling, the repercussions of the ration cut – even if just two dollars – will be dire."
Unlike other vulnerable groups, the Rohingya have limited employment opportunities in the camps, relying almost entirely on humanitarian assistance to meet their food and other essential needs. Bangladesh has been barely allowing them residence, that too in questionable conditions in segregated camps.
So far, with the support of donors and partners, WFP has been providing food, nutrition and other critical assistance to Rohingya men, women and children since their exodus from Myanmar in 2017.
Today all Rohingya – nearly 1 million of them – receive food assistance via vouchers currently valued at US$12 per person per month. Families can choose from over 40 dry and fresh food items at WFP outlets throughout the camps.
Despite these concerted humanitarian efforts, 45 percent of Rohingya families are not eating a sufficient diet and malnutrition has been widespread in the camps. The Global Acute Malnutrition rate for children stands at 12 percent – just below the 15 percent WHO 'Emergency' threshold but still categorized as 'Serious'. Some 40 percent of children have stunted growth and 40 percent of pregnant and breastfeeding women are anaemic – all this is before the ration cut.
"With each ration cut, malnutrition will certainly rise. With each ration cut, families will increasingly resort to dangerous strategies to cope. Sadly, women, adolescent girls and children will be the worst affected. We must do everything possible to keep the vital humanitarian assistance they depend on intact," said Scalpelli.
Without an immediate funding boost, further ration cuts to the blanket food assistance programme are also imminent into the year.
The UN's WFP is the world's largest humanitarian organization saving lives in emergencies and using food distribution in conflict-ridden societies as a way to build a pathway to peace, stability and prosperity for people recovering from these conflicts, disasters and the impact of climate change.
2017: Draconian treatment of Rohingyas in Myanmar
Human Rights Watch (HRW) had in December 2017 said that analysis of satellite images has found that Rohingya villages have been further destroyed in Myanmar's Rakhine state during October and November. HRW said it has pinpointed 40 villages "with building destruction," making the number of villages "that have been partially or completely destroyed" 354 since August 25, 2017. HRW said satellite images verify that several dozen buildings were burned in the same week as November 23, when Myanmar and Bangladesh signed a Memorandum of Understanding for the repatriation of refugees in Bangladesh. According to HRW, at least 118 of the 354 villages that were impacted were partly or completely destroyed after September 5, which Myanmar's State Counsellor's office said was the date when "clearance operations" ended.
Background: Hate Speech & Rohingyas
Rohongyas, largely because they are economically deprived and Muslim have been at the brunt of not just physical exclusion and hunger as also the butt and target of hate speech, worldwide. In December 2021, Rohingya refugees from Myanmar have sued Meta Platforms Inc, (formerly and still better known as Facebook) for a staggering $150 billion. The community has alleged that the social media giant "did not take action against anti-Rohingya hate speech that contributed to violence." According to a Reuters report, a class-action complaint was "filed in California on Monday by law firms Edelson PC and Fields PLLC." It argues that the company's failures to curb hate content as well "its platform's design" have contributed to the on ground violence the Rohingya community has been facing. Reuters added that "in a coordinated action, British lawyers also submitted a letter of notice to Facebook's London office".
In response, Meta issued a statement: "We're appalled by the crimes committed against the Rohingya people in Myanmar. We've built a dedicated team of Burmese speakers, banned the Tatmadaw (Myanmar military), disrupted networks manipulating public debate and taken action on harmful misinformation to help keep people safe. We've also invested in Burmese-language technology to reduce the prevalence of violating content."
According to a BBC report, around 10,000 Rohingya Muslims were killed during a military crackdown in Buddhist-majority Myanmar in 2017. In the UK, the British law firm representing some of the refugees has written to Facebook, which the BBC reported, alleges that "Facebook's algorithms "amplified hate speech against the Rohingya people; the firm "failed to invest" in moderators and fact checkers who knew about the political situation in Myanmar; the company failed to take down posts or delete accounts that incited violence against Rohingya; failed to "take appropriate and timely action", despite warnings from charities and the media.
The report added that the US lawyers filed a legal complaint against Facebook in San Francisco, accusing it of being "willing to trade the lives of the Rohingya people for better market penetration in a small country in Southeast Asia." Facebook posts that were featured in the Reuters investigation were cited in the complaint. A sample of one such post from 2013 stated: "We must fight them the way Hitler did the Jews." The reported cited another dangerously anti-Muslim hate-mongering post that said: "Pour fuel and set fire so that they can meet Allah faster."
According to the BBC news report, Facebook, which has more than 20 million users in Myanmar, had admitted in 2018 that it had not done enough to prevent the incitement of violence and hate speech against Rohingyas. An independent report, commissioned by Facebook, had reportedly said the platform created an "enabling environment" for the proliferation of human rights abuse. Over the years, thousands have been killed, and many Rohingyas have been forced to flee the country. The BBC recalled that in 2018, the UN accused Facebook of being "slow and ineffective" in its response to the spread of hatred online. According to the news report, "Under US law, Facebook is largely protected from liability over content posted by its users. But the new lawsuit argues the law of Myanmar – which has no such protections – should prevail in the case."
UN points to Genocidal Intent since 2017
The United Nations has been pointing to the genocidal intent behind the forced expulsion of Myanmar's Rohingyas since 2017, to little avail. Denied citizenship status and classified as illegal immigrants, Rohingya Muslims have been the target of repeated violence with state connivance in Buddhist-majority Myanmar. The continuing persecution has forced the Rohingyas to flee and seek refuge in neighbouring Bangladesh, Malaysia, Indonesia. From Bangladesh, an estimated 40,000 Rohingyas have sought shelter in India. An approximate 40,000 or so such refugees are lodged in India but constantly face vilification and physical threat with the elections, twice over a rigid, far right regime at the centre headed by the Bharatiya Janata Party (BJP).
Vilification in India
A good example is the propaganda unleashed against them y high officials of the union government. The government even informed the Lok Sabha today, on August 10, 2021 that some Rohingya migrants have been "indulging in illegal activities, without specifying the said reports or the kind of alleged illegal activity." This despite the fact that during the crisis in India's capital with mass deaths, it was Rohingya refugees among dozens of good Samaritans who assisted in timely aid even cremations. The Minister of State in the Home Ministry, Nityanand Rai added that all foreign nationals who enter into the country without valid travel documents are treated as illegal migrants. His answer read, "There are reports about some Rohingya migrants indulging in illegal activities."
Rohingyas have been facing discrimination, violence, fear of persecution in their home state of Myanmar, which is a Buddhist majority country, forcing them to flee. Known as one of the world's most persecuted ethnic groups, almost 40,000 Rohingya refugees are scattered across different Indian states at present, out of which only 16,500 are reportedly registered with the United Nations High Commissioner for Refugees (UNHCR).
According to a report in Voice of America News, Hussain Ahmad, a Rohingya rights activist based on Cox's Bazar, Bangladesh, has stated that the Rohingya refugees are being unfairly harassed by the Indian authorities. He said, "Indian police are asking for travel documents from these refugees who are on the run, scared of their lives. How will the stateless Rohingya refugees be able to produce Burmese passports or Indian visas?"
VoA News also quoted Meenakshi Ganguly, South Asia director of Human Rights Watch saying, "India knows well that the Rohingya are one of the most persecuted communities in the world. Nearly a million are refugees in Bangladesh. A few that have arrived in India need to be protected and not persecuted again. This is a responsibility of the Indian authorities under the refugees convention as well… For political reasons we find that the Rohingya are being targeted largely because the Hindu nationalist government….tends to persecute all Muslims, including Rohingya refugees."
The recent Citizenship Amendment Act, 2019 also does not provide any relief to Rohingya Muslims who have fled from Myanmar over the years, rendering them stateless.
In India, providing some succour to these refugees is a man from Kerala. Citizens for Justice and Peace had interviewed him in 2018.
Related:
40 Rohingya villages burned since October: HRW
A Ray of Hope for all Refugee Communities in India
"Genocidal intent" in Human Rights violations committed against Rohingya in Myanmar: UN
UN chief concerned over India's plan to deport Rohingya Muslims
40 Rohingya villages burned since October: HRW