In a development that has been largely been left un-reported,
and a move that will undoubtedly
dent the saffron combine, RSS' Dalit ideologue from Gujarat, has, after expressing a sense of discontent for months,
finally deserted the RSS as well as the BJP.
The 64-year old finally called it quits through letters sent to both organisations, the BJP and the RSS, asking them to relieve him from all his duties. Navbharat Times and Ahmedabad Mirror reported this and even went on record to say that he was compelled to quit as he felt that both organisations are no longer interested in narrowing the rift between Dalits and other Hindu communities. In a sharp reference to the RSS/BJP hypocrisy, he stated that the party's 'Samrasata' is nothing but 'Karmakand' (a ritual), something they talk much about, but don't value or implement.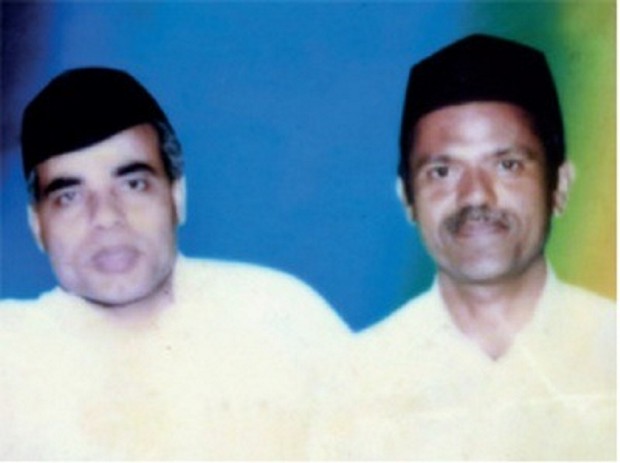 NBT file photo:
फाइल फोटो: 1993 में नरेंद्र मोदी के साथ मूलचंद राणा
Rana has been vice-president of Samajik Samrasata Manch of Gujarat, an RSS wing of Social Unity, since 2006. The ideologues spoke at length to the Mirror after his resignation from both organisations. He expressed his pain at the move: "I did it with a heavy heart. For the past couple of years, I have been telling both RSS and BJP units of Gujarat that the rift between Dalits and other Hindu communities is widening. The importance of Dalits in BJP and RSS has been dropping over past 10 years. But in past five years, the rift between Dalits and other communities has widened so much that it has led to an increase in cases of atrocities.  
In 2016, after the infamous Una incident in Gujarat, Dalit leadership all over the country had expressed discomfort with the BJP/Sangh's anti-Dalit moves. The death of Rohith Vemula and his treatment as that of his mother and colleagues was no better.  
Then too in Gujarat, Mulchand had admitted that Dalits have united against BJP and its ideologues."This has harmed BJP's image and the RSS's initiative towards equality ." The party's Dalit leader in Porbandar, Babu Pandvadra, quit the party with over 200 supporters weeks after the Una violence. For over two years now, Dalit and other activists have been openly questioning Modi's 2014 poll plank of the `Gujarat model'. "Fact remains Gujarat's development model never included Dalits.Most eke out a living as daily wagers and labour," says Kaushik Parmar of the Una Dalit Atyachar Ladat Samiti, that was spearheading the state's antiBJP Dalit stir.
In the 2014 Lok Sabha polls, UP was the feather in PM Modi's cap, where the Dalit vote swung in his favour. "We voted for Yogiji (Gorakhpur MP Yogi Adityanath)." Then a cynical split vote in 2017 (SP-Congress and BSP) denied the Dalits their anger against the saffron establishment. At 32%, Punjab has the country's largest population share of Dalits clearly voted away from the saffron combine.
Coming back to Rana and Gujarat, Mirror reports that Rana joined the RSS in 1970 when he started attending the Bapunagar Shakha. Though he came from a poor Dalit family in Bapunagar, he became a bank officer through sheer hard work. In 1998, he was appointed as secretary in BJP SC Morcha. Looking at his good work, he was asked to resign from his bank job and devote time to RSS and BJP full-time. In 2000, he was appointed as member of Gujarat Public Service Commission where he worked for six years. After his term was over in 2006, he actively started his work with RSS Samrasata Manch which he continued till he resigned on December 26, 2017. The Navbharat Times has a file photo of Narendra Modi and Rana.  
One of his biggest disappointments has been that Rana has been trying hard to get Gujarat to implement the Special Component Plan for Scheduled Plan (SCP for SCs) and Tribal Sub-Plan (TSP) for uplift of Dalits and tribals. As per SCP for SCs, 7% of the State budget must allotted to Dalit welfare, and as per TSP, 15% of the budget must be given to tribals.