A Doordarshan cameraman and two policemen were killed in an alleged Maoist ambush in Dantewada, Chattisgarh on Tuesday. A Ranchi based Hindi journalist was beaten to death in Jharkhand on the same day.
Journalists continue to face violence and risk of death in India where media professionals are regularly censored through violence. A Doordarshan cameraman and two policemen were killed in an alleged Maoist ambush in Dantewada, Chattisgarh on Tuesday. A Ranchi based Hindi journalist was beaten to death in Jharkhand on the same day.  
Video journalist Achyutanand Sahu,34, was part of a three-member team of Doordarshan travelling for election-related coverage. He hailed from Odisha. They were caught in the cross-fire between security personnel and suspected Maoists. Two police officers, Sub-Inspector Rudra Pratap and Assistant Constable Mangalu, were also killed. Two police personnel were injured, while the other journalists with Sahu are safe, PTI reported.  
Deputy Inspector General of Police P. Sundarraj said that the police personnel and the media crew were moving from Aranpur police station to Nilaway village in vehicles when they were attacked.  
The injured police personnel are Vishnu Netam and Rakesh Kaushal.  
Mormukut Sharma, the assistant cameraperson who survived the attack, had recorded a message for his mother when he was caught in the crossfire.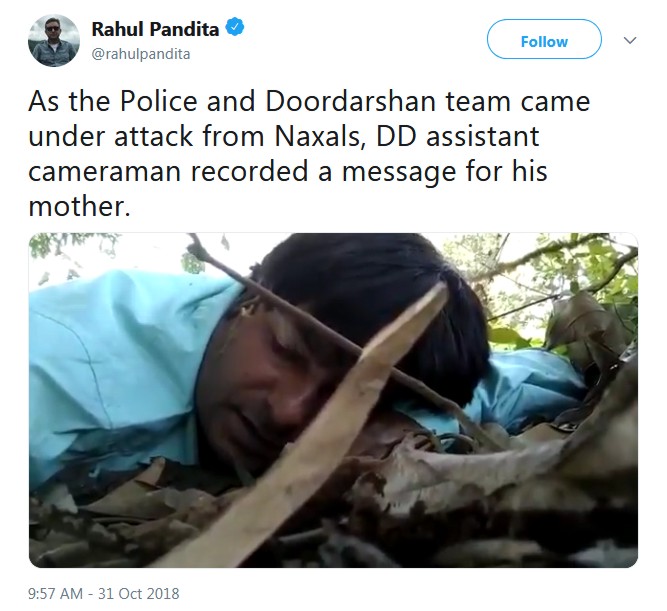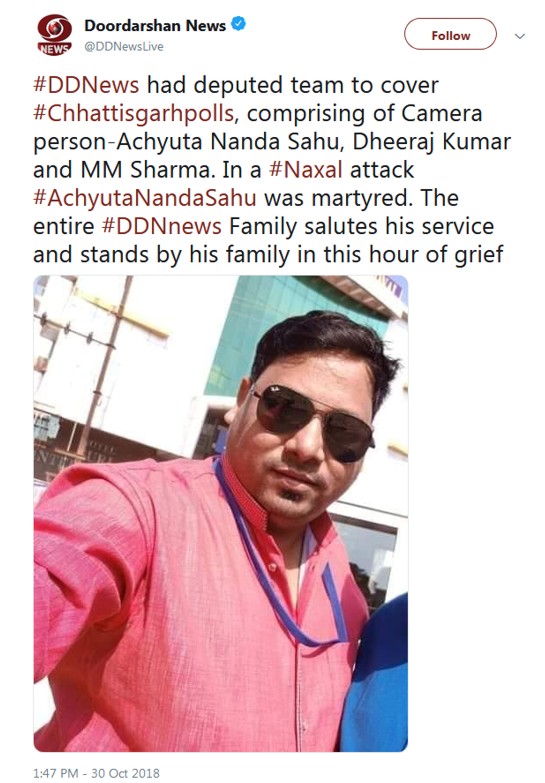 The Editors Guild of India condemned the attack and demanded security for media professionals covering elections in the state.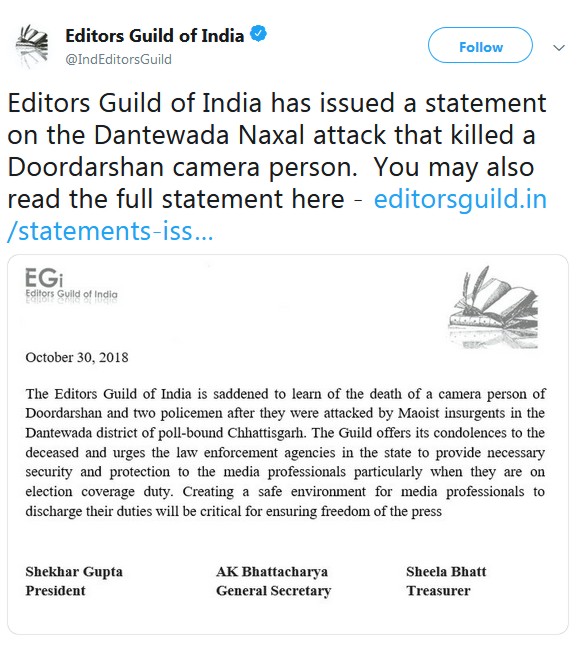 On Saturday, the Maoists had allegedly fired on a contingent of Central Reserve Police Force in Bijapur district, killing four troopers on a day when Chief Minister Raman Singh kicked off the ruling BJP's election campaign for Assembly elections.  
In a statement, the Chhattisgarh police said the incident was not related to elections and the Maoists ambushed a squad of local police which was carrying out patrol on motor-cycles from Sameli CRPF camp (about 6-7 km away). "The attack was on the security forces and it was unfortunate that the cameraman of DD News was caught in the crossfire. The media persons were not the target and this has nothing to do with elections," DIG Sundarraj P.
told
The Hindu.  
He said that the attack was aimed at discouraging men and contractors working on a road construction project. "I would like to clarify once again that these two incidents - one which took place this morning and another which took place three days back - do not have any direct or indirect connection with the ensuing elections in the State."
D.M.Awasthi, Special Director General, Chhattisgarh police, added that road construction work was on at several places across the Naxal-affected areas over the last three years.  
Jharkhand journalist beaten to death
A journalist of a Ranchi-based Hindi daily who had been facing threats was beaten to death in Jharkhand's Chatra district. The police said that Chandan Tiwary, who worked for the Aaj, was abducted on Monday night from Pathhalgada, police said. He was found in the Balthar forest on Tuesday in a badly wounded condition. He succumbed to his injuries in a hospital.  
"Our correspondent has been brutally killed," the newspaper's Resident Editor Amit Kumar Agarwal told IANS.  
"Tiwary had filed a complaint in April regarding threats to his life. But he was not provided with any security," Agarwal said.   
"Our reporters have handed over a memorandum to the Deputy Commissioner of Chatra seeking a CBI probe. It is the duty of the government to provide security to journalists. We also demand compensation to the family," Agarwal added.  
"Police have registered an FIR on the basis of a complaint lodged by the victim's father against Prashant, the leader of Tritiya Prastuti Committee (TPC), a Maoist splinter group, besides another person with whom the journalist is alleged to have been involved in a fight. Investigations have revealed that Tiwari had filed at least two police complaints in the last six-and-a-half-months," a
report
by The Indian Express said.  
"The first one was filed more than six months ago against a mukhiya and another person, alleging threat over a report. About two months ago, he had filed another application alleging that TPC operatives were threatening him, apparently for taking a stand against them. The victim's father… has also named a person with whom Tiwari apparently got into an altercation last night," said DIG (Hazaribagh) Pankaj Kamboj.   
In 2016, another journalist of a Hindi daily was shot dead in Chatra.  
Reporter attacked with pellet guns in Kashmir
Aijaz Dar, a resident of Shopian, who working with Zee News, was injured in a cordon and search operation (CASO) in Meemandar a village South Kashmir's Shopian district.  
CASO was launched soon after the militants attacked the patrolling party in the area. Clashes erupted in the area soon after forces launched CASO.  
Speaking to NewsClick Aijaz
said
, "Me and my friend, who is also a journalist, went to cover the incident. When we reached the spot, a cop at a distance pointed the pellet gun towards us. We raised our hands and shouted 'we are from the press' but they targeted us with pellets."  
Aijaz was shifted to the hospital for the treatment where the doctor found four pellets in his head and a few in his shoulder.  
For the past two years, India has ranked among the countries with the highest number of journalist deaths. In 2016, the International Federation of Journalists listed India as the eighth most dangerous country for journalists.