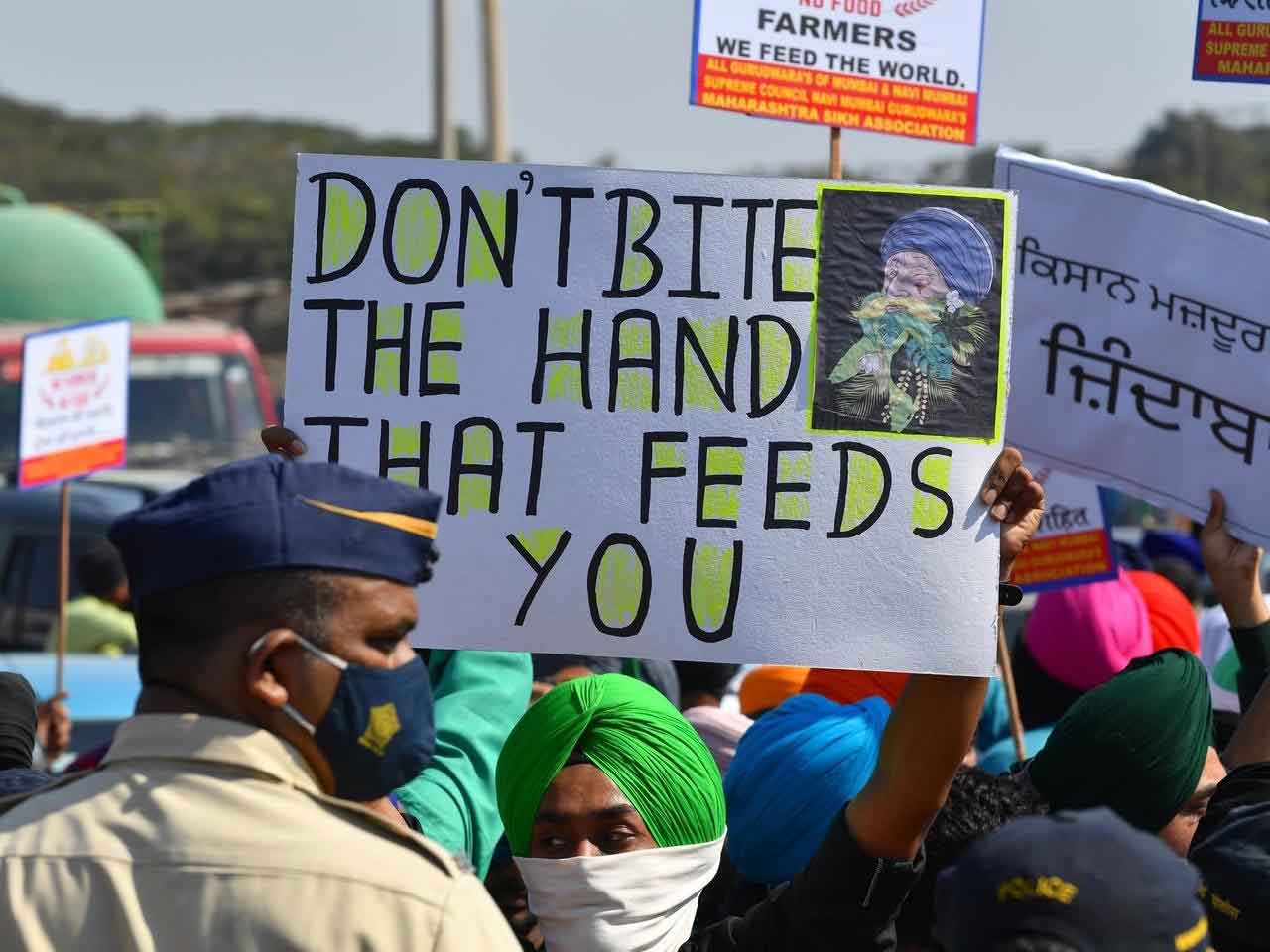 Image courtesy: AFP

"Adopt mechanisms to make remunerative MSP [Minimum Support Price] into a legally guaranteed entitlement for all farmers and all agricultural commodities" is one of the major demands by farmers' organisations during almost all of the eight meetings with central government officials.
Yet, Union Minister Nitin Gadkari, on January 3, 2021 said, "The core problem is surplus food and MSP higher than open markets," inviting the condemnation of many farmer leaders.
The farmers' groups reminded the government that "India is listed at 94 out of 107 countries [out of the Global Hunger Index] and has slipped every year under Modi rule" and went on to point out this fact nearly every day thereafter.
But what is the Global Hunger Index?
According to the Global Hunger Index website, the GHI is a tool to comprehensively measure and track hunger at global, regional, and national levels. Using the four indicators of undernourishment, child wasting, child stunting and child mortality, the GHI score is calculated annually to assess countries' progress and setbacks with regards to hunger.
The GHI helps to understand and compare the progress of different countries within the same year albeit officials who make the report discourage comparing two different annual reports. However, even the recent GHI 2020 report has revealed some worrying facts for India.
GHI 2020 report
The '2020 Global Hunger Index: One Decade to Zero Hunger' places India at rank 94 with a score of 27.2 points, well below its neighbors Nepal, Bangladesh, Pakistan and Sri Lanka.
Data specific to Bangladesh, India, Nepal, and Pakistan showed that from 1991 to 2014 stunting was concentrated among children from households facing multiple forms of deprivation, including poor dietary diversity, low levels of maternal education, and household poverty.
India, the most populous country among the listed South Asian countries, experienced a decline in under-five mortality in this period, largely because of decreases in deaths from birth asphyxia or trauma, neonatal infections, pneumonia, and diarrhoea.
However, child mortality caused by prematurity and low birthweight increased, particularly in poorer states and rural areas. To prevent this, the report recommended focusing on actions such as better nutrition care among other things.
According to a Welthungerhilfe case study report India, the country showed great promise in this regard around 2014 when the Modi-regime had just come into power. The report even nodded along with Gadkari's statement to some extent by stating that the country produces "enough food to meet the average calorie requirements." However, it also stated that the uneven distribution of access to food and the public policies focusing on energy supply instead of improving nutrition security and quality of diets are to be blamed for the persisting hunger problem.
Further, according to the 2020 data provided by the GHI, India's progress towards eradicating hunger has staggered since 2012 especially considering wasting in children under five years.
Thus, considering the hunger situation, farmers organisations such as the All India Kisan Sangharsh Coordination Committee's (AIKSCC) demand for immediate enhancement of food procurement as well as the Public Distribution System (PDS) quota to 15 kg per unit seems reasonable if not a desirable demand. While making this demand, farmers also reminded the government that this would help India's rapidly falling GHI rank and worsening condition of stunting in children.
Even the 2014 GHI report that corresponds with the Welthungerhilfe report acknowledged the impact of the PDS that distributes food to the poor. Yet, the policy think tank of the Government of India NITI Aayog argues against food procurement owing to surplus food stock.
"They need to know that India has the maximum and rising number of hungry people. While a Hunger Index score of below 34.9 indicates acute hunger crises, India's score has fallen from 38.8 in 2000 to 27.2 in 2020. In 2019 also the score was 30.3," said members of the AIKSCC.
They alleged that this fall in the GHI score was caused by government apathy and the recent decision of the Cabinet Ministry to divert food grains for alcohol production by companies.
"This is a proof of this apathy to the poor. This is despite claims of more than required production of food," they said.
They also decried Gadkari for attacking MSP while talking about the need to improve food production and feed India's hungry population. In a press release, they reminded ministers that India is host to 33 percent of the world's hungry people which is double its population share.
Do farmers' demands solve the hunger issue?
When asked about the connection between India's hunger problem and farmers' issue, All India Kisan Mazdoor Sabha (AIKMS) General Secretary Dr. Ashish Mittal voiced some doubts.
"There is no direct relation between farmers' demands and the hunger problem. However, there is a connection if we consider MSP which offers better rates and thus better savings to small farmers. This is especially true in the case of sharecropping that goes heavily underreported in India. Small farmers can sell their produce at a fixed MSP and if the government procures the crops then it will obviously help the hunger situation," said Mittal implying that the food grains will thus reach the people through the public distribution system.
On January 8, farmers will meet government for the eighth time to discuss demands for: a legal guarantee of MSP and food procurement; repeal of the three laws – Farmers (Empowerment and Protection) Agreement on Price Assurance & Farm Services Act, the Farmer's Produce Trade and Commerce (Promotion and Facilitation) Act and the Essential Commodities (Amendment) Act – and the Electricity Bill 2020.
Related:
Farmer's tractor march: Over 10,000 vehicles flood KMP highway!
Karnataka and Kerala farmers come together to intensify struggle
Are the new farm laws constitutional?
Rajasthan: Experts call for urgent need to review State Food Commission
Right to Food Campaign demands changes in Budget 2021-22 based on Hunger Watch survey
Delhi's workforce voices their grievances at DRRAA's Hunger Hearing