Hidur village exposes Chattisgarh CM Raman Singh's lies as no development of any kind has reached this village in the last 15 years. It has no clean drinking water, no electricity, no medical assistance and nobody in this village has ever voted or seen an EVM machine.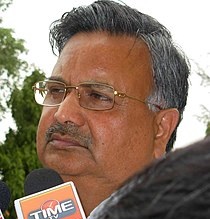 CM Raman Singh
Raipur: The Modi government has spent crores of rupees on campaign advertisements till now. Chattisgarh's CM Raman Singh has also spent quite a lot on his own publicity. He took out a 'Vikas Yatra', a development tour in the state a few months ago to showcase the work his govt has done. It being an election year, BJP president Amit Shah and PM Modi have also visited the state. All BJP leaders worth their salt never get tired in claiming that they have brought development to every village in the state. One newspaper has blown the lid off these claims by BJP.
In a news report by correspondent Dheeraj Bairagi in Patrika newspaper, it was surprising to learn that the development that these politicians talk about hasn't reached the residents of Hidur village, which comes under Kandadi Gram Panchayat, just 60 kms away from Pankhajur headquarters in Kanker district. The ground realities are different from what the publicity campaigns might have us believe. Even after 15 years of BJP rule in the state, clean drinking water hasn't reached the villagers who are forced to drink the waters of Jhiriya pond. The ruling state govt is publicising the claim that a Ganga of development is flowing in the state. It is nothing but lies. The villagers not only don't know about these development claims, but they also don't even know the names of their CM and the PM.  
No politician has ever visited this village
The villagers said that not a single road was made in their village. They travel everywhere on foot. During monsoon, their contact with the headquarters is completely cut off. They said that many years ago, they received a single handpump for the entire village which is now defunct for a year. They said that they requested the district administration to help many times but the govt did not provide any facilities to the Adivasi families. They said that they don't know any government and no politician has ever visited them.  
The extent of the failure of the ruling BJP party and the neglect by the govt is so high that the residents of Hidur village have no idea who their MLA and MP are. The innocent villagers don't even know the name of the Prime Minister of this country. The political leaders of Chattisgarh are anyway not interested in leaving their seats of power to meet people in their state, so how will a village that has no media, no TV, no internet, no free election mobile phone handouts, no roads, no election campaign rallies, no speeches, recognise the smiling face of Narendra Modi in advertisements and video conferences?  
The state has had just one party's rule for the last 15 years and has had the same CM since. One can still come to terms with not knowing the PM but how can one digest the fact that even after 15 years of Raman Singhs govt, there are people in his state who have not heard his development speeches and don't even know his name.  
No medical assistance in the village
There is no hospital, doctor or Aanganwadi in this village. There is no medical service available here. The villagers said that they are dependent on superstitions to cure big and small diseases. Many have lost their lives due to the absences of treatment. Electricity hasn't reached this village and when the sun sets, the villagers fear attack by wild animals.  
Nobody has voted in this village
According to the claims by the govt, development must have reached every house. In Chattisgarh, the reality is that there are some areas where people have never voted, forget the reach of development. In the highly sensitive coal belt development block of the state, 140 people of 26 families in Hidur village have never once exercised their voting rights. The residents of Hidur themselves have said it. According to a news report in Nai Duniya newspaper, the people here don't know what sweep campaigns are. They have never seen a voter awareness rally or an EVM machine.  
Modi and Rahul Gandhi to participate in election rallies
Unaware of these ground realities, PM Modi will once again come to the state for promotions and publicity. According to the plan, the PM will tour the state on Nov 9, 12, 16 and 18. He will hold meetings in the urban areas of Bastar, Bilaspur, Raigad, Ambikapur, Mahasamund and more.  
Congress president Rahul Gandhi will hold a rally in Jagdalpur on Saturday. Rahul Gandhi's four other rallies will be held in Kondagaon, Charma, Pakhanjur and Dongad. Nov 10, Monday, is the last date for the election campaign before the first phase of elections for 18 seats. Bastar and Sarguja divisions are very important regions for the elections.  
Naxal attack before PM's rally
RIght before PM Modi's visit, there was news of an alleged Naxal attack in Dantewada. Senior police officials said that Naxalists blew up a minibus in an orchestrated blast on a route between Bacheli and Akash Nagar in the Bacheli police station area. The driver, conductor, helper of the minibus and a central industrial security personnel lost their lives in the blast. Two soldiers were injured. Authorities said that central forces were deployed in the area for the upcoming assembly elections.  
Govt wants Naxalism to stay
Chattisgarh CM Raman Singh often says that the Naxal issue has almost died during his tenure. The continuous Naxal attacks in the state expose his lies time and again. It is the failure of this govt in dealing with the Naxal issue that is the reason behind this election happening in two phases. The first phase is being held in Naxal affected Bastar. In this first phase of elections for 18 seats, one and a half lakh security forces are being deployed. If the Naxal issue was eliminated, there was no need for such security and organisation.
It would seem that the govt wants to keep Naxalism alive so that it can hide its failures in Hidur village and continue its corporate loot of the state's resources.
Read Also:
Election Watch Chhattisgarh: No Media, NoNews, Only EVMs and governments
Election Watch Chhattisgarh: No winners or losers in this non-starter election