Misplaced votes and the farce of 'Free and Fair' elections as EC refuses to hard test machines and criminalises complainants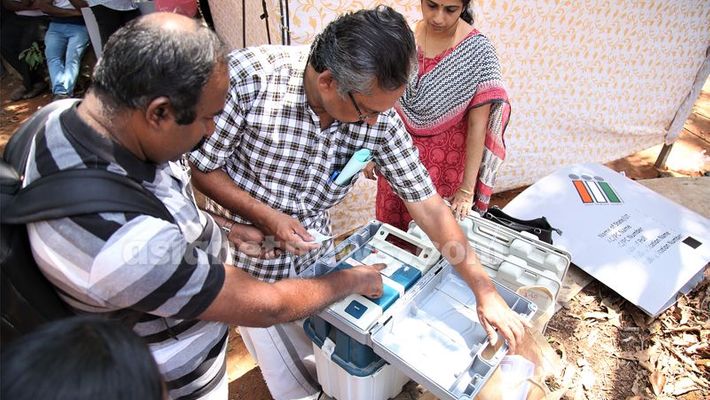 Even as phase three of Lok Sabha polls got over on April 23, 2019 things look far from 'free and fair'. Several places reported 'malfunctioning' Electronic Voting Machines (EVMs). On a closer look at the mammoth number of complaints, these hardy fall into the category of 'malfunction.'
This detailed report looks at the experiences of voters across various polling booths Election Commission's approach to reports of complaints.
Convenient exchange of symbols?
In Moradabad, people who voted at booth no. 86 alleged that when they pressed the "cycle button" (symbol for Samajwadi party), "lotus symbol came". Lotus is the election sign for BJP. It was reported that when they tried to complain to the polling officer, they were told, "
koi baat nahi
" (no problem).
In the Jorhat constituency of Assam, the returning officer Vishal Vasant Solanki
said
that all EVMs in his custody are being put through a second level of test of test by engineers on reports of a 'malfunction' where all votes casted went to BJP.
Another voter in Kerala
complained
, "I have voted for Congress, but the picture [that] came on the (VVPAT) screen and the slip was lotus. I want to cast my vote again."
Reports
emerged of more than 20 EVMs 'malfunction' in Kasaragod, as five machines developed 'technical glitches in Kayankulam. In Wayanad, the NDA candidate Thushar Vellappally demanded re-polling after an EVM malfunction.
Malayalam magazine Manorama reported that a faulty EVM in a booth at KizhakkeNalpathu near Cherthala had to be replaced after it was found that all votes were registered for BJP.
In Odisha, polling in two booths
was adjourned
due to incorrect pairing of EVM and VVPAT  
Can EVMs be hacked "easily"
Andhra Pradesh Chief Minister N Chandrababu Naidu on April 23 alleged that EVMs are
vulnerable
to "hacking and programming errors", and urged the EC to check all polling machines after elections.
Naidu also alleged that EVMs can be hacked easily by using "many methods."
In Uttar Pradesh, SP leader Azam Khan's son said, "More than 300 EVMs aren't working", accusing the District Magistrate of doing this "on purpose." In UP's Rohilkhand region, more than 50
polling booths
reported EVM 'malfunction' early morning.
Criminal negligence?
SP leader Akhilesh Yadav called this as a case of "criminal negligence" as he reported that polling officials were "untrained" for a polling exercise that costs Rs. 50,000 crores.
In Goa, During a
mandatory mock polling
exercise, EVMs were adding votes to BJP. During the mock poll, in which 9 votes were cast for each candidate, the BJP candidate received 17 votes, Congress 9, AAP 8 and 1 independent.
The machines were replaced for AC34, PS no 31 as per report from DEO South Goa.
In Karnataka, where the voting took place for the remaining 14 seats, Minister Priyank Kharge
wrote
, "Way too many EVMs are malfunctioning in Chittapur. Over 20 reported so far. Hope the district administration has enough backups."
A TDP delegate
highlighted
how EVMs are not displaying the printed slips for seven seconds as prescribed in the VVPAT manual, but only for three seconds.  
Criminalisation of complainants
In Assam, former Assam DGP Harekrishna Deka alleged that the VVPAT machine at a polling booth 'malfunctioned' as the machine displayed some other name and not the one he had voted for. He said that he was the first to go inside the polling booth at Lachit Nagar LP school. When he voted, "it didn't show the name of the candidate" against whom he had pressed the button.
When he reported that there was some anomaly, he was told that he can "challenge it". Additionally he was also told that in case of a false complaint, he will be punished for six months.
Case was filed against a voter in Thiruvananthapuram after complaints of faulty EVM  
Tedious reporting of complaints
The procedure to report a fault or error in the functioning of an EVM involves signing a declaration form by the complainant voter that they testify that the things reported in their complaint are true. This is an intimidating affair for a country whose population lives in poverty and a constant fear of harassment by public authorities. Ideally, such a declaration shouldn't be required from the complainant and they should be allowed to report and complain about any errors they spot. Moreover, the complainant can be jailed for a 'false' complaint and can be fined upto Rs. 1000. It's hard to fathom that in view of such stringent measures, why would an ordinary, working voter, who has taken a day out from their lives for voting, bother themselves with a complaint which may land them in trouble?
Not only that, even if the EVM is working fine, it has been reported that the VVPAT slips can be only seen for three seconds instead of the seven seconds as mentioned in the manual. Three seconds is too short a time for any voter to confidently flag an error even if they spot it.
The onus of proving the complaint is on the complainant. How is an ordinary voter who, far from being familiar with the technology and may even be using the technology for the first time, is supposed to prove their complaint?  
Approach of Election Commission
Questions on the accountability of EVM machines need to be addressed in a transparent way.
As reports of EVM 'malfunction' emerged from Andhra Pradesh, TDP delegate Hari Prasad raised fresh concerns over the functioning of the machines on the ground. On the reports that the VVPATs weren't showing the slips for seven seconds, he noted that either there was a change in the code, or the EVMs are faulty. As rightly
questioned
in an article on Quint, this should have been investigated by the EC.
Instead it decided not to engage with the questions, and, moreover, raised questions on its impartiality and decisions. Even in the past, the EC filed a complaint of theft against Hari Prasad instead of acting on the issue.  
Several questions arise here.
How does the EC ensure the security of EVM especially when they have not checked or audited each EVM?
If there was a change in the code, was the change tested enough, or at all?
Has the code for the EVMs been centrally tested or it gets tested at the local level?
Where are the machines coming from and how is their security maintained?
Are there clear instructions to store the machines in a safe and secure manner? For example, the returning officer at Assam's Jorhat constituency
said
, "These [faulty] EVMs were here for a long period. Usually EVMs are kept in the custody of the deputy commissioner and during elections they are taken to strong rooms."
The Election Commission's stance
has been
that EVM are tamper proof because they are not 'networked', and its code is signed to ensure no can change it. But what is the legitimacy of this claim?
In most countries such technological tools --open to mass use by the public -- go through robust testing mechanisms. Entire teams of testers work together to break the code and find bugs. Only then can a robust code be developed.
But in case of India, the EC, though has adopted this technological tool, it's shying away from robust testing and making this tool more transparent. Not only political parties, but the citizens of the country deserve a fair and transparent mechanism they can trust that their decision to vote for a safe future has been given the importance that it deserves.