Bareilly: In what could be a very vicious attempt to vilify the Muslims and spread fake news, OpIndia, an evidently right-wing news portal, has published a report stating that 150 Hindus in a village in Bareilly, Uttar Pradesh are being threatened to convert or migrate by the Muslim majority in that village. It is pertinent to note that the police officials have refuted the accusations made by the villagers.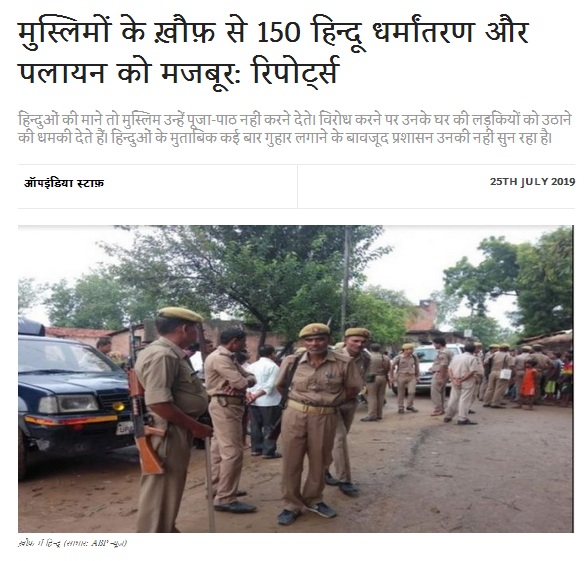 As reported in 
OpIndia
, Milkpichoda village in Bareilly district is a Muslim dominated village with around 1000 Muslims as against 150 Hindus. The Hindus here are not permitted to perform their rituals in the temple and if they even attempt to do so, they are allegedly threatened by the local Muslims who warn them of kidnapping their daughters and sisters. Hindus also alleged that despite multiple requests, the officials haven't taken any action against the Muslim miscreants.
The locals further allege that there is a temple on the local government's land and they wish to inaugurate that temple. However, whenever they try to do this, the Muslims physically and verbally abuse them. As per the latest developments, the Hindus are scared to live in such kind of a situation and claim that they feel like either converting their religion or leaving the village for their security and safety. They further express their disapproval of the current situation despite Narendra Modi being in power at the centre and Yogi Adityanath leading the state, both Hindus.
Hindu villagers have accused the police officials of a biased investigation and have also alleged that the police have filed false FIRs against them. They have now given a final warning of either converting or migrating if the matter is not heard unbiasedly.  
SabrangIndia's search for verification of this news also didn't yield any results, neither was it carried by any other neutral media houses. OpIndia is infamous for its pro-Hindutva news and has been accused of spreading misinformation and fake news multiple times in the past as well. Thus, one cannot but raise questions over the credibility of such reports which threatens the social fabric and peace in the society.