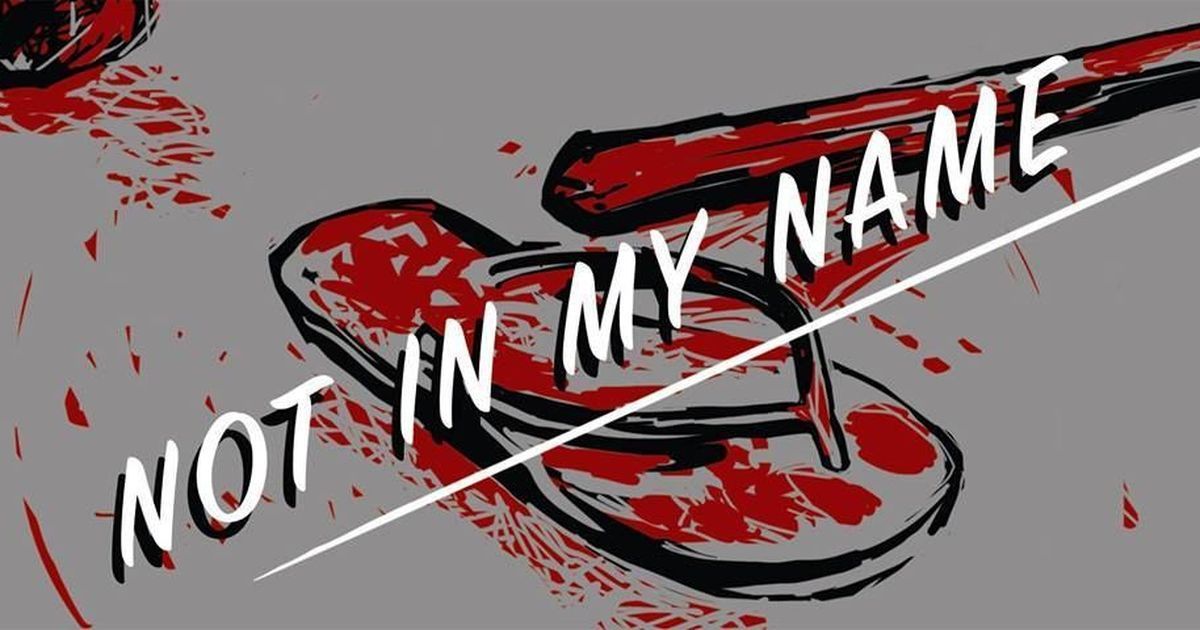 It took the lynching of 15 year old Junaid to finally pull Indians, even right thinking ones, numbed by the brutality of the post 2014 India, on the streets. Now, prompted by a Facebook post, groups in 12 cities plan protests against lynchings on Wednesday, June 28. Four other locations will hold the protests on other days including in Karachi, Pakistan. It was filmmaker Saba Devan's call for a demonstration in Delhi against a teenager's murder has prompted groups across India and the world to hold similar events.
The post simply said, "Please take the time out to share this with your friends in respective locations and encourage them to participate. It is imperative that there is large and noticeable participation.Please carry your own banners with the slogan – "NOT IN MY NAME"
This is a citizens' protest open to all. Everyone is welcome but without party or organizational banners.
The numbness broke, the post went viral and more and more Indians joined in.
Here is a comprehensive list of where, in more than 13 different locations in India and abroad, Indians will protest the fast deterioration of India into a Lynch Republic.
1. Allahabad: 5pm, Subhash Chauraha, Civil Lines, Allahabad, Uttar Pradesh 211001, India
2. Bangalore: 6pm – 8pm; Bangalore Town Hall, 112 JC Road, Bangalore, India 560027;
FB Link here
3. Chandigarh: 6pm; Sector 17, Chandigarh, India 160017;
FB Link here
4. Delhi: 6pm – 8pm; Jantar Mantar, Rajiv Chowk, Delhi, India 110001;
FB Link here
5. Hyderabad: 4pm – 7pm; Tank Bund, Hyderabad;
FB Link here
6. Kochi: 6 pm; High Court Junction, Kochi, Kerala
7. Kolkata: 5pm – 7pm; Dakhinapan premises, next to Madhusudhan Mancha, Dhakuria;
FB Link here
8. Lucknow: 4:30pm – 6:30pm, Gandhi Park, GPO, Hazratganj, Lucknow, Uttar Pradesh 226001;
FB Link here
9. Mumbai: 5pm – 7pm; Carter Road Promenade;
FB Link here
11. Trivendrum: 5:30pm – 8pm; Secretariat, Trivendrum, Kerala, India;
FB Link here
12. London (UK): 2 pm – 3:30pm; Wednesday, June 28th, 2017; SOAS, University of London, Thornhaugh Street, WC1H 0XG, London, United Kingdom;
FB link here
Protests on Other days:
1. Boston (USA): 7pm – 8pm, June 29, 2017; Harvard Sq T-stop, Cambridge, Massachusetts,
FB link here
2. Pune: 6:30pm – 8:30pm, Thursday, June 29, 2017; Dr. Babasaheb Ambedkar Statue, Pune Station, Pune, Maharashtra,
FB Link here
3. Chennai: 11am – 1:00pm, Saturday, July 1, 2017; Valluvar Kottam, Nungambakkam, Chennai, India 600034;
FB link here
4. Karachi (Pakistan): 4pm – 6pm, July 1, 2017; Outside Karachi Press Club, Karachi, Pakistan;
FB link here
On Saturday, it was the horror felt after the murder of a 15-year-old Muslim boy in a train on the outskirts of Delhi two days earlier, that Gurgaon-based filmmaker Saba Dewan posted a message on Facebook calling for a protest at Delhi's Janatar Mantar on Wednesday evening against the recent spate of lynchings of Muslims and attacks on Dalits. The protest is called "Not in My Name".
Hours before that Prem Singh,
socialist and Hindi professor announced a hunger fast that he has been observing since June 25.
"We want to speak up against the recent incidents of communal or caste-based violence that have been happening in the past few years and specifically after Junaid's lynching," said Dewan. "We want to convey that whatever is happening in the society is not happening in our name; I do not approve of it." The message, slowly but surely rippled across India – and as far as the United Kingdom and Canada. On Wednesday, groups in at least nine other Indian cities will hold similar protests. Events are also planned in London and Toronto.
The immediate spark for the protests was the murder of Junaid on a Mathura-bound train on Thursday. He was returning to his home in Faridabad district with his brothers and two friends after some Eid shopping in Delhi. A dispute over a seat led to the boys being assaulted by a group of men who taunted them for being Muslim. Junaid and two of his companions were stabbed. The assailants flung them onto the platform at Asoti railway station. Junaid died soon after.
Series of attacks
Junaid's was the latest in a series of lynchings that started in September 2015, when an ironsmith named Mohammed Akhlaq was murdered in his home in the Uttar Pradesh area of Dadri by a mob that accused him of storing beef in his fridge.
After Junaid, in faraway Jharkhand, 24 year old Mohammad Salman was shot dead in cold blood by policemen simply because he was collecting some private donations for Eid. An armed guard who confessed to the crime has been arrested. Then there were the Jharkhand lynchings (in which 4 Muslims and 3 Hindus died)
Here is a list of all recent mob attacks on Muslims and cattle traders (not complete or comprehensive):
1. Sept 2015: Mohammad Akhlaq lynched in Dadri
2. Oct 2015 Zahid Rasool Bhatt, 16 years, died in a bomb attack on his truck in Udhampur
3.March 2016, suspected "cattle traders" Mohd. Majloom and Azad Khan hanged in Latehar
4. April 2017: Suspected cattle traders Abu Hanifa and Riazuddin Ali killed for allegedly stealing cattle in Assam
5.April 2017: Pehlu Khan died of injuries after being attacked in Alwar
6.Bulandshahr May 2017: Ghulam Mohammad killed for allegedly "helping" an inter-faith couple
7. May 2017: assault on Muslim youths in Bhind, Madhya Pradesh.
8. May 2017 Munna Ansari attacked in Jharkhand on "child lifter" rumour
9. May 2016. Muslim cops thrashed and forced to chant `Jai Bhawani' in Latur, Maharashtra
10. May 2017: Two traders thrashed in malegaon, Maharashtra for allegedly storing beef.
11. Muslim man attacked in Dhanbad, Jharkand on suspicion he was taking beef to an Iftaar. June 7 2017.
12.Tamil Nadu animal husbandry dept officials transporting cattle in trucks attacked in Barmer. 12 June 2017
13. Zafar Husain lynched in Pratapgarh Rajasthan for trying to protect women. June 2017
14.1 lynched, 3 thrashed over beef rumours in Ballabhgarh, Haryana. june 2017
15.A DYSP in Nowhatta Kashmir
And more to come....
In Mumbai, a film writer named Arpita Chatterjee is among those who have called for a "Not In My Name" event on Carter Road in the Bandra area at 6 pm.
"I have been feeling very angry and upset with the developments in our country and when I read about the 'Not in My Name' protests against the lynching, but there wasn't one in Bombay," said Chatterjee. "I called a few friends and decided to have one in Bombay to show our solidarity to the protests. Everybody was internally seething and immediately agreed they wanted to be a part of something that would enable them to express themselves as citizens. Bombay's middle class wants its voice to be heard. And that's what this is about."
In Kolkata, a protest is planned for 5 pm in the Dakhinapan premises near Madhusudan Mancha, while Hyderabad groups plan to gather at Tank Bund at 4 pm. Bangalore groups plan to protest 6 pm at the Bangalore Town Hall. Thiruvananthapuram has called for a demonstration at the Secreatariat at 5.30 pm and in Kochi, protestors plan to assembly at the Ernakulam High Court junction at 5 pm. In Patna, citizens will gather in Gandhi Maidan at 6 pm. In Lucknow, a demonstration is planned in Hazratganj's Gandhi Park at 4.30 pm.
In Chennai, a protest has been planned for July 1, at Valluvar Kottam in Nungambakkam.
London and Toronto
In London, an event is planned at SOAS. "Come out and speak out against right-wing organisations hell-bent on destroying the secular ethos of India," the organisers urged.
In Toronto, a demonstration has been planned outside the Indian High Commission. "We as part of the diaspora, and as overseas citizens of India, along with our allies, say that, the violence against all minorities is abhorrent, and the state must be held accountable for the terror which has been unleashed under its rule," said the organisers.
Dewan explained that "Not in My Name" protests started in the 1970s against the involvement of the United States in the Vietnam war. It was message from American citizens to their government declaring their opposition to their military's invasion of Vietnam.