For the first time since the publication of the final draft of the National Register of Citizens (NRC), people of Assam have taken to the streets to protest the NRC authority's alleged bias against people of Bengali ethnicity. Hundreds of
people carrying torches held a protest march
in Silchar in Cachar district, on October 2, not to celebrate Gandhi Jayanti, but to demand their rights as citizens.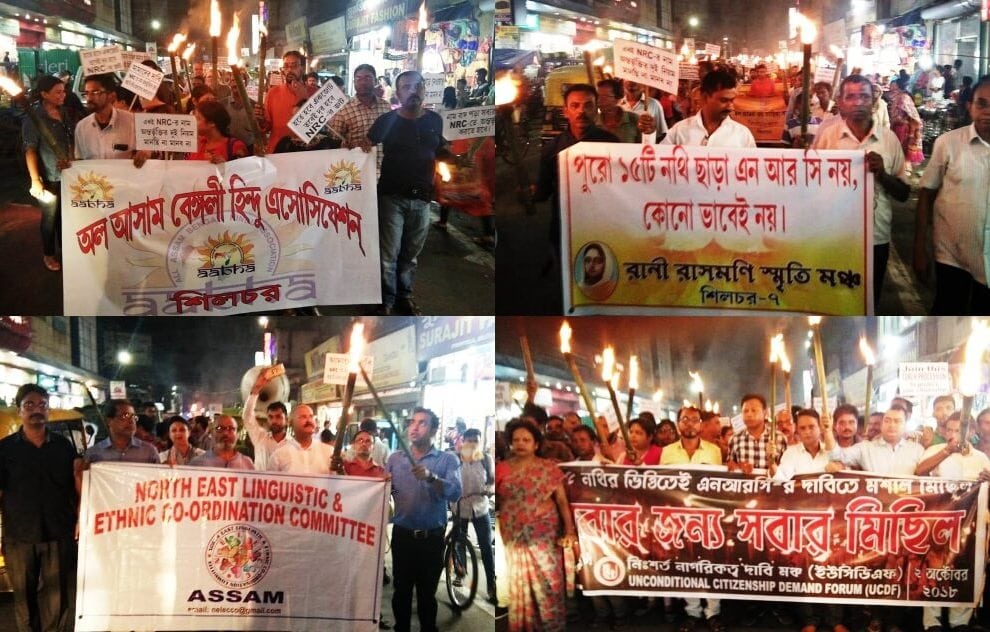 Image Courtesy: https://www.sentinelassam.com/
Silchar, that is located in the Barak Valley, has a large Bengali population. Of the 40 lakh people excluded from the NRC final draft published on July 30, 4 lakh or 10 percent are from this region alone! The torch rally began from Rangirkhari Point and ended at the statue of Khudiram Bose and covered a distance of 3 kilometers. People carried bamboo torches and placards. 
The rally saw participation from ordinary citizens as well as
over 35 citizens groups
such as Unconditional Citizenship Demand Forum (UCDF), North East Linguistic and Ethic Coordination Committee (NELECC), Barak Upatyaka Banga Sahitya O Sanskriti Sammelan (BUBSOSS), Citizens Rights Preservation Coordination Committee (CRPCC), International Human Rights Association (IHRA), Rani Rasmoni Smriti Mancha (RRSM), Udayer Pathe, Assam College Teachers' Association (ACTA), Cachar, All Bengali Youth and Students' Association (ABYSA), All Assam Bengali Hindu Association (AABHA), Youth Against Social Evils (YASE) among others as well as general people of this town.
Slogans were raised against BJP President Amit Shah for using the word "termite" while describing people left out of the NRC. People were also angry with NRC State Coordinator Prateek Hajela with many demanding his removal. This is because it was Hajela who
suddenly dropped 5 out of 15 documents
from the list of documents that people can use to file Claims while submitting the Strandard Operating Procedures and Modalities for conducting the Claims and Objections process on August 5.
The documents that were dropped were seen as some of the most 
important documents
. These are:
1.       Extract of NRC, 1951 (Legacy document)
2.       Voters list up to 1971 (Legacy document)
3.       Citizenship Certificates (Legacy document)
4.       Refugee Certificates (Legacy document)
5.       Ration card issued by the competent Authority with official seal and signature up to 24th March Midnight, 1971. (Supporting document)
This was seen as an openly anti-Bengali move, because many Bengalis who came after 1951, may not have their names in the 1951 NRC or the electoral rolls up to 1971, but they do have Citizenship Certificates and Refugee Certificates.
The SC had then sought the opinion of various stakeholders including members of All Assam Students Union (AASU) and All Assam Muslim Students Union (AAMSU). The SC also directed, on September 19, the NRC State Coordinator to submit a feasibility report for using the five dropped documents. This report is to be submitted 
only to the court
 in a sealed envelope and not to be revealed to any other judicial or legislative authority. The court adjourned the case till October 23.