Chennai: Makkal Needhi Maiam (MNM) president, Kamal Haasan, has once again found himself at loggerheads with the right-wing politicians after his controversial statement  describing Mahatma Gandhi's assassin, Nathuram Godse, as independent India's first terrorist.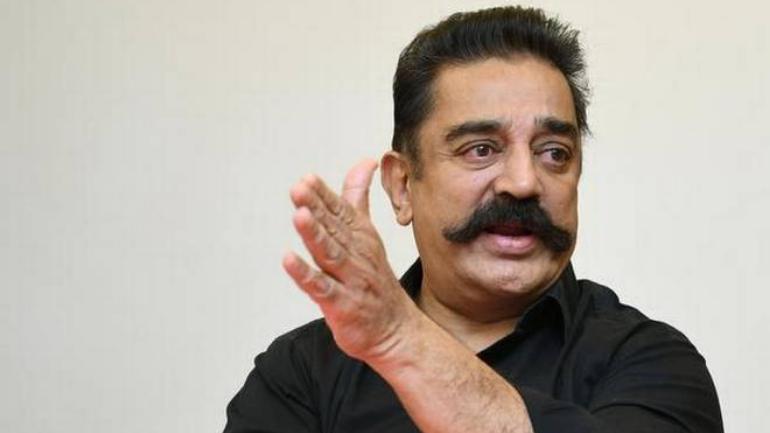 Speaking at an election rally of his party's candidate, S. Mohanraj, from the Aravakurichi assembly constituency, actor-politician Hassan said, "I am not saying this because many Muslims are here. I'm saying this in front of Gandhi's statue. The first terrorist post India's independence is a Hindu. His name is Nathuram Godse."
Immediately clarifying that he didn't intend to make communal remarks by linking the barbaric act of terrorism with religion, Hassan said, "..terrorism is wrong. No religion would accept violence, be it Hinduism or Islam. No religion professes violence and true Muslims present in this gathering would accept this. These Muslims will vouch that terrorism is not their way. They will swear on the holy book they believe in (Quran), that love is their way."
Hassan further said that he aspired for an equal India where all the faiths could peacefully live together. "Good Indians desire equality and want the three colours in the tricolour to remain intact. I am a good Indian, will proudly proclaim that," said Hassan.
Even in November 2017, Hassan had taken potshots and drew condemnation from the BJP and other Hindu outfits, after he spoke of hindu terror. Hassan had
said
, "Hindus cannot challenge others to show extremists among them since extremism has spread to that extent even among the Hindus." Adding further, he said, "In the past, Hindu right-wing groups would not indulge in violence. They would hold a dialogue with opponents. But now they resort to violence."
BJP condemned Hassan's statement and said he is "lighting fire."
Tamil Nadu BJP chief Tamilisai Soundararajan
tweeted
, "Actor Kamalahasan recalling Gandhi's assassination now and calling it Hindu terrorism is condemnable.Standing amidst minorities in TN by-election campaign he is lighting a dangerous fire to gain votes by minority appeasement.kamal didn't opine on recent Srilanka bomb blast why? (sic)." Adding further, she said, "But dares to take up decades old event which was well enquired & guilty punished ?He threatened to leave india when his film screening was prevented by religious groups!but now he calls himself true indian! True political acting started now having lost the chances in screenplay. (sic)."
Even Vivek Oberoi, who will play the role of Narendra Modi in his biopic,
tweeted
, "Dear Kamal sir, you are a great artist. Just like art has no religion, terror has no religion either! You can say Ghodse was a terrorist, why would you specify 'Hindu' ? Is it because you were in a Muslim dominated area looking for votes?"
Aravakurichi is one of the four Assembly constituencies where bypolls are scheduled on May 19.
Related Articles: