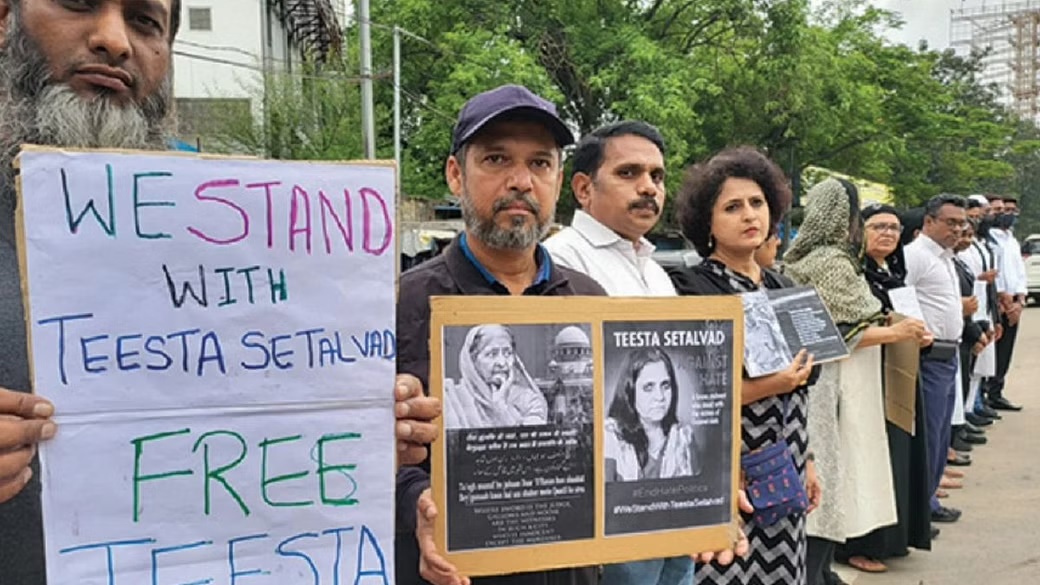 On August 1, a solidarity meeting for organised in Mumbai by Peoples Union of Civil Liberties (PUCL), a human rights organisation originally founded by Jai Prakash Narayan in 1976. At the meeting, various activists and civil society members to come together and condemn the indiscriminate arrests and institutional violence against Teesta Setalvad, RB Sreekumar and others who have been put behind bars for speaking truth to power.
Just the day before that, on Sunday, July 31, South Asian activists came together to demand justice for Teesta Setalvad outside the Indian Visa and Passport Application Center in Surrey, in British Columbia in Canada. The protest was organised by Radical Desi- an online magazine that covers alternative politics, and who had invited Teesta to Canada in 2018 close to the 100th anniversary of the Jallianwala Bagh massacre. She was honoured with a medal of courage at a public event held in Surrey that year.
Teesta Setalvad is a veteran journalist, educationist and human rights defender, and has been a thorn in the flesh of the regime for her work in helping survivors and families of victims of the Gujarat 2002 violence seek justice. Just a day after the Supreme Court dismissed a Special Leave Petition (PIL) moved by Zakia Jafri seeking a proper investigation into the wider conspiracy behind the 2002 Gujarat carnage, a team of the Gujarat Anti Terrorism Squad (ATS) barged into her Mumbai home and detained her.
The petition had been moved by Zakia Jafri, the widow of slain Congress Member of Parliament (MP) Ehsan Jafri, who had been killed during the communal violence in Gulberg Society. Citizens for Justice and Peace (CJP) secretary Teesta Setalvad was the second petitioner in the case that aimed to pin the responsibility of allowing the violence to continue unabated on the people in power in Gujarat at the time.
But deeming this to be a malicious prosecution, the court had observed in its judgment, "As a matter of fact, all those involved in such abuse of process, need to be in the dock and proceeded with in accordance with law."
The above extract was quoted in a complaint filed on behalf of the State, and today, Teesta Setalvad, a fearless human rights defender stands accused of criminal conspiracy, forgery and giving or fabricating false evidence among other IPC sections. Two former police officers, RB Sreekumar and Sanjiv Bhatt have also been named as her co-conspirators in the FIR. While Bhatt is already in jail under trumped-up charges in a custodial death case, Sreekumar was arrested shortly after Setalvad was picked up.
Meanwhile, the Central Committee of the Communist Party of India (Marxist) met at New Delhi on July 30 and 31, 2022, and issued a statement condemning "the manner in which the noted champion of human rights and civil liberties and courageous fighter against communalism, Teesta Setalvad, was arrested." The CPI (M) also demanded "the immediate release of Teesta Setalvad, R.B. Sreekumar, release of Bhima Koregaon detainees and others."
A day before that, on July 29, around one hundred personalities from various fields came together in Kochi in Kerala, and registered their protest against the arrest of Teesta Setalvad and RB Sreekumar. These include Adoor Gopalakrishnan, K Satchidanandan, M Mukundan, N S Madhavan, Vaishakan, M A Baby and K Venu, who also issued a statement saying, "We strongly condemn the arrest of Teesta and Sreekumar by picking up cues from the observations in a Supreme Court judgment (regarding the Gujarat massacre). The efforts of Teesta to protect communal harmony in Gujarat have been noted internationally. The nation honoured her by conferring Padma Shri. R B Sreekumar tried to expose official secrets that shed light on facts that ensured that culprits are brought before the law."
On Monday, August 1, Teesta Setalvad moved Gujarat High Court seeking bail. On July 30, Additional Principal Judge DD Thakkar of the City Civil and Sessions Court of Ahmedabad had denied her bail. Senior advocate Mihir Desai told The Wire, "The order doesn't mention what Teesta is responsible for, or what she has done. It goes into generalities and doesn't throw any light on what crime she has actually committed." Also reflecting on subsequent allegations that Setalvad's actions were at the behest of the Congress party, he said, "They say that they will not give bail because there is likely to be tampering of evidence. But now, if the allegation was that she was acting at the behest of the Congress party, then this tampering could even be done by anyone from the Congress party right? It doesn't have to be done by her."
Related:
Rally for Teesta held on Udham Singh's martyrdom day in Canada
Free Teesta Setalvad: Time to defend the Foot-soldier of the Constitution
Free Teesta Setalvad: Eminent Canadians, including Margaret Atwood, write to President, CJI
A testament to Teesta Setalvad's tenacity
Human Rights defenders stand with Teesta Setalvad
Indian intelligentsia bats for Teesta Setalvad
Free Teesta Setalvad: A week in the life of a brave human rights defender