Pulwama: Violence erupted in the fifth phase of the general election with reports of a grenade being lobbed in the Rohmoo polling station in Pulwama district of Jammu and Kashmir where polling is underway for the Anantnag constituency. Fortunately, no casualties have been reported so far. The security forces have cordoned off the area.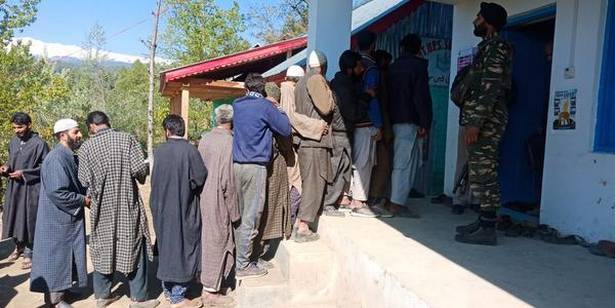 This was the first terror attack in Jammu and Kashmir this election season.
Polling is being held in Pulwama and Shopian districts of Anantnag Lok Sabha constituency which also includes Anantnag and Kulgam districts. The Lok Sabha polls to this constituency are being held in three phases due to security reasons.
Anantnag district went to polls on April 23, while voting in Kulgam district took place on April 29.
There are 18 candidates in the fray for Anantnag constituency including PDP president and former chief minister of Jammu and Kashmir, Mehbooba Mufti.
Earlier in the day, there were reports of
stray incidents of violence
in Bangaon, Hooghly and Barrackpore seats in West Bengal.
Election officials in Lucknow said polling was going on smoothly, barring some complaints of EVM malfunctioning, which were attended to immediately. "Minor issues related to EVMs were reported at some places but they were sorted out," officials said.
In the fifth phase of the seven-phase poll, about 8.75 crore people will decide the fate of 674 candidates.
The stakes are high for the ruling BJP and its allies as it had swept 40 of these seats in 2014, leaving just two for the Congress and the rest for other opposition parties such as the Trinamool Congress (seven).