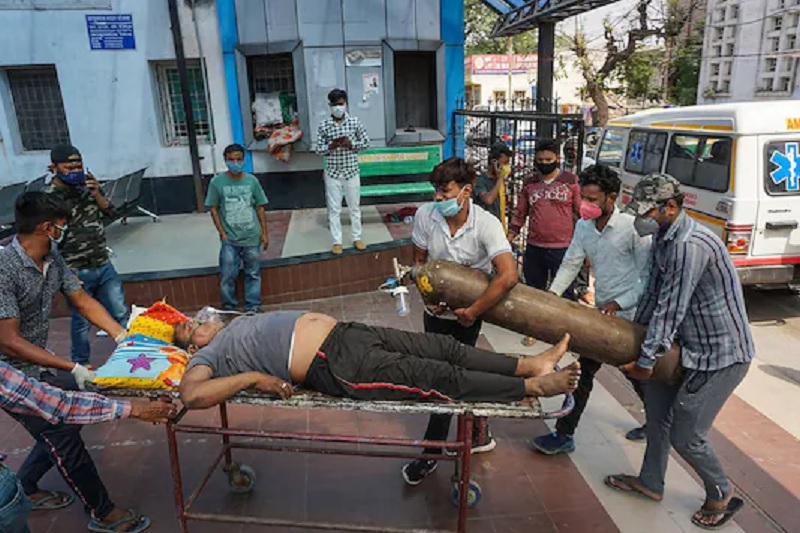 The news about the second wave of Covid-19 was frightening, but what we did not realise is that our government's preparations and its system would be so weak. For the first time on May 1, a record of four lakh new coronavirus patients have been found and 3,523 lives have been lost.
Our Prime Minister is very fond of making a world record, and in this epidemic, our country is moving towards the world record. The record for the first country in the world to report over 4 lakh new cases in a single day has been claimed by the Vishwa Guru Bharat.
The second wave has created a furore in the country. People are horrified by the increase in the number of new infections daily and deaths due to Covid. The situation in big cities and famous personalities is being reported, but what is happening in small cities, towns and to the poor, cannot be seen on any news channel.
Citizens for Justice and Peace (CJP), SabrangIndia's sister publication, talked to people in some cities and towns of Purvanchal to understand the ground reality. The areas of Mubarakpur of Azamgarh, Kasba Ghosi of Mau, Saraiya of Varanasi, which are homes to the traditional weaver community, had some heartbreaking stories to tell. People are dying due to shortage of oxygen and it is obvious who is responsible for these deaths.
Social activist Kaiser Bano of Saraiya told CJP that the situation is very bad. Every household is seeing two to three deaths daily. In one house, a mother-in-law died in the morning, followed by the daughter-in-law in the evening. There are never-ending queues at the cemeteries. There is a dearth of grave diggers in the region. Businesses are shut and there is no help from any authority.
Aaqib, a social worker living in Ghosi town of Mau district, said that he is witnessing death every day. The population of Ghosi is around 50,000 and 6 to 8 people are dying every day for the last 10 to 15 days. He also told us that most of them are dying due to lack of oxygen, without giving a definite number of casualties.
He narrated a tragic story about a family where, a few days ago, somebody's brother's health deteriorated and eventually passed due to lack of oxygen. His mother died the same way after two days. In the same family, the second eldest brother fell ill and died, despite their best efforts to procure oxygen. Three deaths in the same house within a span of a few days is unfortunate!
Aaqib added a second gut wrenching incident of a married couple and their newborn who succumbed to the virus. Both of them were labourers. He died in front of his helpless wife, and the next day, the new born child passed away too. In the next few hours, the Covid positive woman died due to lack of oxygen. The couple is now survived by their 9-year-old minor child who lost three family members in two days!
In conversation with CJP, Aaqib added that while people are dying on one hand, there is no shortage of people who offer prayers, without following appropriate Covid-19 behaviour. According to him, most of them don't wear a mask and maintain distance while visiting cemeteries. As it is, the cemeteries are busy with visitors throughout the day, he added.
On the issue of oxygen, Aaqib informed us that oxygen gets supplied from Mau's oxygen plant to Azamgarh, Ballia, Ghazipur, but residents of Mau fail to receive it. Everyday people line up for oxygen and in some cases, people leave from the middle when they receive information about the patient passing away. The condition of government hospitals in the region is the worst. Sadar Hospital in Ghosi has only four cylinders, with no beds, medicines and ventilators for some of the worst affected Covid patients.
On April 15, Aaqib, as an active social worker, was called to attend a meeting with chairman, SDM and other officials in Mau. In this meeting the authorities ended up discussing other infrastructural issues related to drains, etc., and when Aqib interrupted to discuss the grim situation of Covid, some officials chided him. Thereafter, Aaqib along with two BJP leaders walked away from the meeting.
When a government hospital records only two Covid deaths, the truth is that the deaths are much more. The Government is trying to show more deaths due to respiratory diseases than Coronavirus. Aaqib said that recently a Covid Hospital was built, but the next day a notice was issued stating that the facility has no beds and oxygen supply.
Salman, who is a worker from Mubarakpur in Azamgarh, spoke to CJP over the phone. He said that all communities in Purvanchal are seeing around 40 percent of Covid deaths. "The situation is terrible," he added. Most people are not dying of Covid but lack of oxygen, according to him. Salman further explained that every day, 12 to 15 people call him and demand oxygen. The cemeteries and crematoria are crowded with people.
On one hand people of Purvanchal are dying due to lack of oxygen, and on the other, Uttar Pradesh Chief Minister Yogi Adityanath claimed on May 1 that there is no shortage of oxygen in any private or government Covid Hospital in the state. We ask the Government as to why the truth is not being told? Why is the Government using public money on the Central Vista Project, Kumbh Mela and temple construction right now?
The ambitious project includes a new parliament building and secretariat on almost 22 lakh square feet of land, with a total expenditure of twenty thousand crores. In this current lockdown, when the National Capital is trying to break the chain of transmission, the Central Vista Project work is on. The time has come for us, the people of India to decide what we need, health services like hospitals, oxygen, beds, ventilators, medicines or the construction of Central Vista Project!
We have to question the Government as well as pressurise them to stop spending on unnecessary projects, and instead work on how to save people's lives.
*The writer is a scholar and senior researcher who coordinates CJP's human rights work in Eastern UP.
Related:
SHOCKING: Covid kills over 700 teachers, 300 still critical in UP!
EXCLUSIVE: Hundreds die of Covid and data goes missing, UP gov't remorseless