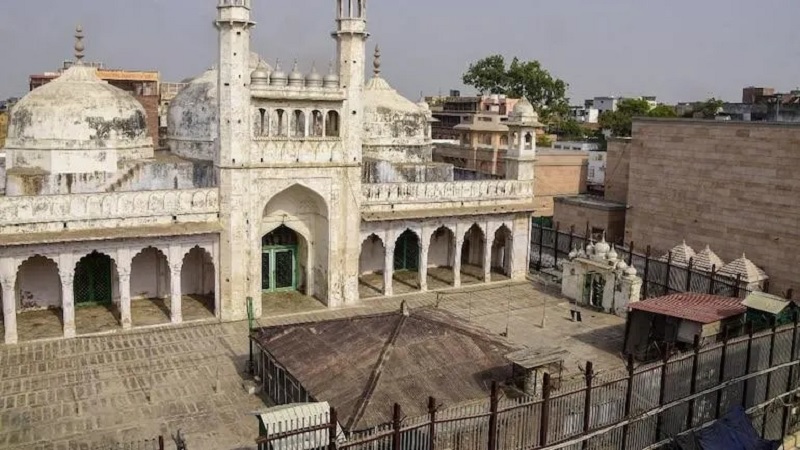 Image Courtesy: jantakareporter.com
A Varanasi court has dismissed a plea by the Anjuman Intezamia Masjid (AIM), which is the Gyanvapi mosque management authority, challenging the maintainability of the suit filed by Hindu petitioners who had demanded that they be allowed to offer prayers at the temple of deity Shringar Gauri located on the mosque premises.
The court of district judge Ajay Krishna Vishvesha held that the suit was neither barred by the Places of Worship Act, nor the Waqf Act, and was thus maintainable under Order 7 Rule 11 of the Civil Procedure Code. Therefore, the court dismissed the plea by AIM.
The AIM had argued that the suit was not maintainable under Order 7 Rule 11 (d) that says that a court can reject a plaint if "the suit appears from the statement in the plaint to be barred by any law." According to the AIM, in this case, it was barred by the Places of Worship Act which forbids changing the character of any place of worship from what it was on Independence Day i.e August 15, 1947.
Meanwhile, the Hindu petitioners had contended that prayers had been offered at the Shringar Gauri temple, located along the outer wall of the Gyanvapi mosque till 1993. They said that they merely wanted to resume prayers.
Speaking to SabrangIndia, S M Yasin, general secretary of AIM, said, "The court ruled that the suit did not demand that the character of the place be changed and that is why the Places of Worship Act was not applicable." Speaking about next steps, he said, "We are holding discussions with our lawyer and will soon challenge today's judgement before the Allahabad High Court."
Hearings will now continue in the main suit, i.e the plea where Hindu women have demanded the right to offer prayers at the temple of the deity Shringar Gauri, on September 22.
This story will be updated with a copy of the court order when it becomes available.
Related:
Gyanvapi case: Judgment on suit maintainability expected today
Gyanvapi case: SC to wait for Varanasi district court's decision on suit maintainability
Gyanvapi case: Hindu petitioners submit that the mosque stands on land owned by Hindu deity