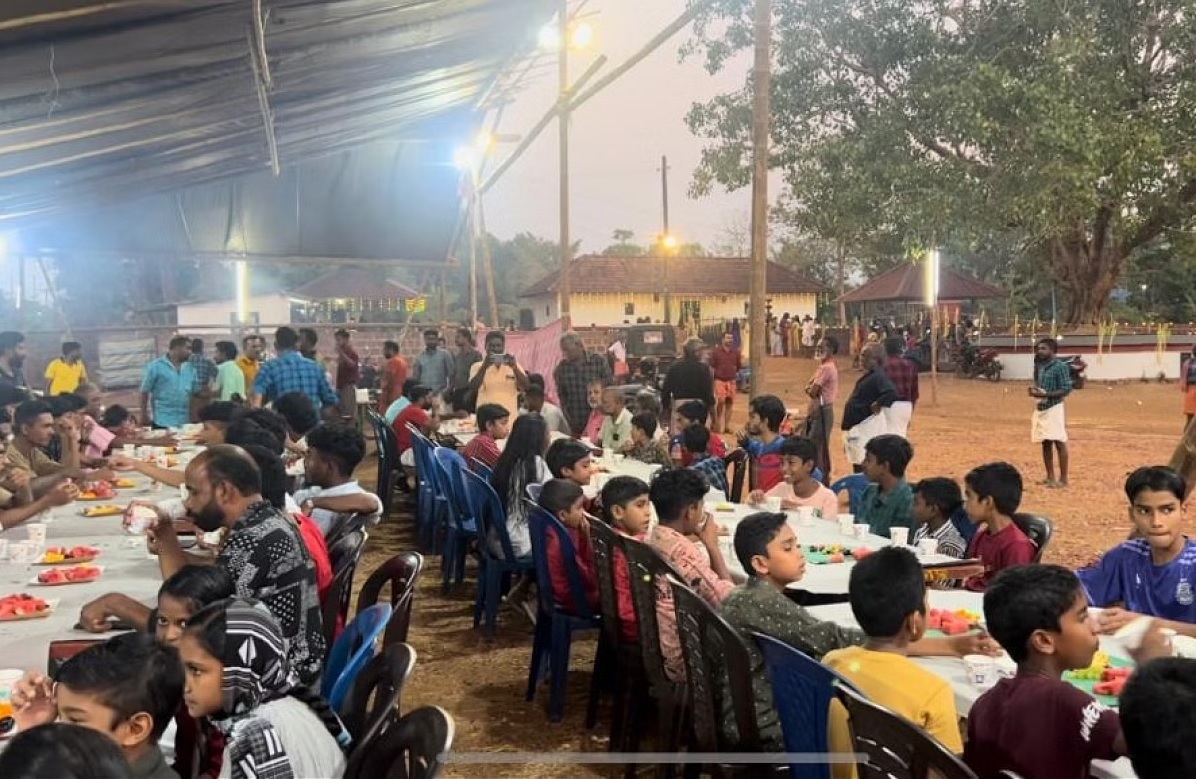 Image courtesy: The New Indian Express
Amidst Ramadan when stories of harmony and brotherhood come forward, it fills one's heart. One such story came from Kerala's Malappuram. Two temples in the district organised mass Iftar for Muslims. Committees of the Sree Puthuveppu Manaliyarkavu Bhagavathi temple in Othalurand Chathangadu Sree Maha Vishnu Temple in Vaniyannur near Tirur hosted the mass Iftar on April 7 and March 28, respectively, reported The New Indian Express.
Krishnan Pavittapuram, secretary of the Sree Puthuveppu Manaliyarkavu Bhagavathi temple told TNIE, "Our aim is to strengthen the bond between people from the Hindu and Muslim communities. Religious harmony is important and we want to celebrate every festival together in a peaceful and jovial atmosphere".
One of the youngsters said that someone from the Muslim community had sponsored the annadanam during the temple's annual installation festival which was during Ramadan. The temple management said they aim to continue hosting Iftar every year.
On the other hand, a complete contrast of this is being witnessed in Madhya Pradesh where the government has issued orders that Muslim employees cannot work in Maihar town's famous Maa Sharda temple. Notably, Maihar is home to the Maihar gharana founded by sarod legend Baba Alauddin Khan. Clearly, this town has a syncretic history which the government aims to obliterate. The Maihar gharana produced musical greats of the country in the field of music, including Pandit Ravi Shankar, Pandit Nikhil Banerjee, and his daughter Annapurna Devi and son Ustad Ali Akbar Khan. It is said that Khan would climb the 1,063 stairs leading to the Maa Sharda temple daily and play before the goddess, reported NDTV.
This order means that two Muslims will lose their jobs which they have had since 1988. The government's order signed by Pushpa Kalesh, deputy secretary of the state Ministry of Religious Trust and Endowments, also directed a ban on meat and liquor shops in the vicinity.
The order was issued in January when supporters of the rightwing Vishwa Hindu Parishad (VHP) and Bajrang Dal approached Usha Singh Thakur, the Minister for culture, religious trust and endowment, it has been alleged. This recent letter is just a reminder for the January order.
Related:
Sudarshan News continues to spread hatred, targets Muslims
Oath for economic boycott of minorities administered in Chhattisgarh
Yati Narsinghanand calls for unity of the world to destroy Islam