CJP has filed an official complaint with the NBSA over 'inciteful' and violence-inducing content aired by Zee News.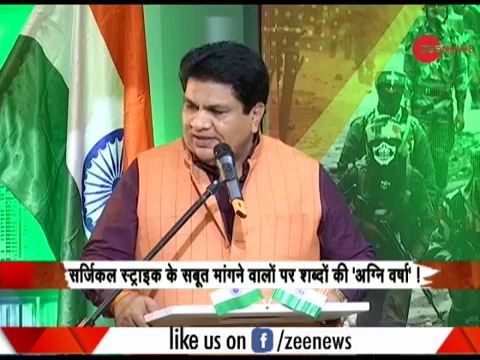 Citizens of Justice and Peace (CJP) took note after Zee News saw fit to air a divisive segment on June 30, 2018, during its 'Kya Kehta Hai India' programme. The segment, a poetry meet or
'Kavi Sammelan,'
featured multiple poets who called for
widespread violence against the population of Jammu and Kashmir
, with no regard to the hatred they were propagating. They also displayed no sensitivity towards the possible effects of such propaganda, especially on the delicate socio-cultural fabric of Indian society today.  
Dinesh Raghuvanshi, a poet, during the broadcast said that soldiers will enter Pakistan's houses and kill them there, through his poetry. He challenged Pakistan to fight India and free the Kashmir land it took over in 1948. He added that all the people who are against the Indian army in Kashmir, those people will not just be taped to the bonnet of the car but all four sides. He questioned Kashmiri's and asked if they have any respect for the country.  
A Kashmiri shawl weaver who voted in the elections for India was tied to an army jeep with a piece of paper stuck to him which said 'this is the fate of the stone-pelter.' The army had tied him as a
human shield
as a message against stone-pelters in Kashmir.  
Dr. Anamika, a poet, had some of the most extreme views. She said that Kashmir breeds traitors who betray the country and bombs are grown in containers that store the saffron spice. She asks in her poetry that for how long the country will keep sending lions for dogfights. "Remove Section 370[i] and enter every Kashmiri house. Whoever doesn't hoist the Indian flags, let the heads of those traitors roll," she says in her poetry.  
Noting the growing hatred in the country, along with Zee News' reported 150 million viewers and massive reach,
CJP wrote to the Zee Media Corporation
on July 9, seeking an appropriate apology to the Indian public from the channel, "for carrying such irresponsible, inciteful and violence inducing content" and breaching basic media ethics and principles.  
CJP is committed to monitoring and highlighting individuals and organisations that spread hate. Take steps against hate speech by
filing an FIR
, or a
complaint against a broadcaster
, and help support the campaign by donating
here
.  
However, after failing to get a response from the Zee Media Corporation, CJP has filed a complaint regarding the programme within the prescribed time limit with the News Broadcasting Standards Authority (NBSA), which has been established by the News Broadcasters Association (NBA). In our letter, CJP noted that Zee News has violated NBSA code of conduct, which says "To ensure that national security is not violated". Our letter explains that the content the channel broadcasted "encouraged and promoted violence against a particular community, thus endangering national security".  
Our letter emphasises that "hatred keeps growing its tentacles to reach every Indian living room without any opposition and is against the Preambular goal of fraternity and integrity of the nation." It states that programmes such as the one Zee News aired "are aimed at fuelling disharmony within the nation," and that they undermine "the promise of brotherhood, peace and inclusivity on which the Indian nation is premised."  
CJP has called on the NBSA to direct Zee News to issue a public apology, during primetime, addressing the nation, and apologising for airing "such irresponsible, inciteful and violence inducing content which is in breach of the allegiance to media ethics and principles which are supposed to bind and guide them as a responsible news channel." We have also asked that the NBSA direct Zee News "to not telecast such hateful content again" as it "violates the fundamental tenets of our constitution which promotes harmony, dialogue and understanding between sections of Indians, and is based on equality and non-discrimination of all." CJP has also called for the NBSA to direct Zee News to provide proportionate compensation to a citizen's group, like CJP, that is "battling the vicious politics of hatred."  
CJP's complete letter to the NBSA may be read here