His online persona asks to behead non-believers and wishes for more Godhra like incidents. His facebook profile is a landmine of abusive and hateful posts and is constantly seen supporting and being supported by BJP politicians, including Telangana's T Raja.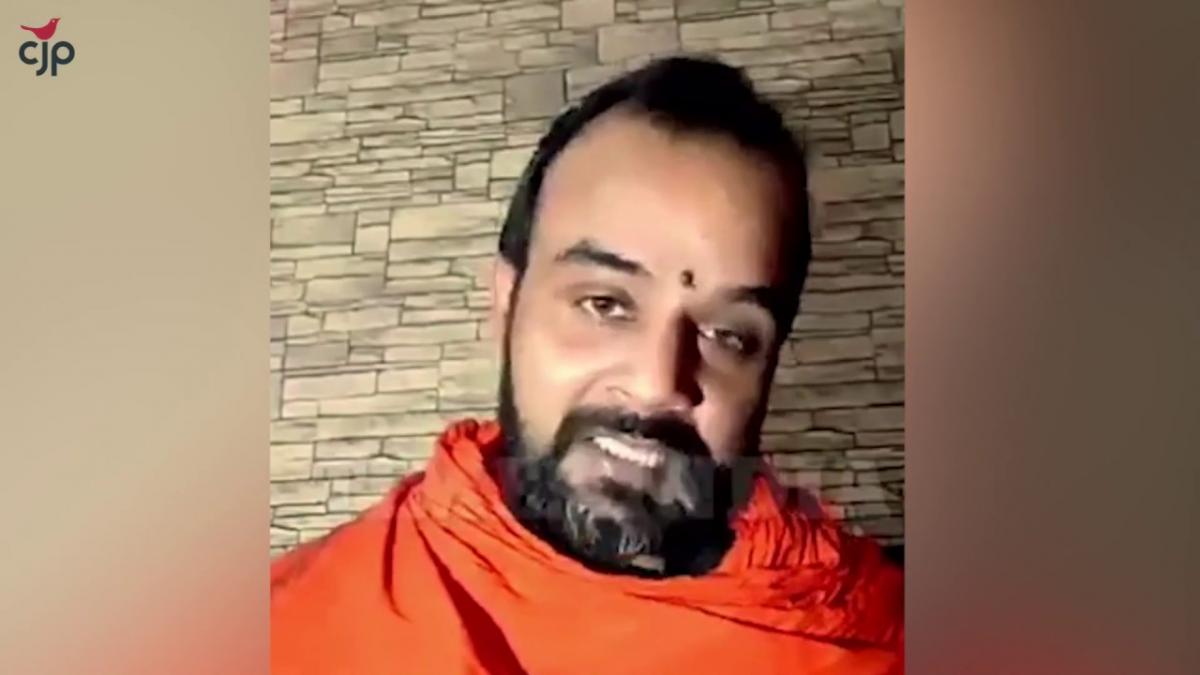 Deepak Sharma is better known as a Hindu activist from Jaipur who speaks a communally charged language than as an interior designer, which he claims is his profession. He is the founder of Rashtriya Swabhimaan Dal (RSD), an organisation that works to protect the interests of Hindu dharma as well as the nation. He claims to be from Jaipur but, as per the police, lives in Hathras district of Uttar Pradesh.  
In his earlier days, he became infamous for his 'MayMay' video and beating a defenceless boy on camera for allegedly making 'memes' of gods and goddesses and offending his religion. In his defence, he said that the Facebook live video was to create awareness. He would say nonsensical things which many found weird but entertaining.  
"He had done something funny that the internet liked (or couldn't stand) and that catapulted him into a world of 'sharers', 'likers', and 'commenters.' His entry into the meme world was an angry video where he listed his achievements for people who believed him to be uneducated. He especially focused on his impressive educational qualifications, like an undergraduate degree in Microbiology, Masters in Interior Design, and an MBA in Interior Design Management. His first video led to memes mocking his take on "secular Hindus", and some poking fun at his "achievements". But Sharma went from funny and weird, to horrifying and upsetting, really fast," Firstpost
said
.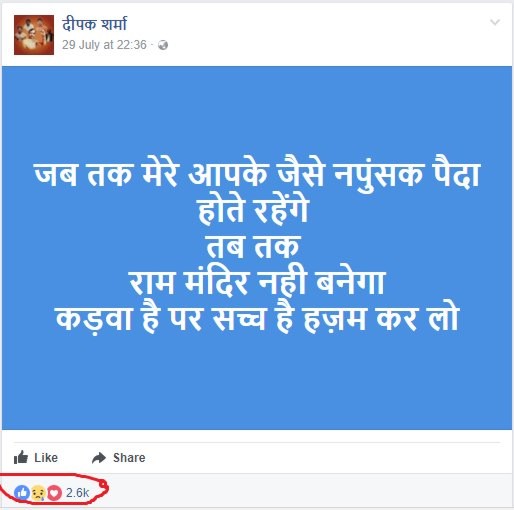 Now Deepak Sharma has a trail of incidences where he has incited communal violence. In October this year, Sharma visited Sharda University campus in Noida, allegedly to instigate Indian students against Afghan students, a day after a brawl took place between them in the campus. Sporadic violence occurred in the campus on Thursday — hundreds of students created a ruckus, demanding the expulsion of Afghan students, and a mob roughed up a Kashmiri student, mistaking him for an Afghan, a report by Hindustan Times
confirmed
.  
There are songs sung in his honour and his online persona and brand revolves around abusive language and spitting hateful venom against minority communities.  
In September, he went a renaming spree in Lutyens, Delhi so that prominent roads having Mughal names are changed to reflect 'Indian culture'. The group was demanding Akbar Road be renamed to Atal Bihari Vajpayee Marg. "In the video, Sharma is seen telling the reporter that Vajpayee was a true nationalist and should be duly honoured. Upon being asked about his objection to the name Akbar, Sharma said that Vajpayee, in his poems, wrote extensively against the Mughals. Sharma, however, appears clueless about Vajpayee's literary works. He had very little knowledge about Vajpayee's political career too," InUth
reported
.
"There are two types of history, one is positive and other is negative. Mughals represent everything that is negative," he said. Sharma went to add how Mughals destroyed Indian culture. "Mughals were worse than British. It is true that the Britishers looted our country and made us slaves. But they never destroyed Indian culture nor did they attack temples," he added. In 2015, when Aurangzeb road was renamed to Dr APJ Abdul Kalam, Sharma claims he was at the forefront in ensuring that the Mughal emperor's name is erased. "We have to remove all symbols of Mughals from our history," he said, the report observed.  
He had also gone to Taj Mahal to offer prayers there with other RSD members but was detained by CISF officials.  
In May his group announced a reward of Rs 51,000 to anybody who pulls out the beard of Kolkata's controversial Imam Nurool Rehman Barkati.  
In his videos, he also called to behead non-believers and wished for one more Godhra like incident. His
facebook profile
is a landmine of abusive and hateful posts and is constantly seen supporting and being supported by BJP politicians.  
There is no FIR lodged against him but it is surprising why the police are not taking any strong action against them under the IPC sections 153A and 295A which apply to him for promoting enmity and defaming religious minorities.