Showing how hate hurts and harmony works, Hindu and Muslim citizens from Thane, Mumbra, Ghatkopar and other areas in Mumbai along with villages like Yavatmal celebrated Ganeshotsav and Moharram together.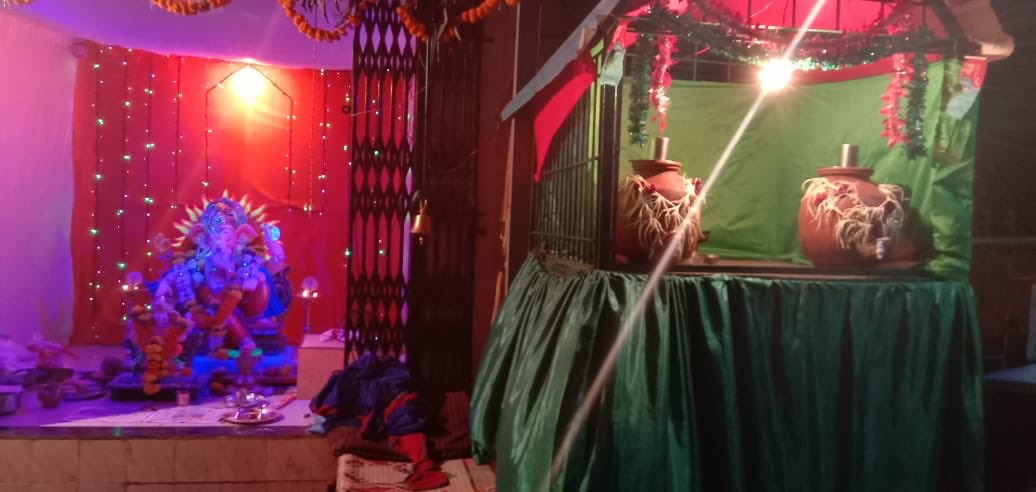 Mumbai: When prayers for Lord Ganesh end in the evening in this pandal, the Maulana's speech begins to mark the day of Moharram at the same venue.  
"Near Bhavan's College in Andheri, the Ganeshotsav and Moharram mandals of Janata Colony SRA hamlet are located 20m apart. "We finish the evening aarti by 9pm because that is when the maulana begins his public speech. Both communities organise the community bhandara meal after after visarjan and the niyaz langar after Ashura," says resident Linganna Mudguni in the
report
by Times of India.  
Showing how hate hurts and harmony works, Hindu and Muslim citizens from Thane, Mumbra, Ghatkopar and other areas in Mumbai along with villages like Yavatmal celebrated Ganeshotsav and Moharram together.  
"The residents gave a message of communal harmony by conducting Ganesha aarti and the azaan for Muharram in the same pandal, set up by the Ekta Mitra Mandal. Another devotee present inside the pandal said, "There is no rivalry between Hindus and Muslims and it is the politicians who instigate people and try to create a rift between us just before the elections in order to get the mandate. Everybody in our village, irrespective of caste, likes to participate in such events together,"
reported
India.com from Mumbra village, a suburb of Thane.  
Hindus performed Ganesh aarti and Muslims performed azaan together on September 20 in the same pandal of 'Ekta Mitr Mandal' in Thane's Mumbra. "The majilis was organised by the Hussaini Foundation. "We celebrate festivals together. We have a common mic and loudspeaker and coordinate our prayers' timings," a devotee told ANI. Abdul Razzak, chief of the Hussaini Foundation, told NBT, "Certain people deliberately try to create a rift between the two communities for their benefit. It is important to be careful of such people." Mumbai Police took to Twitter to share a photo and captioned it, "The real beauty of Mumbai City in one frame - a Muharram Chabil next to Lord Ganesha pandal at Ambika Nagar, Parksite #UnityInDiversity #Ganeshotsav,"
reported
Mumbai Mirror.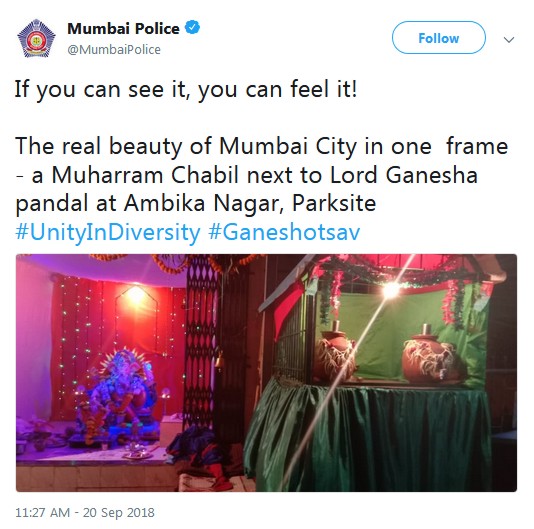 The Islamic new year begins on the first day of Moharram which fell on September 11 this year. Shias observe Moharram as a period of mourning for the martyrs of the battle of Karbala. This season peaks on the tenth day, that is Ashura on September 20, while Ganeshotsav will conclude on September 23. While one conducts itself in a somber and spiritual mood, the other is a celebratory festival full of pomp and colours.  
"The Ram Rahim mandal of Nityanand Nagar Ghatkopar is a singular example of brotherhood. Burqa-clad women sometimes join the evening aarti and the mandal workers help organise the Moharram speeches and build the ceremonial taziya on Ashura," reported TOI.  
Known for the horrible communal clashes of 2006 and 2008, Yavatmal also set an example of unity in diversity by organizing Ganesh Chathurthi and Moharram celebrations together.  
"A non-descript village in Maharashtra's Yavatmal district, which earlier witnessed communal unrest, has now set an example of brotherhood by installing both the 'Muharram sawari' and Lord Ganesh's idol under one roof. Prayers are being held uninterruptedly by both the Hindu and Muslim communities at the same venue at Vidul village in Yavatmal's Umarkhed tehsil,"
reported
The New Indian Express.  
The initiative was taken by Yavatmal Superintendent of Police Megnathan Rajkumar. He instructed the Umarkhed police station inspector, Hanumant Gaikwad, to call a peace meeting of villagers on September 8 in the gram panchayat office.  
"Gaikwad conveyed the SP's suggestion to villagers that they should think of holding the Ganesh and Muharram functions jointly. The villagers unanimously accepted the suggestion and set up a pandal at Nalsaheb Devsthan temple in Vidul where both the religious functions are being held. The temple trust's chairman, Jayaram Dhage, said the Ganesh festival is being celebrated in the religious premises for the last 134 years. "Some years, Ganpati and Muharram coincide. We have now decided that whenever these two festivals coincide, we will celebrate them together with fervour and enthusiasm," he said in the report by TNIE.