The bill is a BJP ploy to communalise the situation for its political ends, which will have dangerous consequences for the region.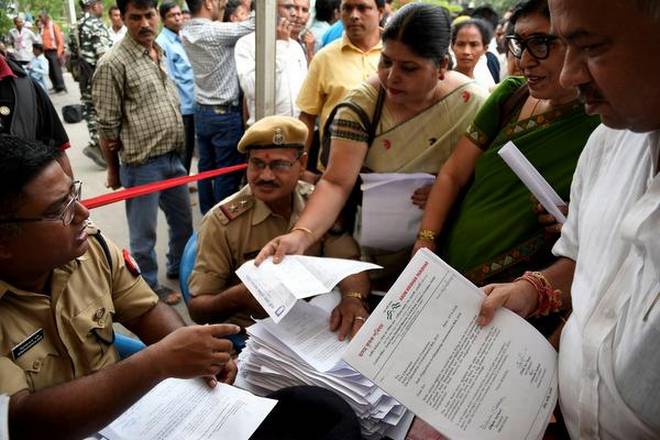 Image Courtesy : The Hindu
The social life of Assam is in turmoil over Citizenship (Amendment) Bill 2016. The magnitude of the anxiety can be seen on the days Joint Parliamentary Committee (JPC) on the Bill visited Assam. Assam is always a sensitive space for ethno national questions. But the steering that swept the whole of state over this bill was not seen in the recent history of Assam. The anxious participation of people and organisations representing all communities in Assam on the days of public hearing at Guwahati and Silchar was really unprecedented. Though the JPC went back after the public hearing, actions and reactions over the Bill are still hitting the shores with same vibrancy. Innumerable organisations are unleashing agitation and mass campaigning programs. Artists, writers and literary figures are not confined to placing their response, but also coming to street in opposition of the Bill. Open opposition by 21 editors of regional electronic and print media groups is also a remarkable aspect. All these reactions have touched the masses and the Bill has become the centre of public debate all over the state.
CPI(M) opposes the bill because it goes against the basic ethos of Indian Constitution. There is no provision for citizenship on the basis of religious identity in Indian constitution. The debate over granting citizenship on the basis of religion is not new. It was discussed in the Constituent Assembly, but was thoroughly rejected. Now through this Bill, BJP is again trying to tinker with the secular character of our Constitution. In a sovereign state, no one has the right to ride over the constitution. That's why CPIM and all left democratic organisations squarely oppose the bill. 
Assam Accord
The second reason of opposing the bill is specific to Assam. The Assam accord fixes March 24, 1971 as the cutoff date for identification and expulsion of foreigners in Assam. That means government of India is duty-bound for identification and expulsion of any illegal emigrant who has entered Assam on or after March 25, 1971. We should not forget the history behind fixing of this date. The leadership of Assam agitation, started from 1979 under the joint leadership of All Assam Students Union and Asom Gana Sangram Parishad, demanded National Register of Citizenship (NRC) of 1951 to be the basis for identification and expulsion of foreigners in Assam. CPIM and other left forces instead demanded March 24, 1971 to be the cutoff date. Because Bangladesh was carved out of Pakistan only in 1971. It cannot be expected that it would take the responsibility of those immigrants who has migrated before its formation. So insistence on this demand would result in agony, conflict and violence only. So fixing 1951 as cutoff year was neither practical nor desirable. So CPIM and left forces, from the very beginning, demanded March 24, 1971 to be the cutoff. For taking such position, CPIM and other left mass organisations faced severe attacks and violence. The emerging student organisation of that time SFI had to pay heavy price in this period. No doubt, Assam Agitation had historical mass support, millions of people participated in it for six long years and faced repression by police and armed forces. But it is also true that divisive and undemocratic elements penetrated the movement, and were quite active in that period.  How RSS made inroads to the movement and did divisive politics, is now published in the form of book. A section of agitators got communally charged and acted in that way is evident from the heinous Nellie massacre. No one can deny cruelty of a section of agitators against Bengali speaking people of different parts of the state. A section of agitators became undemocratic and violent at times is proven by the fact that at least 49 CPI(M) activists got killed and many others had too gone through severe brutalities.
However the massive "Assam Movement" ended on August 15, 1985 with tripartite agreement, now known as the Assam Accord, between Central government, Assam government and leadership of the movement. Interestingly, the Accord came to similar conclusion as advocated by CPI(M) from the beginning. The cutoff year for identification of foreigners was fixed at 1971. On principle, even left, which had faced brutal atrocities, accepted the crux of the Assam Accord as it was crafted centering 1971 as the cutoff year, which was their official position from inception of the movement. But, anti-left brigades still spread all possible misinterpretations regarding that.
It has been 33 years now, since Assam Accord has been signed, but without any remarkable results. No practical way out was found to deport the few foreigners identified from Bangladesh. The Central government has not had any bilateral discussion with Bangladesh for deportation. Whereas in Article 5.8 in Assam Accord, government promised to do all necessary to expel foreigners (
5.8 Foreigners who came to Assam on or after March 25, 1971 shall continue to be detected deleted and practical steps shall be taken to expel such foreigners)
. So declared foreigners are being held in detention camps in inhuman conditions. Already, there is chaos and bias in identification of the foreigners. Erecting barbed wire fencing at India-Bangladesh border is not yet completed. But none of this was actually 'Himalayan task'. All this led people of Assam to feel being let down by the Government of India.
Such irresponsible inaction of government increased tension among various communities of Assam.  Assamese and tribal communities are being constantly haunted by the fear that at any time they would become minority in their own land if some urgent steps are not taken by the government. On the other hand, minorities are being harassed and ill-treated in various parts of the state only on the basis of mere suspicion.
Updating of NRC
That being the situation, people of Assam from all sections and communities started searching for a practical and logical solution for the problem of identification of foreigners. Gradually, one common opinion got crystallised that updating 1951 NRC taking 24 March 1971 as cutoff date can be a logical solution. This proposal got acceptance of all communities. Assamese-speaking and tribal population has the impression that such an arrangement will halt illegal emigration and will help identify foreigners. Again, Muslims and Hindus of Bengal origin thought having such a document at hand will release them from all social disdain, because they are already exhausted by the arbitrary marking of "D" (Doubtful) voter. 
Despite strong public opinion NRC updating process was not being smooth due to lack of sincerity and initiative of the state government. Finally, the matter went to Supreme Court and after its intervention in 2015, the gigantic and knotty work of updating of NRC started. But, suddenly the issue of "original inhabitant" was brought in by the government, just to make the process unnecessarily complicated. Not only that, the state government and ruling party tried all possible means to disturb the NRC updating process and to make it sloth.  However, people of Assam fully cooperated with the tedious process of NRC with utmost patience. The Supreme Court even condemned the chief minister of Assam for dilly dallying the NRC process. The Assam state government and registrar general of India tried many times to postpone the schedule of publication of the NRC list. Recently, registrar general of India was warned by the Supreme Court to be unseated if any further undue intervention is done. But, finally with the intervention of the SC, once again, on January 1, 2018, first draft list of the NRC was made public, though with lots of errors. Now, everybody in Assam is eagerly waiting for an error-free final draft list of the NRC to be declared on June 30.
Politics of the Amendment Bill:
The BJP government has other motives. They don't want to solve the foreigners' issue and hence don't want the NRC to be updated. Just after the NRC updating process was started in 2015, BJP in center tabled the Citizenship Amendment Bill in 2016, despite severe opposition from the people of Assam. Through this, the ruling party is eager to undo the harmonious consensus over March 24, 1971 as cutoff date. Due to the objection of the opposition parties in parliament, finally, a Joint Parliamentary Committee was set up. Since the inception of the JPC, people of Assam demanded that JPC should come to Assam instead of taking the decisions in Delhi only. But the JPC, with majority members being from BJP itself, refused to come to Assam and started functioning from Delhi itself. Only after mass unrest on the issue in Assam, the JPC finally went to Assam with three-day public hearing programme between May 7 and 9, two days at Silchar and one day at Guwahati. This visit of JPC brought the issue of the Bill to the forefront of the politics in Assam. At Guwahati, most of the organisations from Brahmaputra valley opposed the Bill, in contrast with Silchar, where most of the organisations from Barak valley supported the Bill. But, the issue now is not merely limited to public hearing on the Bill. From the next day of public hearing, whole Brahmaputra Valley was literally coming to street. Hundreds of organisations have given memorandum against the bill. The matter is no more an "issue" of political organisations only. All sorts of social stakeholders, literary forums, local clubs, women organisations and literary figures have joined in street agitations against the Bill. 
The insecurity that grips in the masses is that, if this Bill is enacted, people of Assamese linguistic nationality and tribal people of Assam will become minority in their own land. The demographic changes in Assam in last few decades also have whipped up the sense of insecurity. Though emigration is not the only cause of such demographic change, it needs to be objectively scrutinised. Anyway, since the Bill has been brought up in that particular context of already prevailing insecurity, it has created widespread anxiety among the people in Assam. That is because of the undeniable probability that the act will encourage more emigration from Bangladesh to Assam. Such emigrations will be unbearable for Assam. Already, only for Assam, the cutoff date is March 24, 1971 and the Citizenship Act 1955 was amended for that and article 6(A) is inserted into it. So, again another chunk of emigration cannot be accepted. If the Bill gets approved in its present form, all non-Muslim emigrants till December 3, 2014 will get citizenship. But, in future too, with only changing the "Foreigner's Order" by administrative steps, the cut-off date can be extended to any future date. However, it is also to be noted that some section wants to give such an impression that if the Bill gets passed, the entire Hindu population of Bangladesh will come to Assam. That is also an exaggeration. The entire Hindu population of Bangladesh can't come to Assam. Such exaggeration will only make people emotionally charged and will encourage chauvinist tendencies.
In Barak valley, many people are supporting this Bill. We should not forget that the tragic past of partition is still alive in memory of many Bengali-speaking people. Many families came from 'Sylhe' district of East Pakistan to settle in Barak valley of Assam. Before formation of Bangladesh – in East Pakistan – atrocities or threat of atrocities on a part of the Hindu population was there. So, some sort of empathy for the Hindu population for present day Bangladesh is not very strange, particularly, when they are of the same language and religion. Even after accepting that empathy, it can be said clearly that no more emigrants can be accepted in Assam.  The consensus over the cut off as March 24, 1971 in both the valleys, Brahmaputra and Barak and among all communities can't be put into jeopardy at any excuse.
Finally, the most important point to be understood is that, this Bill has been brought for some particular political ambitions of BJP. After being in power for four years, Modi government has failed miserably to deliver anything for people. So, the politics of communal division is the only card left with them. They are playing that card in different style in different regions. This Bill is one of them, particularly targeting Assam, West Bengal and Tripura. BJP does not care that the peace harmony and communal integrity in a state or region can be at peril for its narrow political interest. People of Assam or India have to stand above chauvinism and all kind of sectarianism to defeat that political ploy of BJP. If today people of Assam or these three states failed to do so, there is high probability that communal tension or conflict will hamstring harmonious life of different communities.  That will be the biggest success for the communal politics of BJP. Therefore it is high time that people from all communities should oppose the Citizenship Amendment Bill unitedly without giving any space to any kind of divisive tendency.  
Translated from Assamese by Angshuman Sarma.

Courtesy: Newsclick.in