Is there any politician today that is as educated, intelligent and committed to social justice as Vidyasagar today?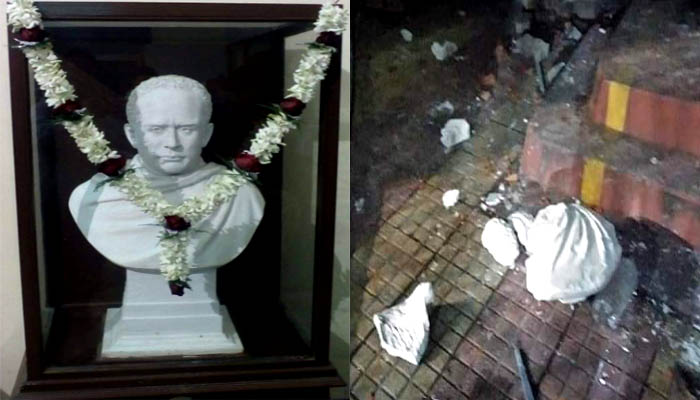 Kolkata: When Ishwar Chandra Vidyasagar passed away on July 29, 1891, in Kolkata at the age of 70, Rabindranath Tagore said, "One wonders how God, in the process of producing forty million Bengalis, produced a man!"  
Can one say the same about the BJP and TMC leaders and party workers in Bengal, who are currently fighting an ugly battle for the state's Lok Sabha seats? 
When the Bengali revolutionary's statue was vandalised and broken, what did it tell us about the man who ushered in the Bengali renaissance and the political goons who broke his statue?  
The statue of Ishwar Chandra Vidyasagar was broken to pieces at Vidyasagar College in Kolkata during the violent clashes that broke out during BJP chief Amit Shah's roadshow in Kolkata on Tuesday evening. During the chaos, Akhil Bharatiya Vidyarthi Parishad (ABVP) members supposedly entered the college premises and vandalised property.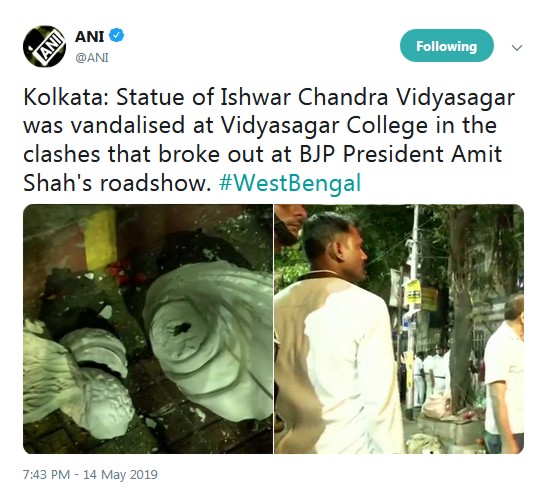 Vidyasagar was born on September 26, 1820, in West Bengal to impoverished Brahmin parents. An eager learner from an early age, he would spend his time studying under a streetlight as his parents could not afford gas light at home. An obstinate boy with a brilliant mind, he learned basics of Sanskrit at the village pathshaala after which he set out for Calcutta with his father in 1826.  
He learned Vedanta, Vyakaran, Literature, Rhetoric's, Smriti and Ethics in Sanskrit College during 1829 to 1841. He took part in a competition testing knowledge in Sanskrit in 1839 and earned the title of 'Vidyasagar', which translates to 'Ocean of Knowledge'. In 1839, Vidyasagar successfully cleared his Law examination and in 1841, at the age of 21, he joined Fort William College as a head of the Sanskrit department.  
He soon came to be known as a Bengali polymath, a well-known writer, philosopher and a staunch supporter of humanity. Revered by the British authorities of his time, Vidyasagar brought about a revolution in the Bengali education system and refined the way Bengali language was written and taught. His book, 'Borno Porichoy' (Introduction to the letter), is still used as the introductory text to learn Bengali alphabets.  
He simplified a language so that people could easily access education.  
Which is more than what you can say for the ruling government which is hell bent on shaking the foundations of all institutions in India. Dismantling UGC, the attacks on JNU, changing Indian history in Rajasthan's textbooks to glorify Hindus and reducing the spending budget on education year after year ever since they came into power are against everything Vidyasagar stood for.  
The last four years have seen authoritarian assaults on Indian educational institutions -- HCU, JNU, FTII, IIT-Madras and BHU -- aimed at crushing the democratic culture and destroying every single voice of dissent.  
"The BJP-led central government has aggressively pursued the policies of commercialisation, centralisation and communalisation of education. It is accelerating the neo-liberal educational policies of the previous UPA government, aimed at deregulating the education sector and increasing the avenues of profit maximisation for the private capital. However, at the same time, it is destroying the federal character of Indian education and is attempting to control the entire sector from the Centre, as part of the designs to push the Hindutva agenda. This is reflected in appointing RSS personnel in key administrative bodies, rewriting of history, abrupt and irrational changes in syllabi, propagation of pseudoscience, so on and so forth. The brunt of these attacks is falling upon the students from the socio-economically exploited and oppressed section," a report by Newsclick
said
.  
Vidyasagar wrote and published countless books. He was a philosopher, academic educator, writer, translator, printer, publisher, entrepreneur, reformer and philanthropist. Prime Minister Narendra Modi whose own educational abilities and achievements remain shrouded in mystery and controversy, can hardly be expected to be a role model for India's children and youth, 'Exam Warriors' and nationally televised pariskha pe charcha sessions with school kids notwithstanding, a
report
said.  
Vidyasagar is credited for championing the cause of education, especially for girls. He, along with fellow reformers Ramgopal Ghosh and Madan Mohan Tarkalankar founded several schools for girls in the early 19th century. He strongly believed that everyone, irrespective of their caste or gender, had the right to education and so he opened up the premises of the Sanskrit College for people from lower castes.  
Being a Brahmin, he worked to break the chains of caste through education. He was instrumental in removing Sanskrit words from Bengali typography and language. He pressed for more democratic public education that didn't discriminate based on gender or caste.  
Hate crimes motivated by religious bias shot up to a decade-high of 93 in 2018, according to a multi-organisation project led by 
FactChecker.in
.
Religious tolerance deteriorated and religious freedom violations increased in India under Prime Minister Narendra Modi's regime, a report by an independent bipartisan American body claimed in 2017.  
Caste atrocities in the last five years have seen an unprecedented rise. Dalit men are killed for riding horses, keeping moustaches, wearing footwear and even eating in front of upper caste men. Muslim and Dalit minorities are lynched for transporting cattle and the perpetrators are often upper caste 'Gau Rakshaks.'  
The dominant caste has certainly found protection under the BJP government to be as gruesome as they want to be without any consequences.  
Vidyasagar was vocal about widow remarriage and introduced the practice and pushed for the Widow Remarriage Act XV of 1856.  
Despite its significant majority in parliament, the government did not move to pass the women's reservation bill that would have reserved 33% of seats in the Lok Sabha and state legislative assemblies for female candidates. That bill has been languishing in parliament for over two decades, even though research has shown that female legislators are better for the Indian economy.  
And when it comes to health and safety from sexual harassment and assault, Indian women continue to fare far worse than many of their counterparts abroad. Experts and activists polled this year by the Thomson Reuters Foundation perceived India as the world's 
most dangerous place
 for women, citing retrograde cultural practices, sexual violence, and trafficking. When the same poll was conducted in 2011, India ranked fourth after Afghanistan, Congo, and Pakistan.  
When it comes to crimes against women, almost all categories have seen an uptick in recent years, with thousands of cases of dowry harassment, assault, kidnapping, and rape registered in the last year alone.  
India's female labour force participation rate is among the lowest in the south Asian region. In 2015-16, only 24% of India's women were employed, down from 36.3% in 2005-06, according to the latest 
Economic Survey
 (pdf). Last year, India
 dropped 21 spots
 on the World Economic Forum's Global Gender Gap index because of the lower participation of women in the economy.  
Ishwar Chandra Vidyasagar's books are still used to this day to learn Bengali alphabets and literature. His words and work still help countless people, almost 200 years after his birth.  
What is the legacy that the ruling party leaves behind?  
Is there any politician today that is as educated, intelligent and committed to social justice as Vidyasagar today?  
Students who witnessed the vandalism in the college said that the attackers shouted "Vidyasagar-er din shesh, how's the josh?" (The days of Vidyasagar have ended. How's the josh?)  
What does the country lose when the shattered pieces of his bust lay on the ground.