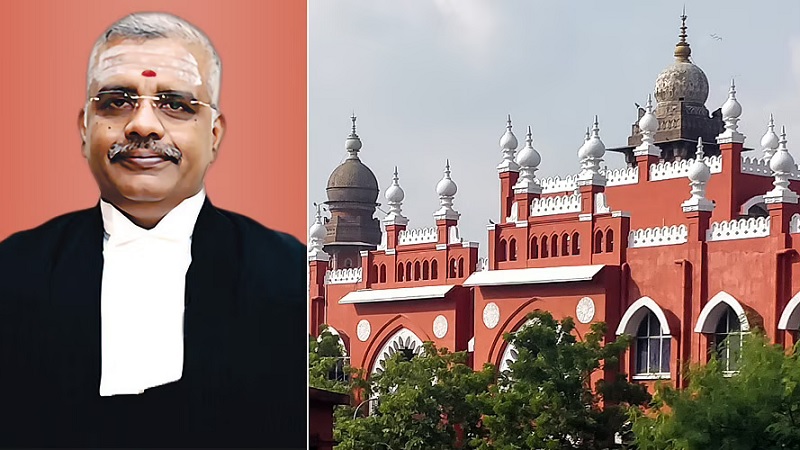 Image Courtesy:barandbench.com
Madras High Court's Justice Anand Venkatesh said that he will fix an appointment with a psychologist to understand same sex relationships better.
"Ultimately in this case, the words must come from my heart and not from my head, and the same will not be possible if I am not fully "woke" on this aspect. For this purpose, I want to subject myself for psycho-education with Ms. Vidhya Dinakaran and I would request the psychologist to fix a convenient appointment for the same," said Justice Venkatesh.
He added that such a session will help him evolve, saying, "I honestly feel that such a session with a professional will help me understand same-sex relationships better and will pave way for my evolution. If I write an order after undergoing psycho-education, I trust that the words will fall from my heart."
The court was hearing a protection plea filed by a lesbian couple and back in March, had referred them and the families to a counsellor, specialising in LGBTQIA+ individuals. It was alleged that their parents were against their relationship. When this matter had come up initially, Justice Venkatesh had said that he was trying to break his own "preconceived notions about the issue and he was in the process of evolving."
The court had requested the Mediation Centre to allot two cabins to enable the parents to have a one-to one interaction with their daughters and they spent nearly an hour with them in the Centre. The court, while referring their matter to a counsellor who specialises in working with LGBTQIA+ individuals said, "This move becomes very vital since this Court is moving into unchartered waters, and a report from a specialist will provide support to this Court to move forward in this case."
In pursuance of this direction, the court on April 28 recorded that all parties attended the counselling session, and a report of that has been submitted to it. He perused the report and said, "Insofar as the petitioners are concerned, the psychologist has opined that both the petitioners perfectly understand the relationship they have entered into and there is absolutely no confusion in their minds about the same. It is also observed that they have a lot of love and affection for their parents and their only fear is that they may be coerced into separation."
The High Court noted that both women wanted to continue their education and work simultaneously, to take care of themselves and they also wanted to be in touch with their family members. "The petitioners are also willing to wait for their parents, whom they fervently hope will understand the relationship at some future point of time", recorded the order.
In so far as the parents are concerned, Justice Venkatesh observed that "they are more concerned about the stigma attached to the relationship in the society and the consequences it may ensue on their family. They also apprehend that they will be looked down upon by the society and their own community. The parents are also very much concerned about the safety and security of their respective daughters."
The report prepared by the counsellor also states that the parents would rather prefer their daughters to live a life of celibacy, which according to them will be more dignified than having a partner of the same sex. "They also have serious confusions regarding the lineage, adoption and other normal consequences that follow a heterosexual relationship and as to how the same would apply in a case of same sex relationship", said the court.
After making such observations, Justice Anand Venkatesh requested the counsellor "to fix some date during the month of May 2021 and conduct one more counselling for the parents of the petitioners and submit a report before this Court."
The Court proceeded to post the matter next on June 7. The Court also took on record the assurance of the State that the FIRs filed on the parents' complaint would be closed immediately. It said, "It is brought to the notice of this Court that despite the directions issued by this Court, the police are yet to close the First Information Report. The learned Government Advocate assured that the First Information Report will be closed immediately and reported before this Court."
The order may be read here:
Related:
Trying to break preconceived notions about same sex relationships: Madras HC
Delhi HC directs police protection for Lesbian married against her will
SC recognises how intersection of gender, caste and disability makes one a soft target