Umar Khalid, along with his fellow students Kanhaiya Kumar, Shehla Rashid and Anirban Bhattacharya were propelled into virtual stardom after the
targeting of the JNU campus
and its student leaders by the
current political establishment
through the MHRD. But given that Umar was born Muslim that aspect of his identity has been highlighted the most, despite the fact that he is actually an atheist.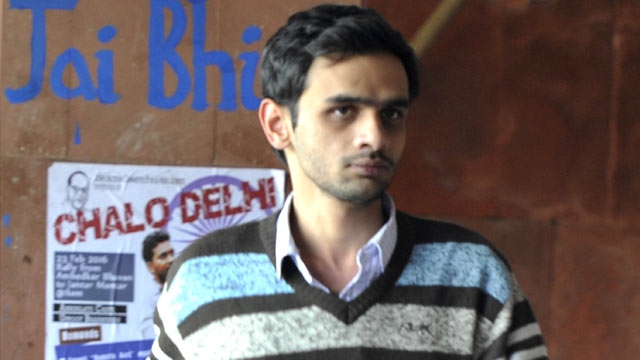 Image: DNA
In the second part of his exclusive interview to Sabrangindia, Umar Khalid tells us about how his life has changed since being in the spotlight.  
"I get death threats almost every day. So every time I step out of the University I'm very cautious about who can attack me on the road," says Umar Khalid matter-of-factly, his calm belying the clear and present danger to his life. "This is a characteristic of Fascism, when you don't fear the police as much as you fear your fellow citizens," he says explaining how the media campaign initiated by the state to paint him and his fellow students as anti-national had endangered their lives.  
However, Umar is also grateful for the support he has received from many other people who have expressed solidarity. "I'm not superman, I'm human and I would have been scared had they been able to isolate me, but right now there are many others who are suffering like me," he says. "Students have the potential to offer an alternative by asking questions. How come a group of people who had no role to play in the freedom struggle are posing as the biggest nationalists? How have our democratic institutions failed the people of this country? We do not have the luxury of staying quiet because we are not alone," he elaborates.  
Umar is also bothered by the brazen anti-Muslim character of the present regime. "The last one and a half years have been a time when I've been made to feel most Muslim and been made conscious of my identity. It has nothing to do with your set of beliefs it is just about your name," he says. "If your name is Umar Khalid you will be linked to Jaish-e-Mohammed. If your name is Najeeb Ahmed, without any police investigation, you will be linked to ISIS!" Interestingly, Umar is a communist and an atheist and believes that he is targeted only because of his Muslim name.  
"I grew up in Jamia Nagar which is one of the largest ghettos in modern India. The Muslim community over the last 30 years has been condemned to live in such ghettos. The secularisation of the Muslim community will happen once you solve the larger problem of ghettoization," he asserts. "My family worries about my wellbeing but they are used to this the whole community has faced constant threat beginning with the Babri Masjid demolition. However, it hit much closer home when my family was threatened, particularly when people threatened to rape my 12 year old sister," he says.     
Umar also believes that the 'Left' and various minority and civil society organizations need to come together to bring about real change. "Communalism is just a ploy to divert attention from real problems like the loot that is happening in the name of 'development'," he says reiterating the need for integrating the struggle for the rights of minorities, backward castes and other marginalised communities. "Even the slogan – Jai BhimLalSena makes a lot of people uncomfortable. But it represents a new kind of thinking where people are thinking about: the caste questions, patriarchy, fascism and communalism, not a separate struggles but as a part of the larger struggle," he signs off on a positive note. 
Related Articles:
-
Umar Khalid on how India is criminalising dissent
-
The Attack on JNU, Systemic and Unrelenting, is Only One Part of the Anti-Democratic
Assault of the Modi Regime: Umar Khalid