Speaking while he was illegally detained at his hotel room in Malad East, Bhim Army Chief was confident and assertive.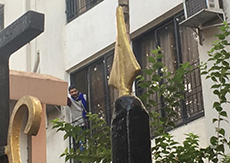 Here is the Video: 
"I'm being held captive in Manali Hotel. I have come to this land of Babasaheb Ambedkar the first time. I wanted to pay him my respects. I want to know under which Act have I been detained. I ask the Maharashtra government and the police to tell me under what provision of the law have I been detained. The country should run as per the Constitution but today the Constitution has been set aside. 
"I wanted to visit Chaityabhoomi. I wanted to hold a press conference. I wanted to speak to the people and understand their struggle. What is happening to me today can happen to anyone who raises their voice against injustice. Whatever happened to AArticle 19 of the Constitution? I want to make it clear that the country must be run as per the Constitution. I am carrying my own copy. Some people harbour the dilusion that the country will be run as per decisions made in Nagpur or as per the Manusmriti. But I will not let that happen.
" I will not stop. I will not bow down and I cannot be bought. Even if you arrest me, I am prepared to make sacrifices to ensure that the Constitution is honoured. I know the present government will try to stop me. Let me see how many times they try. Jai Bhim. Jai Bhim Army."