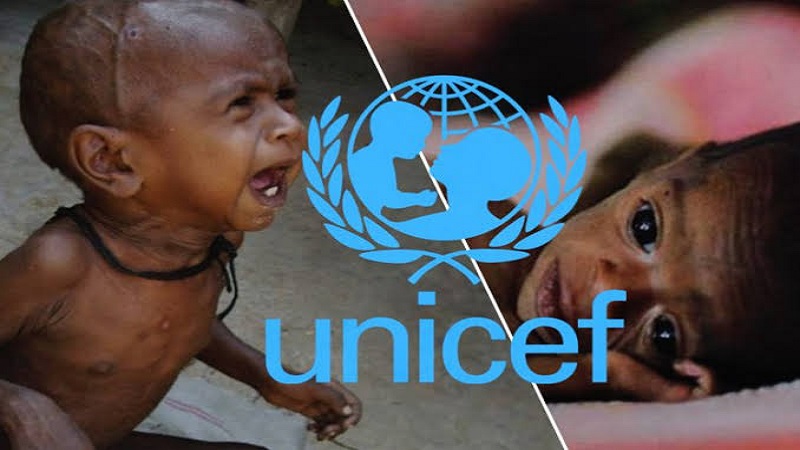 In the first week of the ongoing Lok Sabha session, a few questions were asked about child health and the central theme of these questions centred around malnutrition. A recent UNICEF report has found that India ranks highest in annual number of deaths of children under the age of 5. Here's a brief look at the findings of the report that also examines how India's heath care policies have been able to cope with the issue of malnutrition, which is the cause of 68.2% deathsof children under 5 years of age.
About the report
The UNICEF report titled "The State of World's Children 2019-Children Food and Nutrition" is being annually published by the UNICEF since 1980. The aim of publishing this report is to spread awareness and knowledge about issues affecting children and it advocates solutions that can improve children's lives. This report is one of the many initiatives of the UNICEF. The report states that the triple burden of malnutrition – under nutrition, hidden hunger and overweight – threatens the survival, growth and development of children, young people, economies and nations. The overall findings of the report are that, at least 1 in 3 children under 5 is undernourished or overweight and 1 in 2 suffers from hidden hunger, undermining the capacity of millions of children to grow and develop to their full potential.
The UNICEF report may be read here:
India findings
According to UNICEF, 38% of children under the age of 5 in India suffer from stunting. In the worst affected state, almost 50% children suffer from stunting: in the least affected state 1/5th of the children suffer from stunting. Stunting is a clear sign that children in a country are not developing well – is both a symptom of past deprivation and a predictor of future poverty. The report also explains the triple burden of malnutrition, being – under nutrition, hidden hunger and overweight – which undermines children's health and physical and cognitive development. Analysis of 2011-12 data suggest that in India 5% of rural and 8% of urban population bears the triple burden of malnutrition.
The report states that although India stands a chance of a good demographic dividend in the coming years, the same can only be realized with improvement in human capital, by investing in people's education, training, skills and health and malnutrition stands as a hurdle in the path of a good demographic dividend in the future.
The report also mentioned that India's health system provides curative care and foster positive family practices such as breast-feeding. In India, national and state governments implemented a multi-pronged strategy to support breastfeeding, including large-scale programmes, effective capacity-building initiatives, strong partnerships, community-based action, and communications campaigns. As a result, early initiation of breastfeeding rose from 24.5 per cent in 2006 to 44.6 per cent in 2014.
There was also a detailed mention of how India's Comprehensive National Nutrition Survey (CNNS), which ran from 2016 to 2018 across all states captured the nutritional status of pre-school, school going children and adolescents up to 19 years of age.
Yet, India topped the list of countries with highest annual number of under-5 deaths in 2018, at 8,82,000 such deaths.
Malnutrition
India's struggle with the malnutrition among children under the age of 5 (U-5) has been a long one. Malnutrition refers to a pathological state of deficiency or excess of nutrients. Under nutrition is known to be one of the most common causes of morbidity and mortality among children <5 years of age.
India's policies tackling malnutrition
India has multiple health schemes many of which promote maternal care and nutrition as well child care and nutrition and there is a lot of awareness about the same among the masses that need it the most, i.e. the poor (urban as well as rural) and the rural population at large. One of the most successful models of child health and nutrition is the Integrated Child Development Scheme (ICDS) which was originally launched in 1975 but gained traction much later. ICDS was providing ineffective in tackling the issue of malnutrition as providing primary health care and nutrition is not the only provision in the scheme.
The government later launched Nutrition Rehabilitation Centres (NRCs) at public health centres to treat Severely Acute Malnutrition (SAM) cases. A recent study of these NRCs revealed that shortage of human resources was one of the major issues faced by them. The study was carried out in 4 NRCs and it was observed that only 70% of doctors, 7.4% of nursing staff, and 30% of attendants and cleaners were available across the four NRCs. NRCs provide life-saving care for children with SAM; however, the protocols and therapeutic foods currently used need to be improved to ensure the full recovery of all children admitted. To sustain the benefits and prevent relapse, there is a need to integrate the services at NRC with the community-based therapeutic care to deliver a continuum of care from facility to doorstep and vice versa.[1]
By the insertion of Article 21A in the Constitution, the right to education, hitherto an obligation on the State under the Directive Principles of State Policy became a justiciable right: through this, the 86th amendment to the Constitution in 2002, the State must provide free and compulsory education to all children of the age 6 to 14 years. The 86th amendement also went further. It replaced Article 45 that comes under the Directive Principles of State Policy and was previously the only provision related to the right to education with a renewed pledge to read (amended Article 45): "The State shall endeavour to provide early childhood care and education for all children until they complete the age of six years."
CNNS (Comprehensive National Nutrition Survey)
In the data provided on the Lok Sabha recently mentioned that CNNS results highlighted improvement in the U-5 category stating that in comparison to NFHS -4 (National Family Health Survey) which was carried out in 2015-16 there was reduction in cases of stunting from 38.4% to 34.7%, in cases of wasting from 21% to 17.3% and in cases of underweight children from 35.7% to 33.4%.
POSHAN (Prime Minister Overarching Scheme for Holistic Nourishment)
Under POSHAN, the government aims to attain a malnutrition free India by 2022. It was launched in 201 by Prime Minister Modi and it targets to tackle malnutrition by ensuring convergence of various nutrition related schemes. Its large component involves gradual scaling-up of interventions supported by on-going World Bank assisted Integrated Child Development Services (ICDS) Systems Strengthening and Nutrition Improvement Project (ISSNIP) to all districts in the country by 2022.
Since POSHAN is the foremost policy for tackling malnutrition and has such an ambitious target of eliminating completely, the menace of malnutrition that has plagued India's health care for years now, it is important to study how well and effectively has this ambitious policy been implemented.
The government had planned to release a "Status of India Nutrition" report in March 2019 to rank states according tot heir performance under the POSHAN Abhiyaan. The report however, has not yet been released.
An opinion piece in Livemint argued that Anganwadi centres are supposed to be the point of delivery of all health related schemes and these centres are themselves struggling with infrastructure problems. Around 24% of them lacked their own building and operated from small rented premises, and around 14% lacked pucca buildings. Only 86%, 67% and 68% of AWCs had drinking water facilities, electricity connections and toilets respectively, some of which are either dysfunctional or could not be used due to conditions imposed by landlords. There is also lot of room for improvement in terms of achieving universalization of coverage and advanced service delivery in health care. When the cogs that POSHAN scheme depends are only not functioning at their best output, how can a scheme like POSHAN with such a behemoth task achieve its target completely.
It was reported in September 2019 that a recent study conducted by Indian Council of Medical Research (ICMR) estimated that many Indian states are running behind and may not be able to reach their targets under the POSHAN Abhiyaan.
Way forward
This indicates that India has still a long way to go in achieving its goal of eradicating malnutrition and thus malnutrition related deaths. What India needs is one integrated health plan for children below the age of 6 where all current elements of health care are firstly provided with the infrastructure they need and ensuring maintenance and periodic monitoring of records and data (for ease of assessment of performance) and regular and timely follow-ups. While awareness already exists, multiplicity of schemes makes the task convoluted.
Related:
Most states won't meet Poshan Abhiyaan targets to curb child malnutrition: Study
Karnataka gov't delays malnutrition alleviation report, HC warns of contempt proceedings
Gates Foundation study: Child malnutrition reduction targets impossible to achieve
38% Of Indian Children Under 4–Poor And Rich Alike–Are Stunted: Study
Mini Anganwadis Could Help The Poorest And Most Disadvantaged
Why India Is Likely To Miss Its Nutrition Targets For 2022
Budget for Children in #NewIndia in 2018-19