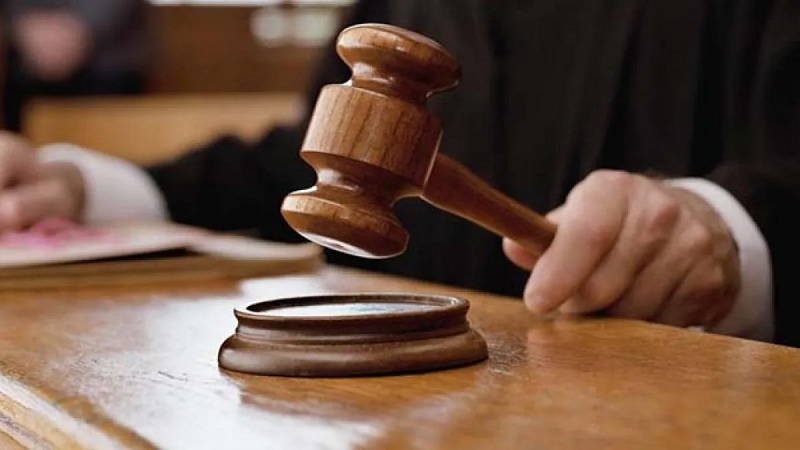 Image Courtesy:legal60.com
After deferring the bail order thrice, the Karkardooma Court in Delhi denied bail to Dr. Umar Khalid on March 24, 2022. This was in connection with the case related to the alleged larger conspiracy behind the communal violence that broke out in East Delhi in February 2020. Now compare this to how quickly some people who engaged in hate speech and even made open calls for violence with impunity were granted bail… A clear pattern emerges. Even in cases where political dissenters are granted bail it is usually after a long period of incarceration and constant harassment.
The case of Dr. Umar Khalid is prominent because he was arrested by the Delhi Police in September 2020, under the Unlawful Activities (Prevention) Act, on the charge of larger conspiracy to allegedly unleash violence to defame the Indian government during a visit by former US President Donald Trump.Many other activists and political dissenters have fallen victim to this draconian statute which is being regularly abused often to incarcerate politically inconvenient voices, more specially so by the executive in the past 7 years. Here is a list of cases which portray the unfair, biased and discriminatory treatment given to those who dare to stand up for their rights.
Bail denied:
Fahad Shah, Journalist & Editor of Srinagar-based magazineThe Kashmir Walla
Shah was first arrested for his Facebook post on Pulwama encounterin February 2022 for allegedly "uploading anti-national content including photographs, videos and posts with criminal intention to create fear among public and the content so uploaded can provoke the public to disturb law & order," as per the police. He was granted bail on February 26, but then booked in a case registered in Shopian. When he managed to get bail in that case on March 5, he was arrested again in another case, making it his third arrest in just over a month!
Siddique Kappan, Journalist and Writer
Kappan, a senior reporter, who is also secretary of Kerala Union of Working Journalists (KUWJ) Delhi unit, and also a member of Press Club of India, has been behind the bars for more than 2 years now. The Allahabad High Court had admitted his bail application filed by him seeking to quash the "patently illegal prosecution sanctions" against him under the Unlawful Activities (Prevention) Act (UAPA) but the Court has granted one week's time to Kappan's counsel Advocate to file the rejoinder and has listed the matter for March 28, 2022.Kappanhad gone to cover the Hathras horror of the alleged gangrape, and murder of the 19-year-old Dalit woman that had made headlines all around the world. Siddique Kappan never reached the spot from where he had intended to write his news reports. He was arrested by the Mathura police on October 5, 2020, along with three others – Ateeq-ur-Rehman, Masood Ahmed and Alam, and has been detained ever since on trumped up charges. He was arrested on an apprehension that he may cause a breach of peace but later on he was charged under Unlawful Activities (Prevention) Act (UAPA) and till today he has not been granted bail.
Gulfisha Fatima, Student Activitst&Tasleem Ahmed, Activist
The duo was denied bail in the case related to alleged "larger conspiracy" behind the communal violence that broke out in North East Delhi in February 2020. They have been booked under the anti-terror law, UAPA. Additional Sessions Judge Amitabh Rawat dismissed Fatima's bail plea, saying in view of the charge sheet and the accompanying documents, the allegations against the accused appear to be "prima facie true" and therefore, no relief can be given on account of the embargo under the Unlawful Activities (Prevention) Act (UAPA).Similarly, the judge also dismissed the bail application of Ahmed, saying he was actively involved along with Fatima and others in the protest, before and at the time of the riots in North East Delhi, and the allegations against him also are prima facie true.
Father Stan Swamy, Jesuit Priest & Tribal Rights Activist
An 84-year-old Jharkhand-based tribal rights defender was arrested on October 8, 2020, by the anti-terror National Investigation Agency (NIA) in connection with the Bhima Koregaon Maoist conspiracy case and died at a Mumbai hospital while in judicial custody in July 5 2021, while awaiting bail. Reports have suggested he was ill-treated in jail. As per the findings of The UN Working Group on Arbitrary Detention, "Father Swamy's arrest and detention lacked a legal basis." Even the Indian government has not refuted these allegations against its treatment of Fr Swamy who "had fully cooperated all along in the investigation and was not viewed as a flight risk or as a person who would interfere with the legal process." His custodial death, it said, was a "failure" on the part of India's government and will "forever remain a stain" on India's human rights record.
Hany Babu, Delhi University Professor and Kabir Kala Manch members
Judge Dinesh E Kothalikar of a Mumbai Special Court denied bail to them stating, "There were reasonable grounds for believing that the accusations were prima facie true." Kabir Kala Manch was one of the 250 Dalit and human rights organisations that participated in the Elgar Parishad, an event that took place in Pune city on December 31, 2017, a day before violent clashes broke out between Maratha and Dalit groups near the village of Bhima Koregaon. On July 28, 2020, Hany Babu, Associate Professor at Delhi University (accused no.12) was arrested for multiple alleged offences punishable underUAPA.He was accused of being a member of CPI (Maoist), deemed a terrorist organisation under the first schedule of Unlawful Activities (Prevention) Act (UAPA), and was allegedly in correspondence with the members of CPI (Maoist). Members of Kabir Kala Manch were arrested by the NIA on the accusation for the commission of offences punishable under IPC and UAPA.
Bail granted
Ashwini Upadhyay, BJP Leader & Supreme Court Lawyer
On August 8, Upadhyay was part of a rally in support of the Uniform Civil Code at Jantar Mantar. Many in the gathering raised calls for violence and massacre against the Muslim community shouting "Jab M***e Kate Jaenge Ram Ram Chillaayenge."The derogatory slur M***e, is a reference to Muslims often used for inciting hate against the community, especially in Hindi speaking North India. These crowds chanted that Muslims will be forced to say "Ram Ram" while they are hacked to death. A clear call for violence against the community. He was arrested with five other people on August 10 for raising communal slogans. But just a day later, he was granted bail by a Delhi Court on a bond of Rs. 50,000. "As far as the offence u/s 153A (promoting enmity between different groups on grounds of religion, race, etc) of IPC is concerned except for mere assertion, there is nothing on record to show that the alleged hate speech to promote enmity between different groups was done in the presence or at the behest of the accused," the order reportedly said.
Preet Singh, Organiser of the Jantar Mantar event
A lower court initially denied him bail. As previously reported by SabrangIndia, the Metropolitan Magistrate UK Jain watched the video footage of the sloganeering, and observed that accused Deepak Singh and Preet Singh were seen together making "scathing remarks which are undemocratic and uncalled for from a citizen of this country where principles like Secularism hold the value of basic feature imbibed in the Constitution." But Singh was granted bail by the Delhi HC on just after a week of his arrest in connection with the raising of anti-Muslim threats calling for violence against Muslims in the forms of slogan at a rally in favour of a uniform civil code at Jantar Mantar. He reportedly justified his action saying we was "demanding Hindu Rashtra not promoting enmity". Without indulging in the issue of whether or not Singh was involved in hate speech, the court noted in its order that as per the video footage and the call records of Singh, he had left the spot at around 2:00 P.M., where after the main provocative words/slogans were shouted by the co-accused at around 4:00 P.M.
BhupenderTomar (akaPinky Chaudhary), Hindu Raksha Dal President
Chaudhary was granted bail after being arrested in connection of inflammatory and anti-Muslim slogans raised during the same protest as the one attended by Ashwini Upadhyay and Preet Singh at Jantar Mantar in August. Based on the observations drawn by the Delhi High Court in Preet Singh's case, the court observed that Chaudhary left the spot of meeting at 1:29 P.M and was also not required for interrogation.
Ashish Mishra, son of Union Minister Ajay Mishra
Mishra was granted bailby the Lucknow bench of the Allahabad High Court on February 10, 2022, in connection with the October 3, 2021 Lakhimpur Kheri incident. He was arrested for allegedly mowing down and killing four protesting farmers and one local journalist in Tikonia village of Lakhimpur Kheri district. The timing of his bail was also curious as it was on the same day that the first phase of the Assembly elections began in Uttar Pradesh. The court reportedly observed, "Fully looking at the facts and circumstances of the case, it is clear that as per the FIR, the role of firing was assigned to the applicant (Ashish Mishra) for killing the protesters, but during the investigation it was revealed that no one was hurt by firearms, nor were its marks found on the body of any deceased or injured person."
YatiNarsinghanandSaraswati, Head priest of Dasna Devi Mandir
Narsinghanand was arrested by Haridwar Police on January 15 in connection with the Dharma Sansad in Haridwar for allegedly making communally incendiary statements. He was denied bail by the Chief Magistrate Court in Haridwar Mukesh Arya who observed, that as per the case diary, the statements made by Narsinghanand had the potential to disturb communal harmony in the area and that it is evident that his statements were inflammatory and could provoke communal disturbances and violence in the area as well. But on February 7, Sessions Judge Vivek Bharti Sharma granted him bail while observing that the offences invoked against him were punishable up to 3 years of imprisonment. The court also considered his criminal history but noted that Narsinghanand had not been convicted in any of the cases against him.
In fact he had be booked in connection with four complaints- two of them regarding Dharam Sansad hate speeches, one relating to objectionable remarks against women and another relating to an assault of a journalist. He has been granted bail in all the four cases and now roams scot-free!
A.G. Perarivalan, convicted for aiding assassins of Former PM Rajiv Gandhi
He was granted bail by Supreme Court even as he was serving a life sentence in connection with the May 1991 assassination of former Prime Minister Rajiv Gandhi. The Bench took into consideration that the applicant has spent over 30 years of his life in prison.
Amitabh Thakur, Former IPS Officer
Thakur was granted bail after 6 months of his arrest for allegedly protecting a rape accused, BSP MP Atul Rai in August, 2021. He was accused of creating false evidence in the case to save Atul Rai. A single-judge bench of Justice Rajeev Singh (Allahabad High Court) stated, "Let applicant Amitabh Thakur be released on bail in FIR no. 309 of 2021, under Sections 120-B, 167, 195-A, 218, 306, 504, 506 of the IPC, police station Hazratganj, district Lucknow, on his furnishing personal bond of ₹20,000 and two reliable sureties each of the like amount."
Ishrat Jahan, Advocate & Political Activist
She was finally granted bailin March, 2022 after spending a harrowing 25 months behind bars since her arrest in February 2020, on charges of "inciting violence, rioting and attempt to murder" under the Indian Penal Code. After spending a month in judicial custody, Ishrat along with four others were granted bail by Additional Sessions Judge Manjusha Wadhwa on March 21, 2020. The court had noted that the role assigned to Ishrat is that she incited the crowd to remain present at the protest spot as well as raised slogans of freedom, however, no overt act had been imputed to her regarding taking law into her own hands. But on the very same day, she was re-arrested under UAPA charges and remained in jail since then. For a brief period of 10 days, she was released on interim bail on account of her wedding in June 2020. Ishrat had moved for interim bail in November, which had been then rejected by the Delhi Sessions Court.
Chetan Kumar (aka Chetan Ahimsa), Activist and Kannada film actor
He was granted bail after his arrest for allegedly making controversial remarks against the judge hearing the hijab ban case. Kumar had merely reposted a two-year-old tweet, where he had written about when "Justice Krishna Dixit made such disturbing comments in a rape case" and asked if the same judge "determining whether hijabs are acceptable or not in gov't schools" will have "the clarity required?" Now, the right-wing has been in an overdrive spreading fake news of his possible deportation to the United States.
Related:
Jantar Mantar hate speech case: Delhi HC grants bail to accused Preet Singh
Jantar Mantar case: Hate monger Pinky Chaudhary granted bail
Dharam Sansad: Hate monger YatiNarsinghanand granted bail