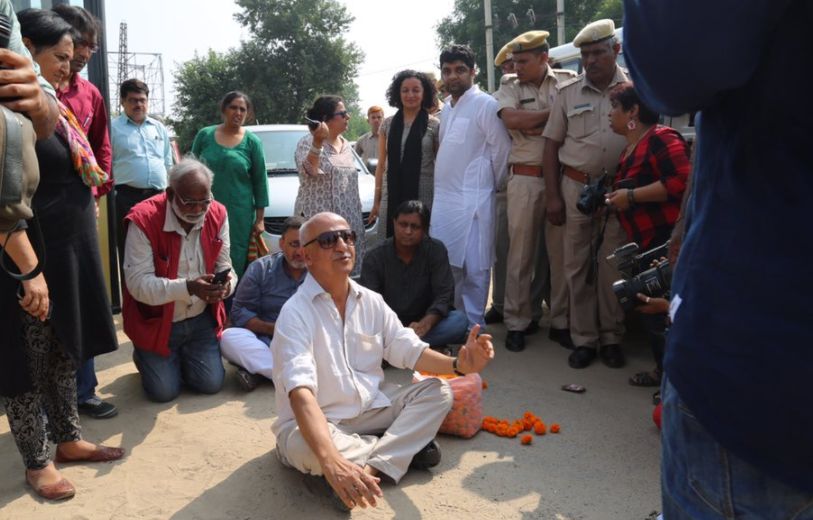 Threatened by a call for compassion, empathy, peace and harmony? Rakesh Sinha, the new face of the RSS, under the Modi regime, threatened Harsh Mander's that "they" would have his fund sources investigated and Lo and Behold, today's newspaper reports say that Mandir has received an IT notice. The "threat" was issued on national television about a week ago.
Following through with the politics of raid and vendetta that has now come to be seen and regarded as the hall mark of Modi 's stint in power, thus latest round if vengeful politics appears to be a response of a shaky regime worried and concerned by peace workers on the ground.
Beginning early September from the victim survivors of the Nellie survivors (1983 anti minority pogrom), the Caravan of Love has been winding through different states if India and is currently in Gujarat. On Rajasthan, mobs tried to stop these brave peace warriors when they tried to meet the family of Pehlu Khan until a peace protest led by Mandir and in which John Dayal and other prominent participants also joined, compelled the mobsters to back off.
Mander's, speaking to Sabrangindia said, "Rakesh Sinha openly threatened on national television that "they" would have our find sources investigated and now this is  what they have done. They are seriously rattled by the Karavan e Mohabbat, it has got under their skin."
In a press note issued on Saturday, the noted human rights activist and former IAS officer has questioned the timing of an income tax notice to the Centre for Equity Studies, a think-tank that he helps run, and asked whether it is being targeted because of the work Harsh Mander and others are doing to show solidarity with the victims of communal violence across India.
The press note is published below in its entirety.
"A number of independent individuals, organisations and social movements collaborated to take out through many parts of the country a Karwan-e-Mohabbat, as a journey of atonement, solidarity, healing, conscience and justice with people living with hate violence. This was an entirely crowd funded Karwan, and the funds for this were received by Aman Biradari Trust, which does not have an FCRA.
On September 15, 2017, the Karwan was scheduled to stop at Behror at the site at which Pehlu Khan had been lynched, to pay tribute to his memory by placing a few flowers there. But a day before this, the Hindu Jagran Manch, Bajrang Dal and VHP announced that they would not allow the Karwan to pay this tribute. The Karwan responded by announcing that it would press ahead with its proposed tribute despite all opposition. In a television debate on September 14, 2017, in NDTV's Left, Right and Centre anchored by Nidhi Razdan, I joined by phone from the Karwan bus. Mr Rakesh Sinha of the RSS during the debate made angry personalised attacks against me. He also said that I was against the RSS. I replied that I am indeed against the ideology of the RSS, because its belief in a Hindu rashtra contravenes the Indian constitution. During this same debate, Mr Sinha said, in a barely veiled threat, that the funding of 'my' organisations would be investigated. The next morning, despite stone-throwing mobs, I did finally prevail in placing flowers at the site of Pehlu Khan's lynching.
Four days later, an organisation of which I am the director and one of the founders, the Centre for Equity Studies, received by email a notice under Section 143 (2) of the Income Tax Act for a Full Scrutiny of the income tax returns of the Centre for Equity Studies for the assessment year 2016-17. This has been followed by another notice dated September 20, 2017, by which they have retrospectively and suo moto rectified their earlier assessment order that our returns are in order. Both these order are attached.
The Income Tax Department may claim that this is just a routine notice. But the timing of the notice shortly after the public threat for getting the funding of 'my' organisations investigated, and the fact that less than 1 per cent of returns are scrutinised, suggest that this could well be an act of state vengeance and intimidation.
I would also like to point out that the Centre for Equity Studies had nothing whatsoever to do with the Karwan-e-Mohabbat. It brings out the annual India Exclusion Report, and works with homeless persons and other vulnerable groups.
We are happy to subject ourselves to any scrutiny, and will fully cooperate with the investigation, as we believe in public accountability. But I would like to state categorically that no amount of state intimidation of the organisations that I am associated with, would succeed to silencing my public dissent with policies and ideologies that I believe are detrimental to India's constitutional values."
Says Prabhakar Sinha of the People's Union for Civil Liberties (PUCL):
"Anybody who raises his voice against Modi receives Income Tax Department's notice , or has his premises raided by the ED or the CBI or some other  government agency , but Modi is not questioned about living beyond his means , or about the milliom-rupee(Rs 10 lakhs)coat and the other expensive gifts he took from businessmen and the lies he told  about his passing B.A. and M.A. examinations or  the the sources  of the astronomical amount he spent on his 2014 election campaign because all the investigating agencies are under him .  
The Investigating Agencies are the Watchdogs maintained on taxes paid by the people to protect their interest and not dogs to maul political opponents of the masters of the day.
A  Prime Minister is a public servant .He is guilty of corruption if he receives expensive gifts from businessmen or others .Modi, like us, is expected to declare  the gifts he receives  and and pay gift tax on them if the gift is not graft. Modi has been donning most expensive clothes and  is reported to be spending  uninmaginably high  amounts on food and soft drinks and mineral water etc. which he cannot  afford on his salary.Had our Investigating Agencies been  free to play their legitimate role , Modi , too, would have been under investigation like Donald Trump and the political opponents he has been trying to silence by setting  the Investigating agencies onto them."