Does this point to the dimming of the Modi image, nationwide?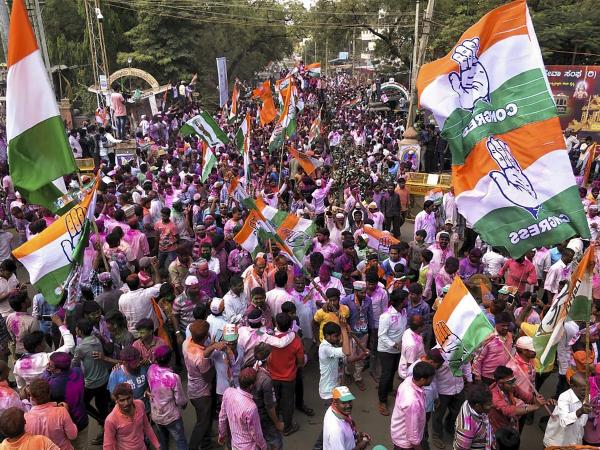 There are lessons to be learned from the results to the
Karnataka by polls
where the JD(S)-Congress alliance bagged four out of the five seats. Not only has the BJP, that seemed so invincible till say a year or more back, lost resoundingly, but the overall drop in its vote share should be worrying its poll pundits. The voting percentage this time was 61.05% against 72.36% in 2014. Political pundits claim that the margin of victory or swing could have been over 3.5 lakhs but for the low voter turnout.
In Shimoga where BJP's BY Raghavendra, son of party chief BS Yeddyurappa, won Shimoga parliamentary seat with a margin of 5,21,48 votes, there has been a huge vote-swing
away from the BJP
. In fact, in Shimoga which is a Lok Sabha seat and the only seat to be retained by the BJP, a staggering 3,11,157 voters turned away from the BJP. In fact, in the seats that the BJP lost, there were less votes lost by the supremacist party. The win in Shimoga was by a narrower margin of 52,148. In 2014, the last election, the BJP win was much more decisive when it polled 363,305 votes. Does this signal the ultimate dimming of the Modi image?
The Congress' A S Nyamagouda and Anitha Kumaraswamy of the JD(S) won Jamkhandi and Ramanagaram assembly constituencies on Tuesday by a margin of 39,480 and 1,09,137 votes, respectively. Anitha Kumaraswamy is Chief Minister H D Kumaraswamy's wife. Congress' VS Ugruppa and JD(S)'s LR Shivaramegowda won Ballari and Mandya Lok Sabha seats with a margin of 2,43,161 and 3,24,943 votes, respectively.
In the Mandya Lok Sabha seat, the winning margin has increased by 3,19,425 Votes for JDS. This means that the alliance has benefited. In 2014, the combined vote share of both the JD(S) and the INC (together) was a staggering 87.44% of the votes; they stood at one and two and the margin of victory was 5,518 votes.
The Bellary seat was grabbed by the Congress with the JD(S) in alliance. The INC had lost Bellary by a margin of 85,114 votes in 2014. The alliance worked here in favour of the Congress, there was a swing of 328,544 Votes in favour of the party and the Congress won by 243,430 votes.
Situation in Other states
Regional parties have fared better than the Congress and succeeded more in converting votes to seats. Regional players have polled a total of 152 million votes for 176 Seats showing that they are better organised and poll savvy. The real challenge for the Congress is in the Hindi Belt which has strong regional leaders. The Congress ranks only fourth in UP Bihar and West Bengal in the vote share. Though it stood at number two in Delhi it could win no seats; other states where it is at number two are  Rajasthan, Gujarat, Himachal and Uttarakhand.
The grand old party was able to garner very few seats in MP, Chhattisgarh, Jharkhand, Punjab and Haryana: the vote conversion rate of the Congress with 106.7 million votes nationally is poor since in 2014 it won only 44 Seats. In contrast, regional leaders had a very high VCR except the BSP and SP. Maywati's BSP Polled 22.9 million votes but could not pick up a single seat whereas Akhilesh (Samajwadi Party) polled 18 votes and acquired 5 seats. Mamta Bannerjee's Trinamool Congress polled 20.3 million votes in the Lok Sabha in 2014 and won 34 seats. Jayalalitha's AIDMK polled 18.1 million votes and secured 37 seats. Biju Patnaik's BJD polled just 9.5 million votes but won 20 Seats, Udhav Thakeray's Shiv Sena 10 million votes for 18 Seats, Chandrababu Naidu's Telugu Desam got 14.1 million votes for 16 seats, KC Rao's TRS got  6.7 million votes for 11 seats; the CPM 18 million votes but only got 9 seats and Sharad Pawar's NCP 8.6 million votes for 6 seats.
 Significantly, unrecognized Parties and Independents polled 141 million votes and won a significant 98 Seats: they had much better conversion rate than Congress.
 (This analysis has been possible due to the significant inputs from analyst, Ravinder Singh)