The day the BJP-RSS used my slain officer uncle's death for their politics (and tried to engineer a riot)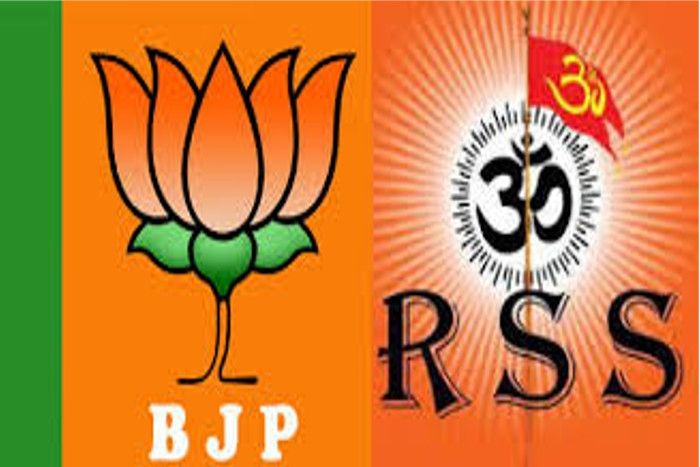 This is amongst the several stories that I'd left untold until now. But seeing the filthy politics being played on the killings of 40 CRPF personnel in Pulwama over social media and Whatsapp by the BJP's IT cell, this needs to be told.
My uncle (father's older brother) Sub Inspector Nandkumar Gokhale was the first officer to be killed in the line of duty in Mumbai. He was brutally killed in Nagpada in May 1984 by (allegedly) members of the Pathan gang as the city lay under curfew after the Bhiwandi riots. The murderers never faced justice so it's still unclear as to who did it. He was beaten up in uniform by an armed mob of 50 people, he was taken to the rooftop of a building where his body was slashed into pieces, and he was then thrown down on the ground where he lay dead in his uniform the entire night until his unrecognizable body was found by the SRPF at dawn.
The then Prime Minister Mrs. Indira Gandhi visited the spot the next day along with then Mumbai Police Commissioner Julio Ribeiro (who had been brought to Mumbai from Punjab). As the city was under curfew, our family was given the option of conducting his state funeral with full honors in Mumbai (where he worked and lived) or Nashik (where he was born and where my grandparents lived). As Mumbai was the city where he breathed his last (and the city he loved), the state funeral was held in Mumbai. He was accorded a 21-gun salute and was decorated with the President's Police Medal for Gallantry posthumously.
After the funeral, a condolence meet was organized in Nashik at the family home where a senior pracharak of the RSS (who was with the then-newly-formed BJP) showed up. He is very influential in the BJP right now and I'll best leave him unnamed.
The RSS pracharak came to my dad and said "Why did you dispose off the body in Mumbai? You should have brought it to Nashik." (he literally used the term "disposed off"). When my dad asked why Nashik, he said "We were planning to conduct a procession of the body through the city after which we would've burnt down the Muslim settlements at Dwarka Chowk after that." (Dwarka Chowk is a predominantly Muslim area). For a second my father was unable to control his shock. When he recovered, he asked "And why would you burn the Muslim houses at Dwarka Chowk"? The RSS pracharak replied "Because it's Muslims who killed him. Once our cadres see a blood soaked body in uniform, their blood will boil and they'll teach these people a lesson."
Unable to control his rage, my father said "My brother was killed because he wore the uniform and the ones who killed him were criminals. His religion was that of a police officer and the religion of those who killed him was that of criminals. If you cowards have any guts, then go kill the actual murderers instead of killing innocents who had nothing to do with it. You should leave our house right now unless you want me to physically throw you out."
The insult was too much to bear for the RSS pracharak. Shamed out of his wits, he left immediately with an ashen face. In the same year, my father wrote the Civil Service exam, joined the police service, and marched in uniform with the sword of honour at the ceremony marking my uncle's first death anniversary in 1985". He served the country for 30 years until he was framed by the BJP government on the last day of his retirement in 2015. Dad says that the bigoted pracharak rose through the ranks in the BJP but never did he manage to ever see my dad in the eye whenever their paths crossed after that.
Why am I writing this today? I'm writing this to expose the hypocrisy of the BJP/RSS who have no qualms about using the deaths of soldiers and cops for their own political goals. Within less than 24 hours of the deaths of the CRPF personnel, the BJP/RSS/VHP held a "Jammu bandh" today where they rioted against the police and tried to attack Muslim civilians. They did exactly what they wanted to do in 1984 with my uncle's death - to use it for conducting communal riots in Jammu which help keep them in power.
I am writing this so that you know how hate-filled their hearts are. I am writing this so that you understand that these self-proclaimed "nationalists" see the blood of a slain officer or soldier as merely an enabler for their politics of hate.
Therefore, do NOT let them term you "anti-national" for questioning the government's incompetence which lead to the deaths of over 40 CRPF personnel yesterday. Do not fall for the hate speech they've been circulating on social media since yesterday.
And do not let them appropriate the deaths of our soldiers and security personnel for their own political goals. These shameless bigots will wantonly sacrifice people in uniform just so that they can do politics over their deaths. Please, if you care about the country, expose these fake "nationalists" and don't fall for their hate. They are nothing but utter cowards who never participated in the Independence movement, who never serve for the country, and who don't think twice before killing fellow Indians because they don't believe in our Constitution. Beware of these anti-nationals who keep giving certificates to others while using our bravehearts in uniform for their own disgusting political agendas.
Jai Hind!
The views expressed here are the author's personal views, and do not necessarily represent the views of Sabrangindia.