Incidents of mob lynchings and cow vigilantism have been on a constant rise, especially since 2015,
leading to the death of 96 people
till date. The most recent gruesome incident that has come to light is the
killing of Tabrez Ansari
, a 24-year old Muslim man, who was attacked by a group of mob led by Pappu Mandal, allegedly under the suspicion of theft of a bike in Jharkhand.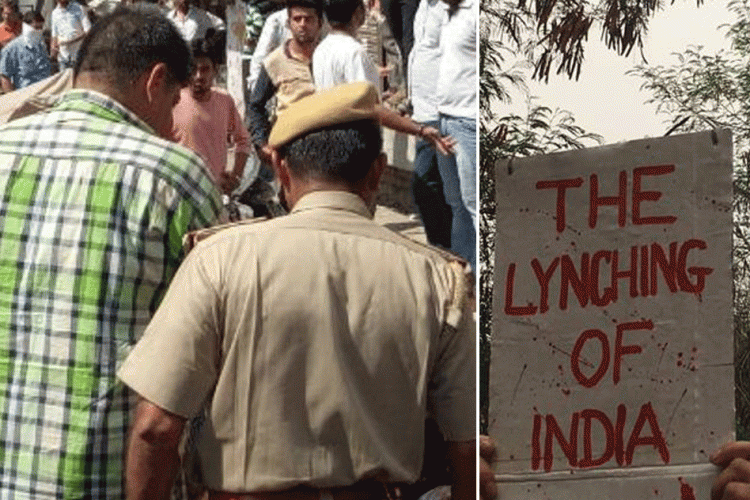 As reported in
Sabrang India,
Ansari who had come to his hometown, Jamshedpur, for a vacation, was returning back on a bike with two of his friends at night on June 18. Mid way, he was stopped by a group of men, tied to a pole and then brutally beaten up on the grounds that the bike he was travelling on was stolen by him, as it didn't have a registration number. In the video that has gone viral on social media, it can be seen how the mob first asks his name and then forces him to say 'Jai Shri Ram' and 'Jai Hanuman.' The next day the villagers handed Ansari to the police with the allegedly stolen bike and strikingly, the police booked Ansari under the charges of theft and put him behind the bars.  When his condition worsened in the jail on June 21, he was taken to the Seraikela Sadar Hospital, where he died around 10am on Saturday. The family has alleged that Ansari's death was the result of the brutal beatings by the mob and the apathy of police who, instead of treating him and taking action against the accused, put Ansari in the jail.
While this is just another case of mob lynching, which have unfortunately now become an everyday phenomenon, our analysis of such cases in the past one year reveals that there is a similar pattern in the way these crimes take place and the profiles of the accused, while the victims are mainly Muslims and then Dalits. In short, the attack on minorities by these lawbreakers is on a constant rise.
Increasing cases of mob lynching and the RSS-BJP connect:
Acts of mob lynching were not so rampant until 2015, before which there might have been one or two odd incidents. However, within one year of Narendra Modi-led BJP coming to power, which is infamous for its ideological roots in right-wing supremacism, these barbaric incidents have been on a rapid rise. The first incident post the BJP's rule, that shook the entire nation was the lynching of a 55-year old
Muslim farm worker, Mohammad Akhlaq, in Dadri, UP
, when a mob brutally thrashed Akhlaq and his son Danish following an announcement at a temple that the family had consumed and stored beef, on September 28, 2015. Akhlaq succumbed to his injuries while Danish survived. Since then,
a total of 179 people
, both men and women, have been the victims of mob lynching of which 96 have lost their lives. The following graph on the number of victims who have lost their lives due incidents of mob lynching clearly reveals that the cases of mob lynching have increased in the BJP era.
A look at cases of lynchings in the last one year alone (June, 2018 to June, 2019) will reveal that
84 people were severely injured in these brutal attacks of which 50 died.
Of the 84 victims, the highest were witnessed in Maharashtra (12), followed by Assam (11) and then Bihar (10). It is essential to note that
all of the aforementioned states are BJP-ruled!
The communally sensitive state of Uttar Pradesh had 8 victims, 7 in Jharkhand and Gujarat each. The lowest number of victims were in Manipur and Karnataka, with one victim each.  
| | |
| --- | --- |
| STATE | NUMBER OF VICTIMS |
| Assam | 11 |
| Maharashtra | 12 |
| Jharkhand | 7 |
| West Bengal | 6 |
| Uttar Pradesh | 8 |
| Gujarat | 7 |
| Chhattisgarh | 1 |
| Tripura | 3 |
| Tamil Nadu | 2 |
| Bihar | 10 |
| Karnataka | 1 |
| Rajasthan | 4 |
| Madhya Pradesh | 6 |
| Andhra Pradesh | 2 |
| Haryana | 3 |
| Manipur | 1 |
| TOTAL | 84 |
It is pertinent to note that of these 84 victims, 69 (i.e. 84%) were attacked by the local mob over the suspicion that they were illegally transporting cattle or beef or they had killed a cow, they were childlifters or they had robbed some commodity. The highest cases took place under the suspicion of the victims being childlifters followed by any cow-related activity (read as crime). In many of these cases, social media played a significant role in provoking the locals.
Right from the Akhlaq's lynching to the latest case of Tabrez Ansari's lynching, in majority of these cases the accused are a part of BJP or enjoy impunity due to BJP's support. In the
Dadri lynching case
, involving 18 accused, one of the prime accused Hariom Sisodia, after being released on bail in October, 2017 had clearly said how
BJP had promised to save them from any legal tussle
but then failed to do so. He had said, "The BJP leaders said that we will ensure justice, we will make sure you are financially okay, and we will get you jobs. But they did nothing. I'm unemployed. The main thing was 'case wapas ho jayega', but that has not happened yet." Further, Mahesh Sharma, a Union Minister and Lok Sabha lawmaker from Gautam Budh Nagar, attended the funeral of Ravi, Sisodia's cousin, the 18th accused, who died in police custody in October 2017. Another accused, Vishal Singh, son of a local BJP leader Sanjay Rana, was
seen in a BJP rally,
addressed by the UP CM, Yogi Adityanath, in Bisada village in Greater Noida on March 31, 2019. In fact, in a brazen show of support, the Dadri BJP MLA, Tejpal Singh Nagar, had 
promised jobs
to all the accused in the National Thermal Power Corporation, Dadri on contract basis.
Take the
Alwar lynching case of 2017
, where a 55-year old Muslim dairy farmer, Pehlu Khan and his four sons were returning from Jaipur after purchasing a cattle and were stopped by a mob of self-appointed cow vigilantes. Despite showing relevant documents, Khan was beaten to death in Alwar, Rajasthan. The six accused were said to be affiliated to the Vishwa Hindu Parishad (VHP), the youth wing of the Rashtriya Swayamsevak Sangh (RSS). Shockingly, the then Union Minister,  Mukhtar Abbas Naqvi,
denied the reports and said
, "No such incident took place as described by opposition in the house."
In June 2018, Mohammad Qasim (38), a cattle trader, was
lynched to death
and  Samsuddin (65) brutally assaulted in Hapur, UP over rumours of cow slaughter. The key offender, Yudhistir Singh Sisodia, claimed responsibility for this act and also warned of similar consequence to others. In a
sting operation conducted by NDTV
, he blatantly said "Meri fauj tayaar hai. Koi gaaye kaate, s*** mai usko katwaa denge, s*** ko khade khade. Hazaar baar jail jaana pade jaayenge (My army is ready. If anyone slaughters a cow, we will kill them and go to jail a thousand times)." One wonders how he found the courage to say all this without the fear of any legal consequences? Was he sure of getting a bail? How did he get to enjoy the sense of impunity?
Cut to the recent lynching case in Jharhand, the key accused
Pappu Mandal's Facebook profile
reveals his Hindutva ideology as well as his connection with or aspiration to connect with the BJP. In a December 8, 2014 post, Mandal uploaded a 
photo with the BJP sash
and captioned it as 'BJP.' Further, on March 26, 2018 he uploaded a
photo with a sword
and captioned it 'Jai Shri Ram.' Notably, Ansari was forced to chant 'Jai Shri Ram' and 'Jai Hanuman' when he was being assaulted by Mandal and his goons.
Similar Modus Operandi and profiles of the accused:
Consider any mob lynching case and one will find a similar 'modus operandi' in majority of these cases along with a similar profile of the accused. Our analysis has revealed that whenever such an incident takes place, the victims are in transit in relatively remote areas and are suddenly and violently attacked by an angry mob, leaving them helpless and in no position to defend themselves. Even when the victims plead for their lives, the mobs are so "enraged", that they refuse to even consider hearing them out. Further, as mentioned earlier, these attacks are the result of rumours in the villages, of the victim indulging in cow slaughter or being a childlifter. Strikingly, the attacks worsen as soon as the perpetrators come to know about the religious identity of the victims (mainly Muslims) and are then forced to say 'Jai Shri Ram.' Usually, the perpetrators asks the names of the victims, mostly to know their religious identity, especially in cases where the physical appearance (like a beard and a cap) doesn't reveal it. The same thing happened in the recent lynching case of Tabrez Ansari.
Another finding is that the majority of the accused are either affiliated to a right-wing Hindutva organisation or directly to the BJP. It requires no in depth investigation to understand why these accused are ready to take the law into their own hands and punish the "culprits" (who are actually the victims) for theft or other crimes. It clearly means that they enjoy impunity and backing from 'powerful forces' giving them a freehand to act as per their wishes for protecting one common ideology- Hindutva. Here, it is pertinent to note that in 2018, the then Union Minister Jayant Sinha had
"honoured and garlanded" eight accused
in the
Alimuddin Ansari lynching case
in Ramgarh, Jharkhand, while they were out on bail. Just recently, Sinha revealed that the BJP paid the legal fees of the accused in the same lynching case. "They (accused) came from a poor family. Their family members requested us to assist them financially in order to help them in hiring an able advocate. I, along with other members of the party (BJP) helped them in paying for the advocate's fees,"
Sinha was quoted as saying
by the Indian Express.
Further, it is well known how the police fails to take immediate action in such cases and how these accused easily get bails. As mentioned earlier, the majority of these cases have taken place in states where BJP is in power, either independently or through coalition.
Another common factor witnessed during these incidents is that of a gruesome spectacle: a group of people gather and act as mere spectators to the happenings without bothering to call the police or to stop the accused (the latter being a rare possibility considering that there can then be a threat to their own lives.) In fact, the spectators make videos and put them on social media! One wonders why? Is it because they are really scared to intervene during the violent happenings and raise a voice? Or is it because they, by their voyeuristic presence, signal approval to the ideology and the (oft trumped up) allegations against the victims? Are these accused, through their powerful organizations, successful in spreading this Hindutva ideology and thus influencing large sections of the locals? Are the spectators also being brainwashed? Finally, are those among the populace who may be dissenters, frightened into silence?
The slogan of 'Jai Shri Ram', too has become an unfortunate license to kill, a signal almost, which then works also silences the crowd? Is this a tactic, to assault in the name of God?
Also, when no legal action is taken against the accused, for whatever reasons, the locals end up vending towards the culture of an all pervasive impunity: believing that whatever happened was the right thing. When politicians, media etc choose to remain silent or supports such acts, the common public gets motivated to indulge in  more such acts that are finding "public sanction and approval."
While the spectators choose to or are forced to remain silent, the media has played a notorious role when it comes to such cases of communal violence. Social media, especially Facebook and Whatsapp- especially, widely used social media platforms in rural India, have been used to circulate the videos of the attacks and to spread rumours about 'childlifters', 'cow slaughterers' or  robbers being present in the villages thereby instigating the locals.
Just to give a few instances, take the
case of Dhule and Malegaon lynchings
in 2018 where five people in each city were
lynched to death over rumours circulated on Whatsapp
that they were a part of a gang of childlifters. In fact, take any case of mob lynching over the years and one will find the active role of social media to either provoke the mob or to spread the videos of the attacks. Worse, these videos are shared in multiple pro-Hindutva groups, on Facebook as well as Whatsapp, spreading one same message to millions of viewers who end up believing that to be the final truth. When our politicians, including our Prime Minister, choose to remain silent on these issues or not even acknowledge their rising presence, the citizenry starts accepting it as the new normal.
Talking on the issue of misuse of social media leading to mob violence,
Pratik Sinha
co-founder AltNews, a fact-checking website says, "It's unprecedented not just in India but globally. It is as serious as a breakout of an epidemic. Misinformation has been weaponized to target minorities, individuals, activists."
Mental health experts say that people tend to believe messages sent through platforms like WhatsApp as they usually are sent by a trusted source. "As a result, doubts regarding the credibility of the source of the messages tend to get diluted. And therefore, we are inherently more likely to not think of rejecting the content of the message as being false or inauthentic,"
said Samir Parikh,
director of the department of mental health and behavioural sciences at Fortis Healthcare.
In short, social media has increasingly become the primary catalyst for self-styled cow vigilantes, as well, to bring to book those who have reportedly been indulging in cow slaughter or any other wrongdoings.
The next aspect of this analysis relates to the profiles of the accused. Strikingly, the majority of the accused come from poor households and aren't literate enough. Such people are easy to be brainwashed by the powerful elite who wish to impose their ideology on the masses. We have also observed that these accused belong to the lower caste, like Pappu Mandal in the Tabrez Ansari lynching case, and work under the upper caste powerful people. In short, the upper caste men are the leaders and the lower caste the footsoldiers. This explains the impunity aspect and also the submission aspect where the 'bosses' take advantage of the caste dynamics and hierarchy, forcing the direct perpetrators to indulge in such activities, naturally with some incentives attached.
Why the reluctance to adhere to the SC directive on mob lynching?
While the second time Prime Minister, Narendra Modi, ensured that the minorities will be protected and they should not be made to worry, right after his re-election, we yet do not have a law despite an increasing number of lynching cases and the
Supreme Court directive
over the same. In July, 2018, a three-judge SC, comprising of the then Chief Justice of India (CJI) Dipak Misra, Justices A.M. Khanwilkar and D.Y. Chandrachud, had
condemned the rising incidents of mob lynching
across the nation and urged the Parliament to enact a law to deal with the crime that threatens the rule of law and the country's social fabric. In a writ petition filed by Tehseen Poonawalla, the SC gave a list of directions, including preventive, remedial and punitive steps, to deal with the crime. Some of the directives are:  
The state governments shall designate a senior police officer in each district for taking measures to prevent incidents of mob violence and lynching.
The state governments shall immediately identify districts, sub-divisions and villages where instances of lynching and mob violence have been reported in the recent past.
The nodal officers shall bring to the notice of the DGP any inter-district co-ordination issues for devising a strategy to tackle lynching and mob violence related issues.
It shall be the duty of every police officer to cause a mob to disperse, which, in his opinion, has a tendency to cause violence in the disguise of vigilantism or otherwise
Central and the state governments should broadcast on radio and television and other media platforms including the official websites that lynching and mob violence shall invite serious consequence .
Curb and stop dissemination of irresponsible and explosive messages, videos and other materials on various social media platforms. Register FIR under relevant provisions of law against persons who disseminate such messages.
Ensure that there is no further harassment of the family members of the victims.
State governments shall prepare a lynching/mob violence victim compensation scheme.
Cases of lynching and mob violence shall be specifically tried by designated court/fast track courts earmarked for that purpose in each district. The trial shall preferably be concluded within six months.
To set a stern example in cases of mob violence and lynching, the trial court must ordinarily award maximum sentence upon conviction of the accused person.
If it is found that a police officer or an officer of the district administration has failed to fulfill his duty, it will be considered as an act of deliberate negligence.
However, there has been a complete and wilful ignorance of the SC directive by both, the Central and the State governments. Despite the rising crimes, we yet do not have a statutory definition of 'lynching', let alone the punishment and procedure. In December 2018,
Manipur became the first and the only state
to formulate an
anti-lynching law
based on the SC directive. Since then, there are no talks about the need for such a directive as well. Instead our Prime Minister, on January 1, 2019, said that
there is no need to politicise the mob lynchings
. Contrary to what the data reveals, he said, "Any such incident doesn't bode well of a civilised society. This is condemnable but did this start only after 2014? We all need to fight this together and make sure that such incidents don't occur again."
Mr. Modi needs to immediately introduce an anti-mob lynching bill in the Parliament, if his words are to be backed by action. We wait eagerly and watch.
A timeline of lynching cases in India since 2014 can be read
here
.
Related Articles: