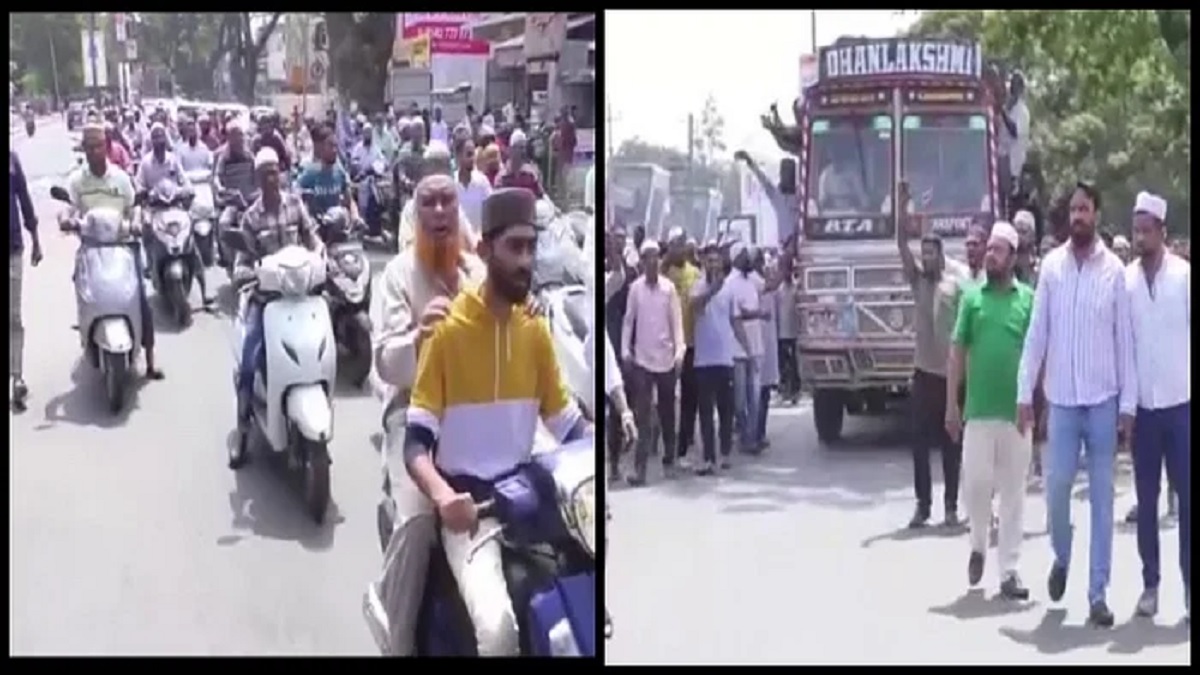 The latest in a long string of countrywide attacks since 2014, this Muslim cattle trader has been beaten to death allegedly by cow vigilantes in BJP-ruled Karnataka, just weeks after a state minister described the upcoming May 10 Assembly elections as a "battle between cow protectors and cow slaughterers".
Idrees Pasha, 38, was on Saturday morning found dead on a roadside in Sathanur village of Ramanagara district, about 150km from Bangalore, local police told the media.
Sathanur village of Ramanagara district, is about 150km from Bangalore, local police said. The police, who have registered a murder case, said a group of five vigilantes had allegedly stopped Pasha's truck full of cattle in Sathanur on Friday night and brutally assaulted its three occupants.
Syed Zaheer, one of Pasha's two companions who survived the reported attack, told the media that the vigilantes refused to let the truck go even after Pasha told them he had papers to prove he had, legitimately, bought the animals at a cattle market. He also said the assailants asked the trio to "go to Pakistan". This reflects the ghastly on ground impact of hate speeches delivered by elected representatives in powerful positions of power. Gau rakshaks is another term the ruling BJP supported by the ultra right uses to describe and legitimise such unlawful vigilantism.
Zaheer has also, in the FIR named the leader of the attackers as Puneet Kerehalli, a well-known local cow vigilante, police sources said. All five are now in hiding.
According to the account given by Zaheer Zaheer, the truck had left Mandya around 9pm on Friday with the cattle. It was intercepted by the vigilantes some 130km away in Sathanur, around 11.40pm. The second survivor has been identified as Irfan. The truck is now in police custody.
Protests break out
The shocking discovery of Pasha's body led to local people blocking the road and demanding immediate arrests over the weekend. All the accused have been charged withmurder, wrongful restraint, and intentional insult to provoke breach of peace.
The incident, in rural Karnataka, comes at a time the RSS-BJP has been consistently accused of deliberately and systematically making provocative hate speeches to polarise voters ahead of the state polls, with its leaders making incendiary comments and highlighting divisive issues such as "love jihad", conversions, and a ban on Muslim vendors at temple festivals.
At the end of February 2023, a month before the upcoming elections were announced by the election commision, the BJP state animal husbandry minister Prabhu Chavan had declared: "This election is a battle between cow protectors and cow slaughterers…. The Congress and its leaders are more interested in slaughtering our cows and culture."
While until recently, such attacks by cow vigilantes on people buying, selling or transporting cattle have been concentrated in the coastal districts of Dakshina Kannada and Udupi, they have increasingly been witnessed in other parts of Karnataka too.
This vigilantism has received a fillip with the state government enacting, in 2020, a stringent cattle slaughter law, first brought in as an ordinance and later as an act.
Before this, the earlier 1964 law prohibited the slaughter of cows, she buffaloes and calves of both species and either gender. The new law, however bans the slaughter of oxen and bulls as well, while allowing the slaughter of buffaloes of both genders if certified as at least 15 years old.
This new law also prescribes jail terms of three to seven years and a fine of Rs 50,000 to Rs 5 lakh, or both, for a first offence, and jail terms of up to seven years and a fine between Rs 1 lakh and Rs 10 lakh, or both, for any subsequent offence. The now-repealed old law prescribed jail terms of up to six months, a fine of up to Rs 1,000, or both.
The opposition Congress has promised to repeal the new law if elected to power.
Related:
Cow vigilantism continues with impunity in northern states of India
Under the guise of cow protection: reports of assault, illegal restraint against Muslims
Worsening Spiral of Communal Hate: State's role in rising violence against minorities
The threat and lawlessness of "Gau-Rakshaks" in North India
Muslim truck driver allegedly attacked by cow vigilantes in Palwal, Haryana