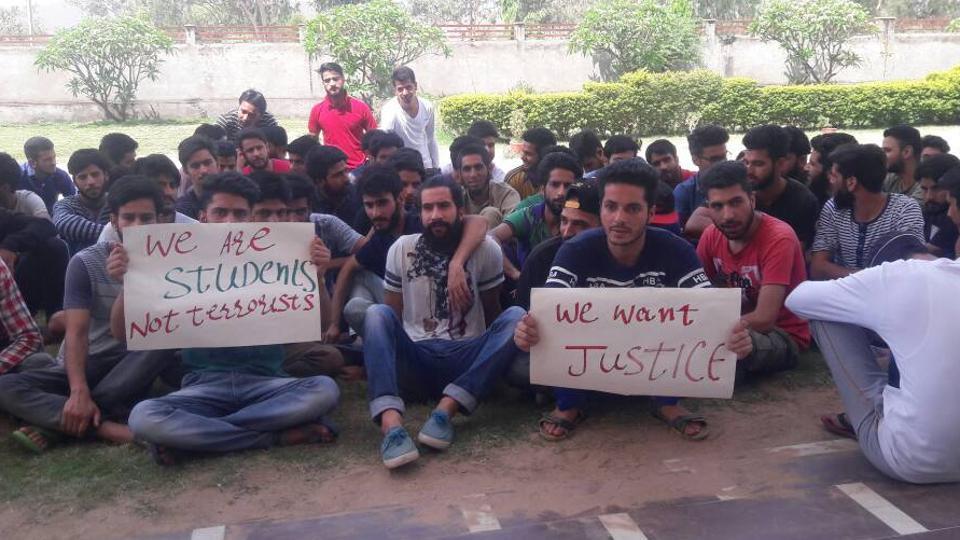 Photo credit: Hindustan Times
Taunted as being "stone-pelters", a group of Kashmiri students studying at Chittorgarh's Mewar University, a private educational institution, were allegedly beaten up by locals on Wednesday.
This is not the first time that they have been targeted in this university which has around 500 students from Jammu and Kashmir.  
"Six of us were assaulted in three separate attacks that took place at the same time in the market. The attacks seemed coordinated," said Bahar Ahmed Giri, a student of pharmacy told the media.
"They hurled abuses, called us terrorists and said we throw stones at the army. They told us to go back to Kashmir and threatened that they won't let us study here," Giri told the
Hindustan Times
.
Though none was seriously injured, the students particularly agitated over the university administration's failure to protect them demanded action against the attackers.
The police have registered an FIR against two unknown persons. The police said following an argument in the local market two persons hit two students who in turn retaliated.
"There is nothing serious. A little scuffle happened between the students and outsiders," said the university's director Harish Gurnani.
Meanwhile,  a day after the thrashing of Kashmiri students in Rajasthan, hoardings were put up in different parts of Meerut city in Uttar Pradesh warning Kashmiris living in the state to quit or else.
Photo credit: The Hindu
The warning has reportedly been issued by the extreme rightwing Hindu group, Navnirman Sena.
"Boycott the Kashmiris who pelt stones at (the) Indian Army. Kashmiris leave Uttar Pradesh or (the) face consequences," said the hoardings.
The hoardings are believed to be a response to videos circulating on the social media showing clashes between protesters in Kashmir valley and the security forces.
The hoardings were pulled down on orders of the district administration. The police said they would be filing a case under relevant sections of the Indian Penal Code.
The Sena chief Amit Jani told the
Hindu
, "We want to boycott Kashmiris socially and financially so that they can tell their brothers in Kashmir not to trouble the Army. This is an important thing which must be done in order to ensure the safety of the Army in Kashmir."
Jani was arrested last year for threatening to kill JNU student leaders Umar Khalid and Kanhaiya Kumar.
A large number of students from Kashmir study in educational institutions in and around Meerut, such as Swami Vivekanand Subharti University.
When contacted by the
Hindu
, the vice-chancellor of the university said "the students from Kashmir were not aware of the hoardings but we are taking all precautions and safety measures".