Swords and other weapons were seized from the RSS office at Nedumangad in the outskirts of Thiruvananthapuram. Raid was conducted in connection to hartal day after an RSS worker hurled bombs at the police station in Nedumangad.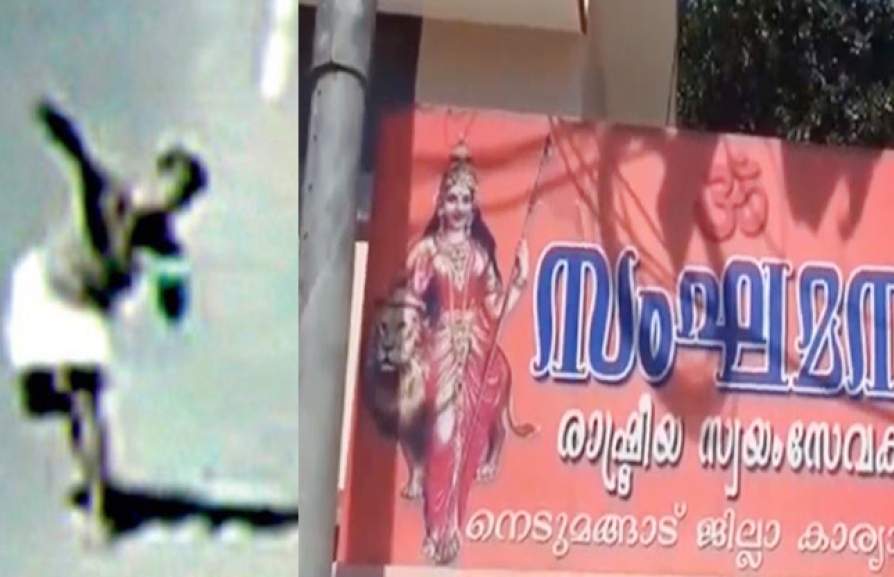 Thiruvananthapuram: Kerala police raided the district office of Rashtriya Swayamsevak Sangh (RSS) at Nedumangad in Kerala Wednesday evening. The raid was conducted in the wake of the violence on the day of the hartal called by the Sabarimala Karma Samithi on January 3. The hartal was backed by the BJP, RSS and other right-wing organisations. Swords and other weapons were seized from the RSS office at Nedumangad in the outskirts of Thiruvananthapuram.  
The weapons and chemicals, which the police allege are used for making country bombs, were seized in the raid. "Swords, knives, daggers, wooden rods and sack of granites were seized from the RSS office. They had also stored a chemical used in country bombs," Nedumangad Sub Inspector Anil Kumar
told
TNM.  
He added that no workers (pracharaks) of the RSS were present at the time of the raid at the office.  
RSS worker Praveen who was caught on CCTV camera hurling a country bomb at the Nedumangad police station is still on the run. "The raid was conducted on a tipoff that Praveen would come to the RSS office," Anil Kumar said.  
The police is yet to nab four RSS workers including Praveen in connection with the violence. The police had arrested two RSS workers for attacking them and vandalising the police vehicle. Two workers were arrested for unleashing violence on the roads.  
The police identified Praveen from the visuals captured on CCTV. Praveen, in the visuals, could be seen aiming at the station and throwing multiple bombs he was carrying in a bag. The raid was headed by Nedumangad DySP D Asokan.  
Praveen, hailing from Nooranad in Alappuzha, had gone into hiding after the incident took place.  
Earlier, N Nishant, an alleged RSS worker was arrested by the police for hurling a crude bomb near Nedumangad police station and a BJP worker P Pratheesh was held for surrounding and attacking a police jeep during the protest.  
Violent protests broke out on the hartal day and several CPI(M) offices were vandalised. The police had to use tear gas shells to break up the violence during which around 31 policemen were injured and over 100 state transport buses of KSRTC were reportedly damaged.   
Section 144 had been declared in the Nedumangad region owing to the violence.  
Over 1,300 cases were registered by the Kerala police in hartal-related violence all over the state, and over 3,187 people have been arrested so far.
Read Also:
Sabarimala row: CCTV catches RSS agent throwing bombs at police station