In a huge victory for journalist, educationist and human rights activist Teesta Setalvad, the Gujarat High Court granted her anticipatory bail in connection with a case of alleged misappropriation of funds obtained by her education NGO Khoj from the Ministry of Human Resources Development under the Sarva Shiksha Abhiyan. The court also granted bail to her partner, journalist and human rights activist Javed Anand.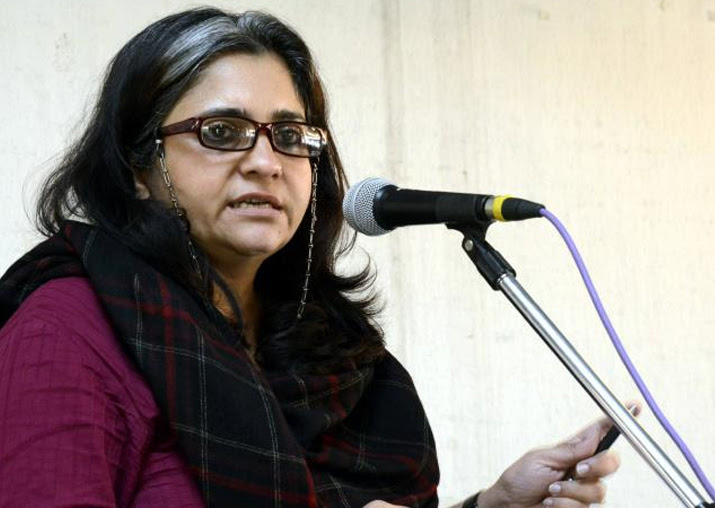 A brief history of the case
The Khoj case, like a few more before it, was filed by Rais Khan, a disgruntled former employee of their NGO Citizens for Justice and Peace in 2018. Khan made a series of baseless allegations in his FIR suggesting Setalvad and Anand got funds for their education NGO Khoj under the Sarva Shiksha Abhiyan, but the funds so obtained were utilised for personal purposes. 
The complaint also states the fund were used for creating and distributing printed materials that could cause communal disharmony. Khan first tried to get CBI, then MHRD to lodge this complaint. When that did not work, his allies in the crime branch came to his aid.
Both Setalvad and Anand have cooperated fully with investigations ever since the allegations were first made in March 2018. But the state kept pushing for custody in a bid to imprison and even possibly torture the activist. 
On April 5, Justice Revati Mohite Dere of the Bombay High Court granted interim transit bail till May 2, 2018 to Teesta Setalvad and Javed Anand. As per the orders of the Hon'ble Court, Teesta Setalvad and Javed Anand appeared before the Ahmedabad Crime Branch at 10 a.m on April 6. Both gave their statements in response to all the questions put to them until after 5 p.m. They also submitted all necessary documentary evidence to aid investigations.
On May 24, 2018 the Ahmedabad Sessions Court has turned down the Anticipatory Bail Application (ABA) of CJP Secretary and acclaimed Human Rights Defender Teesta Setalvad and her partner Javed Anand. However, an undeterred Setalvad refused to be cowed down by the pressure tactics employed by a vicious and vindictive state and challenged the order in the Gujarat High Court. 
The court heard the matter and reserved judgement on August 24, 2018 and finally delivered the judgement on February 8, 2019, after deliberating for close to 6 months.
Setalvad and Anand have been targeted frequently
Setalvad and Anand have been battling a series of false cases and of which the Khoj NGO case was the latest. Clearly the path-breaking work by CJP, spearheaded by its Secretary, Setalvad that has ensured the conviction of close to 170 persons — over 120 of which to life imprisonment– is the single most significant reason for her being singled out by a vindictive regime. 
The continued historical legal battle in the form of the Zakia Jafri case too, is a serious thorn in the flesh for the powers that be. Curtailing Setalvad and Anand's personal freedoms and threatening incarceration is clearly the preferred way of this regime.   
So far, Teesta Setalvad, a human rights defender with three decades of courageous work behind her, has had to seek anticipatory bail in false criminal cases eight times even before the Khoj case. Anand too, has now been falsely implicated three times.   
Who is Rais Khan
Khan has, since 2010, thirty two months after he was discontinued from services of field coordinator of CJP, a renumerative post where rental accommodation was also provided, literally been forum shopping and at the root of several malicious and false cases against first Setalvad alone, then both Anand and Setalvad. Setalvad was first targeted in 2004 through wings of the Gujarat state who induced star witness, Zahira Shaikh. 
A Supreme Court appointed Registrar General report completely exonerated Setalvad and CJP of baseless charges and found Zahira guilty of inducement by influential politicians. She was sentenced to one year simple imprisonment in 2006. Allegations against Setalvad have ranged from kidnapping to perjury now financial embezzlement.
Clearly, today Khan who enjoys the patronage of the regime in Delhi having been appointed to the Central Wakf Board also has senior counsel closely associated with the ruling party appearing for him. Since September 2010 his forum shopping has meant him approaching five trial courts specially hearing the Gujarat 2002 cases, the Nanavaty Shah Commission, the SIT and now the Crime Branch of the Gujarat police. 
In two judgments, in the Sardarpura matter and the Naroda Patiya matter, the judgments have passed remarks against Khan labelling his conduct as interference in the administration of justice.