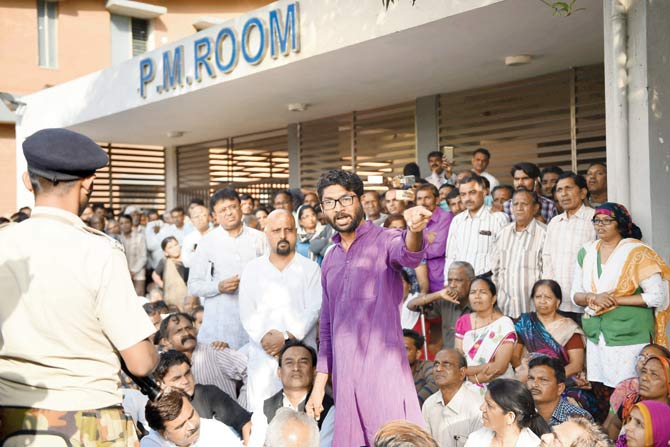 Image Courtesy: Mid-Day
The Gujarat police detained
VadgamMLA
,  
JigneshMevani
in an extremely uncivilised manner on February 18, 2018 as the protests against the self-immolation of 60 year old Dalit activist BhanuVankar intensified. He was pulled out of his car and his car keys were broken. He was detained by the police while he was still on his way to peaceful protests at Ambedkar statue in Sarangpur, Ahmedabad. Congress legislator Naushad Solanki was also detained along with Jignesh Mevani. Apart from both of them, as many as 40 protesters were detained from Sarangpur while 40 were detained from Jashodanagar.
Around 28 people
were, in all, held from Unjha, six from Mehsana and 29 from Patan. Hundreds others were also detained.
The protest was organised to meet the demands of the deceased, BhanubhaiVankar's family. Their demands included allotment of land, action against the guilty officials and formation of a special investigation team to probe his death. A member of the Rashtriya Dalit AdhikarManch,Vankar has set himself on fire on February 15, 2018 protesting against the apathy of the Gujarat government towards demands of land for two Dalit labourers. The labourers alleged that the authorities refused to regularize the land allotment despite collecting Rs. 22,236 in 2013. This  struggle for land, on for several months, had met with no response from the government. Vankar's body was taken to the Sola Civil Hospital for the post-mortem and it was lying there for two days. His family collected his body only today after the Gujarat administration gave a written assurance to the family that their demands would be fulfilled as
per a report by PTI.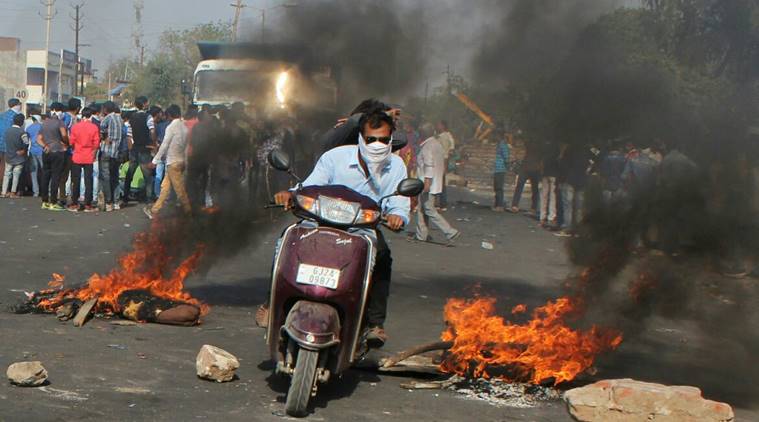 Image Courtesy: Indian Express
As a response to Bhanu Vankar's death, Mevani and other leaders from Dalit community in Gujarat had given a call for a Bandh in Ahmedabad and Gandhinagar. A peaceful rally was also announced from Sarangpur on February 18. The police refused to give permissions for the rally but the outraged citizens decided to go ahead with the peaceful protest.
As Mevani reached the site of protest at around 9 am on the morning of February 18, the police tried to forcefully detain him. A video that surfaced later showed the brutality (and uncouthness) with which the MLA was treated. JigneshMevani's official twitter handle tweeted, "Is this a way to detain an elected MLA? If a legislator is in this condition, then think about any Dalit's situation in Gujarat.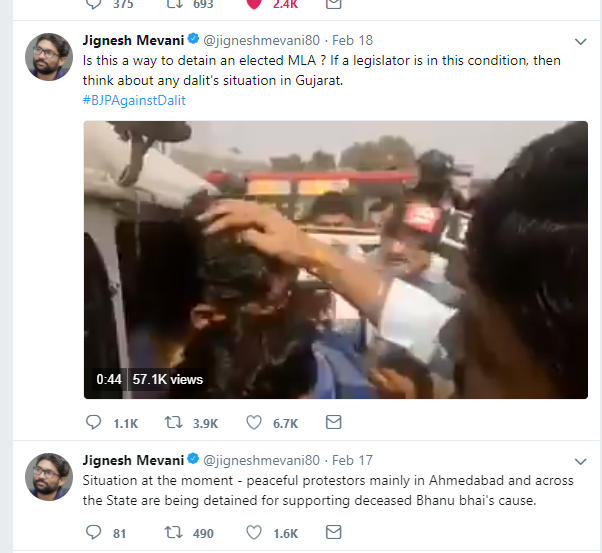 #BJPAgainstDalit
"
https://twitter.com/twitter/statuses/965164954734260225
Media reports suggest that this is the second largest protest after protests broke out the aftermath
of Una incident
in
July 2016.
Apart from Jignesh, Patel Anamat Andolan Samiti leader Hardik Patel, Congress MLA Alpesh Thakor and Congress leader of the Opposition, Paresh Dhanani came together to support of Bhanuji's family.
At a press conference held after the arrests, joint police commissioner (crime branch) J.K. Bhatt made the
dubious claim that Mevani
was misbehaving with officials and did not co-operate. The video showed however that Mevani's agitation grew as he was being mis-treated.
Mehul Manguben
, a Dalit activist said, "We were protesting peacefully but the police used force in which two people got injured and have been hospitalized. The police it seems is working on the directive of the state government. If the government is so serious about our demands, why does it not issue a written directive or meet the family and assure them support. The ruling government wants us to end our protests so they do not face any embarrassment in the assembly session,"
The Una movement and Jignesh Mevani's leadership along with many others brought once again to the fore, the issue of land rights as central to the question of caste annihilation. The community leaders demanded 5 acres of land for every landless Dalit family as per the Gujarat Land Ceiling Act. The movement popularised the slogan, "
Gai ki dum aap rakho, humein hamari zameen de do
 (You can keep the cow's tail, we want our land back)"
Another Dalit rights activist,
Martin Mackwan
said, "Of the 3.75 million acres of land to be distributed to Dalits and Tribals, only one-third of this land has been distributed in all these years. While a lot of this land is encroached, many Dalits who have got land entitlements are not getting possession and forced to work as labourers in their own fields. In Surendranagar district, we had to fight for eight years to get 6,000 acres of land for Dalits and it was only after the high court's intervention that it was done"
The Budget session of the Gujarat assembly is scheduled to start on Monday. It is likely that the issue will create a lot of uproar. Moreover, the state of Gujarat has been in a constant state of turmoil for about 2-3 years now on the question of annihilation of caste and government's inability to bridge the gap through policy measures is becoming more evident by the day. One can only hope that the state of affairs is likely to see a radical shift through people's struggles and movements.

Related Articles:
1. Land to the Dalit Tiller, not to Tycoons is our Mission: Jignesh Mevani
2. How Hate BuildsAn account of speeches inciting hate in light of FIRs on
Umar Khalid and Jignesh Mevani
3. The New Opposition at the
Barricades Challenges Manuvaad & the Market
4. Dalit Freedom March, Azaadi Kooch to
Continue even as Guj Govt Cancels Permission