The district of Leh has been in the news, but for all the wrong reasons. Over the past few weeks, this district has been simmering in tension after a local Ladakh Buddhist Association (LBA) issued an ultimatum to Muslims from Kargil district to vacate the region within seven following the marriage of a Buddhist girl with a Muslim boy.
The Ladakh Buddhist Association (LBA) on Thursday September 7 took out a protest rally in Leh town against the marriage and warned the government of a full-fledged agitation if the girl was not returned. The association has 'given' the government a week's time.
The protesters also submitted a memorandum addressed to Chief Minister Mehbooba Mufti at the office of the Deputy Commissioner, alleging Muslims of luring Buddhist girls into their fold.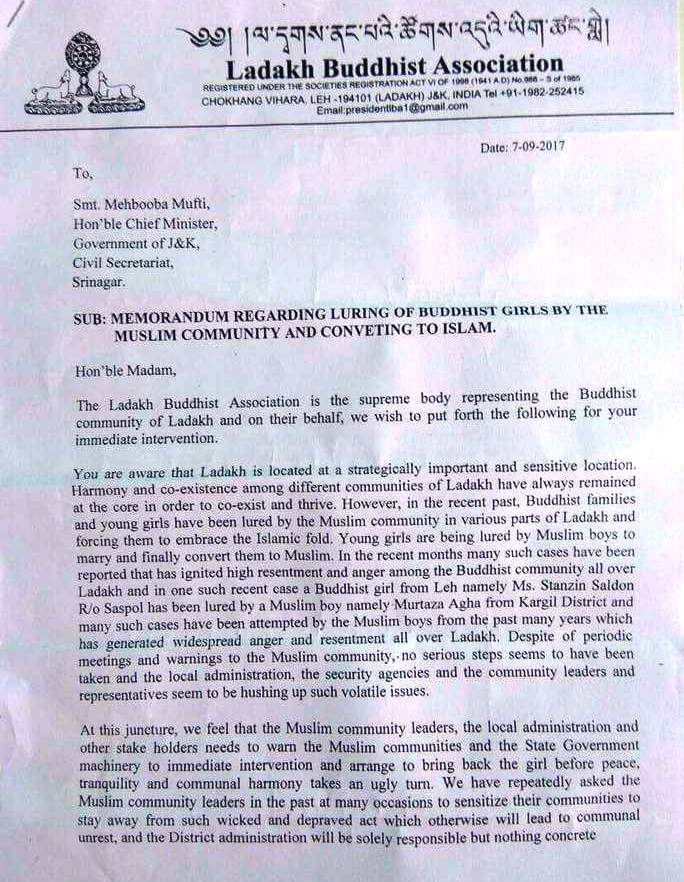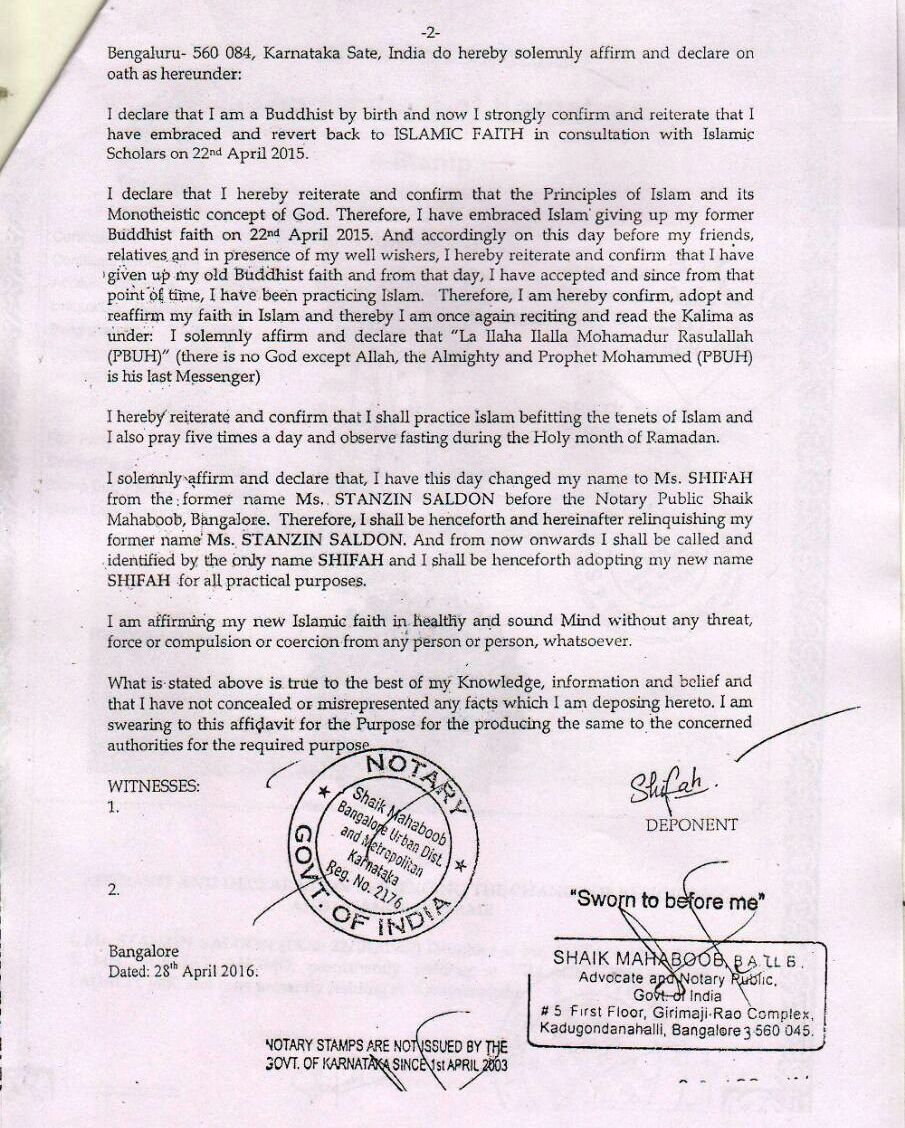 "Young girls are being lured by Muslim boys to marry and finally convert them," the memorandum said. The association also made a direct threat in the memorandum, saying that the situation could turn ugly if the girl is not returned back to Leh.
"We feel that the Muslim community leaders, administration, and other stakeholders need to warn Muslim community and the state government machinery for immediate intervention and arrange to bring back the girl before peace tranquility and communal harmony takes an ugly turn."
Later, the leaders of LBA while addressing the protesters issued an ultimatum to local Muslims, who are in minority, to vacate the town within seven days.
However, among all these allegations, it seems the LBA has missed a small but rather important detail. The girl in question, whose earlier name was Stanzin Saldon, had converted to Islam way back in April 2015. In an affidavit signed by Stanzin now Shifah in April 2016 in Bangalore, Karnataka reads, "I have embraced Islam, giving up my former Buddhist faith on 22nd April 2015.Therefore I hereby confirm adopt and reaffirm faith in  Islam."
The allegations of LBA of marrying and converting a Buddhist girl fall flat as the girl in question converted to Islam way back in 2015. "She had converted two years ago and was looking for a Muslim guy who could marry her. The question of Muslims marrying Buddhist girl falls flat here. The girl was Muslim even before meeting the boy," says Sajjad Hussain, a Kargil-based journalist.
According to locals in Drass, the girl and her husband have gone underground after the threats emerged. The girl has also written an open letter in response to LBA's memorandum.
The girl accused LBA of issuing false statements and presenting a concocted version of the events.
"They  (LBA) state that I was lured into Islam by him and also warning Muslim community in Ladakh (in general) to return me. So this is to clarify to your honourable self and the concerned parties that this statement of LBA is false and concocted, an effort to suppress and threaten the rights of an individual, a woman to be more specific,  in the disguise of "luring"," she wrote.
She further wrote, "LBA is trying to objectify me and demanding my return as if I'm a property, which I'm not and cannot allow anyone to perceive me as such. I've accepted Islam long way back, not because I dislike any other religion but considering my spiritual quest and an interest in religious philosophies, which was way before I met Murtaza. I repeat, my marriage has nothing to do with my spiritual choices, love and companionship being the only reason for our marital bond. The spiritual choice is a very personal matter not to be mixed with my marriage," she added.
She requested people to maintain peace and harmony by not letting dividing forces to deepen the fear and hatred.
Local Muslim leaders have also alleged LBA of communalising the issue and stoking communal tension in a region that has otherwise been mostly peaceful.
"The open letter written by the girl has already cleared many things and threatening Muslims to vacate the district is very unfortunate. We spoke to Superintendent of Police Leh to ensure the safety of Muslims because the administration is responsible for the safety of Muslims in the district," Ashraf Barcha, President, Anjuman Islamia-Leh, told TwoCircles.net.
Sheikh Abdullah Jalili of Islamia School Kargil said the threat of communal violence is hardly a solution to this issue. "LBA has previously also issued open threats to the Muslim community in the region. Everyone has freedom of religion. If a person wants to convert to Islam or Buddhism, it is solely his/her personal decision and we are no one to interfere in that. Recently, a Muslim girl converted to Buddhism in Kargil, but we didn't make such noise because this was her personal decision."
The deadline given by the LBA to state government and Muslims is Thursday, September 14.
Courtesy: Two Circles