Can Govt Give Away 'Common Village Land' to Industrialists ?                    
Yes, the Jharkhand Govt is doing it through 'Land Bank' in violation of constitutional provisions and SC judgments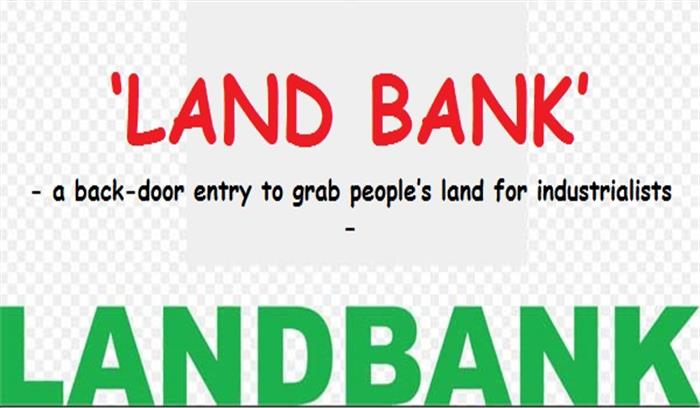 A Plea:
so many protests by Jharkhandi forces / organisations / movements against CNT/SPT Acts Amendments and Domicile Policy are taking place. Rightly so. But hardly any efforts have been made to uncover the back-door stealing of individual ryots' land (
gair majurva khaas zamin),
village- community land (
gair majurva aam zamin)
and village-forest land (
jangal-jadi zamin)
.
About 10 lakh acres of such illegally ear-marked / acquired land is being offered on a platter to industrialists / business houses. Take note, this is all quietly done but the axe is laid on the land of the indigenous Adivasi / Moolvasi people. To add injury to insult, no compensation will be given to individual ryots or village communities because the government considers all
gair majurva
land as owned by the government!             
This whole process is illegal and unconstitutional. How and why ?  
India's Supreme Court in a significant judgment observed:                                                               
 "Since time immemorial there have been common lands inhering in the village communities in India, variously called gram sabha land, gram panchayat land… in the villages were for centuries used for the common benefit of the villagers of the village such as ponds for various purposes e.g. for their cattle to drink and bathe, for storing their harvested grain, as grazing ground for the cattle, threshing floor, maidan for playing by children, carnivals, circuses, ramlila, cart stands, water bodies, passages, cremation ground or graveyards, etc.  
These lands stood vested through local laws in the State, which handed over their management to Gram Sabhas/Gram Panchayats. They were generally treated as inalienable in order that their status as community land be preserved. There were no doubt some exceptions to this rule which permitted the Gram Sabha/Gram Panchayat to lease out some of this land to landless labourers and members of the scheduled castes/tribes, but this was only to be done in exceptional cases."  
Referring to a case where the Punjab State government had regularized the construction of building on what was once a village community pond, the SC said: "The appellants herein were trespassers who illegally encroached on to the Gram Panchayat land by using muscle power/money power and in collusion with the officials and even with the Gram Panchayat.  
We are of the opinion that such kind of blatant illegalities must not be condoned. Even if the appellants have built houses on the land in question they must be ordered to remove their constructions, and possession of the land in question must be handed back to the Gram Panchayat. Regularizing such illegalities must not be permitted because it is Gram Sabha land which must be kept for the common use of villagers of the village… In our opinion such illegalities cannot be regularized. We cannot allow the common interest of the villagers to suffer merely because the unauthorized occupation has subsisted for many years".
(Civil Appeal No. 1132/2011in SLP(C) No.3109/2011, section 3 & 13)                                                    
But by no stretch of imagination can this Common Land can be given to outsider industrialists and business houses for profit-making enterprises. But this is what the Jharkhand government intends to do.  
Take just one example. Torpa Block in Khunti District, a total of 10,898 acres of Common Land (
gair majurwa aam zamin)
has been ear-marked for a Land Bank of which 1116 acres has already been transferred to the government and a balance of 9781 acres remain at the disposal of the government all of which it may give to anybody who will invest for specific industrial/business enterprises.  
Have we ever heard of government selling rivers to industrialists?
Yes, the Jharkhand government is doing that right now.                      
Here below is an example of one village (Lohajimi in Torpa block of Khunti district) where the govenment has ear-marked and partially acquired
river land !

Thus a total of 157.65 acres of which 38.50 acres of river bed has already been acquired and the balance 119.15 is acquirable.
The fact that the government is doing this in Lohajimi village is significant because it is in this village the 'Koel-Karo dam' was to be constructed leading to the submergence of 132 villages, 30,000 acres of agricultural land and 20,000 acres of forest land.
But the Adivasi and Moolvasi people of all these villages with support from several people's organisations have waged a sustained struggle for over 30 years and have finally forced the government to call off its misadventure. The people have paid a heavy price for this resistance when during a peaceful protest the police opened fire leading to the martyrdom
of eight persons and injury to scores of men and women.
Now the Government is sent on avenging this earlier failure: And it is doing it through the back door calling it 'land bank'. Not only is this condemnable, the Adivasis of Torpa block will not allow it.
There are also other 'Commons' which have been ear-marked to be acquired. Here are some examples:

2)
The Vth Schedule of the Indian Constitution
[Indian Constitution, Article 244(1)]clearly stipulates that a '
Tribes Advisory Council'
(TAC) composed solely of members from the Adivasi community will advise the Governor of the State about any and everything concerning the protection, well-being and development of the Adivasi people in the Scheduled Area.[Part B4(1)(2)]
The Governor of the State is the Constitutional Custodian of the Adivasi people and he/she can make laws on his/her own and can annul any other law enacted by the parliament or state assembly always keeping in mind the welfare of the Adivasi people. [Part B5(1)(2). This provision is applicable in the nine States of central India where Adivasis are a significant population.                                                                                                                                                
The reality however is
that in none of the States during all these nearly seven decades has any State Governor ever used his/her constitutional discretionary power to reach out to the Adivasi people proffering the excuse that they have to work in harmony with the elected government of the State.
The meeting of the TAC takes place only rarely, and it is convened by and presided over by the Chief Minister of the State even if he is a non-Adivasi and is controlled by the ruling party. The TAC has thus been reduced to a toothless body and a constitutional fraud meted out to the Adivasi people.
This new 'Land Bank' policy has not been placed before the TAC for its advice and approval. Hence it is unconstitutional.
The Panchayats (Extension to Scheduled Areas) Act [PESA],1996 [Acts of Parliament No:40 of 1996]  which was a fruit of long drawn disenchantment and struggle of the Adivasi people and their political representatives and which for the first time recognized the fact the Adivasi communities in India have had a rich social and cultural tradition of self-governance and  outlined the composition and functioning of the Gram Sabha: (1) "State legislation … shall be in consonance with the customary law, social and religious practices and traditional management practices of community resources" [PESA 4(a)].  (2) every Gram Sabha shall approve the plans, programmes and projects for social and  economic development before such plans, programmes and projects are taken up for implementation…" [(e)(i)]. 
(3) "The Gram Sabha or the Panchayats at the appropriate level shall be consulted before the acquisition of land in the Scheduled Areas for development projects and before resettling or rehabilitating persons affected by such projects in the Scheduled Areas…" [(e) (ii) (i)].
(4) "State Legislature shall ensure that the Gram Sabha are endowed especially with the power to prevent alienation of land in the Scheduled Areas and to take appropriate action to restore any unlawfully alienated land of a Scheduled Tribe" [(m)(iii).  
This 'Land Bank' policy was not placed before the to-be-affected Gram Sabhas nor was their advice, consent sought. Rather it was an 'executive order' coming from the CMO. It is therefore invalid.
Time for Action:
This article ends with  plea to all Jharkhandi forces / organisations / movements / legal professionals / activists to formulate a legal case versus the government and move the lower courts or the high court. We and our Jharkhandi people should not give up the battle by default. For our people's sake, let us act and act fast.  
Related Articles:
1.Prosecute Those Who Grab Land from Adivasis and Dalits under Atrocities Act: NCST
2.Fire on the Mountain: Jharkand – But Where is the Media?
3.BJP's Jharkand Govt Continues in Mission to Grab Tribal Lands, Opposition in Rage, Protests on Streets