Speech by Medha Patkar at Arthunkal in the function organised by Kerala Swathanthra Malsyathozhilali Federation (KSMTF) to facilitate the braveheatred fishermen to save the lives of people troubled by the recent floods in Kerala.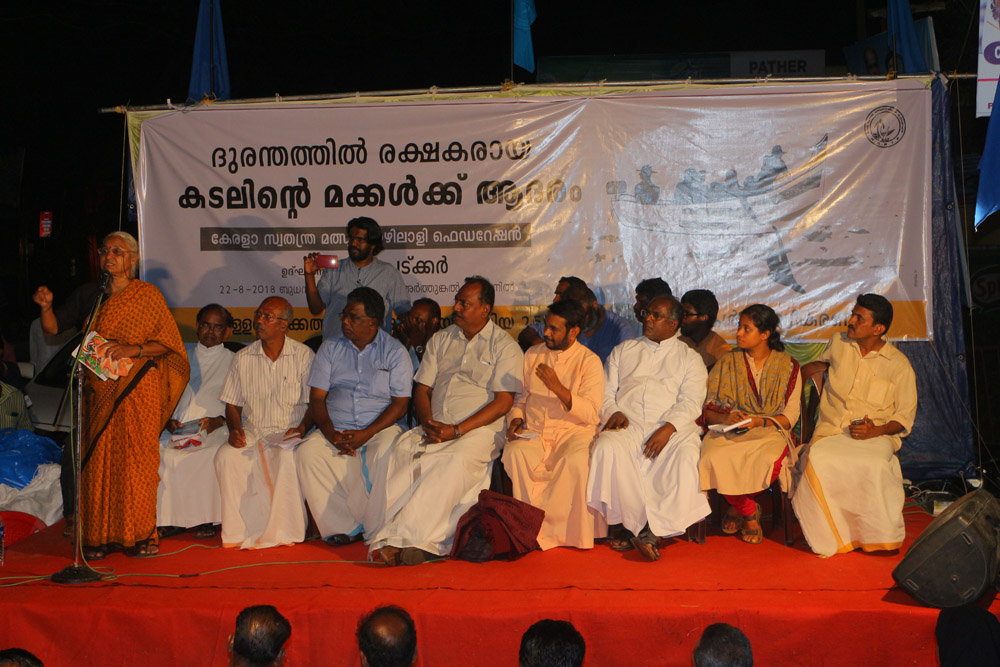 Dear fishermen comrades, leaders of NFF & KSMTF and other people's movements present here. 
Today is an occasion, first, for expressing deep sorrow at the devastating flood which had affected 12 districts of Kerala. But it is 
also 
an occasion to express our wholehearted appreciation for the brave actions by each of you, all of you, in saving the lives of tens of thousands of fellow humans  from death at the time of flood. You did not bothered about risk to your life. Instead you have shown exemplary courage and love towards humanity. The actions by you is comparable to the services rendered by our defence services and personnel who have both technology and wherewithall  to face such situations.You have faced similar or more severe hazards during both the Tsunami and Okhi when we people were not able to render such support to you. Even the governments failed to a large extent, then.  
I was traveling through the flood affected areas like Kottayam, Chengannur, Kuttanad etc where I could see the pathetic situation in which lakhs of people are living. But even among that miseries they is praise for you all for saving their lives.
We will now have to do much to bring back them to a normal and decent life. Their rescue and relief in camps were better compared to many other states with the support of many governmental and other organisations. But once they start returning to their homes the situation will be different. Their homes are in total disarray with mud filled houses and destroyed furniture and household utensils and nothing left to start their life afresh. They have no facilities like drinking water or sanitation. I had seen men and women waiting on the streets for hours to get drinking water and food.  
We must demand that those families who are returning to their homes must  be given cash support of at least RS.10000 for setting up their houses. Kerala is a small but bountiful state which has contributed to the development of India in many ways. Even if we cannot call it as a national disaster as per the law, defacto it 
is 
nation disaster. Hence such a large nation as ours should have a large heart to support Kerala in the maximum way possible. 
Until now, the approach of the Central government has not been satisfactory at all. While the same government is busy spending Rs. 3000 crores on constructing a statue of our first home minister Sardar Vallabhai Patel, they are offering a meagre Rs 600 crores to Kerala as relief fund. Even the UAE had offered an amount of RS.700 crores, more than our own national government. This should be rectified. Kerala is part of Federal India.India being a globalised nation in terms of capital investment and market there is nothing wrong in accepting relief funds.
When I was part of a fishworkers campaign through the ocean from Mangalore to Trivandrum with Mr. T.Peter I was frightened by the roaring waves. But you are crossing those waves almost everyday for your livelihood and feeding millions of us. But your concerns were never attended to seriously by governments. Now no government can ignore your voice. 
You should have a say in any developmental planning. They cannot go ahead with disastrous projects like Sagramala or Vizhinjam Port. The present central government is not interested in protecting nature and its resources. But the people of the country like peasants, tribals along with you are fighting these policies. NAPM being an alliance of such people's movements are with you in all such struggle.  
Once again I express my sincere thanks and appreciation for the brave soldiers of this country who had selflessly took the responsibility to save the lives of thousands of your brothers and sisters. I salute all of you once again in the name of all people's movements in India.