In a shocking information provided to RTI Activist Anil Galgali, the government has confirmed that it does not have records of the names of the Farmers covered under the Chattrapati Shivaji Maharaj Farmers Welfare scheme in Mumbai city and Mumbai suburbs. The declaration by CM Devendra Fadnavis that 813 farmers belonging to Mumbai were included in the Farmers loan waiver scheme had surprised everyone.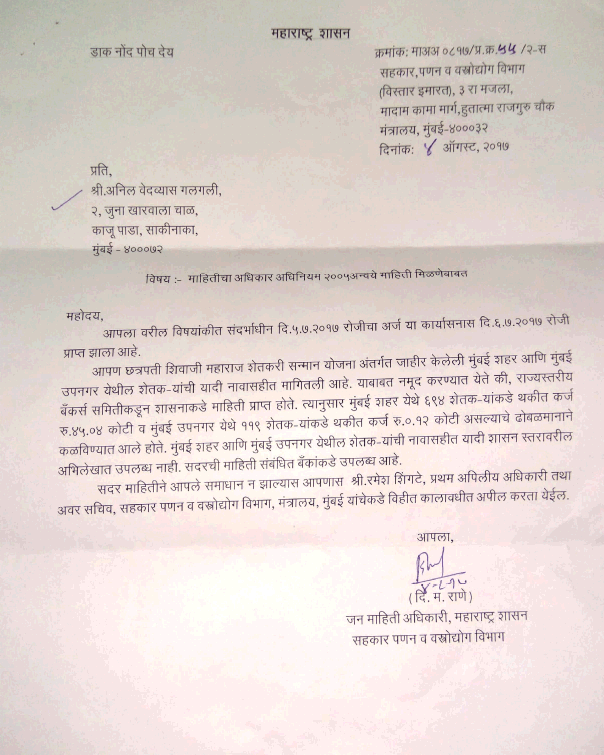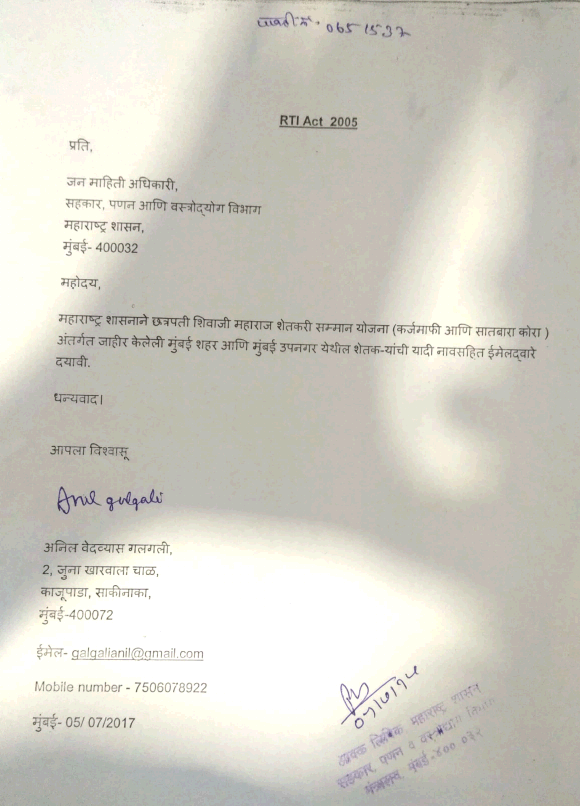 RTI Activist Anil Galgali had sought information from the government seeking details along with names of the Mumbai Farmers figuring as beneficiaries of the loan waiver scheme under the Chattrapati Shivaji Maharaj Farmers Welfare scheme. Shri D M Rane, Public Information Officer of the Maharashtra Govts, Cooperation, Marketing and Textiles department informed Galgali that, the govt receives information from the State level Bankers Committee and according to that information, 694 Farmers from Mumbai city have outstanding loans amounting to Rs 45.04 crores and 119 farmers from Mumbai Suburbs have a outstanding loans amounting to Rs 0.12 crores in the basis of assumption. The government does not have the list of farmers with their names and the list is with the bankers.  
The State government which had announced the loan waiver scheme for farmers had recently released the list of names of the beneficiaries. I too had apprehension about the presence of farmers in Mumbai, hence I sought the information from the government. CM Devendra Fadnavis had announced and assured that the loan waiver will be given only after detailed inquiry and cross check. The government doesn't have any list on its records and without cross verification and due diligence by the authorities, CM Devendra Fadnavis was given the data on  assumption is a very serious lapse in the administration front, expressed Anil Galgali.