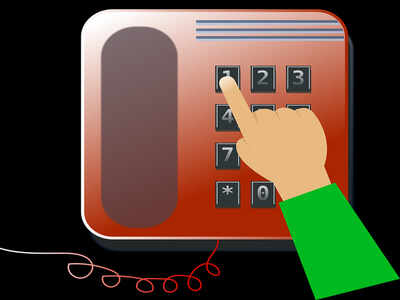 Image Courtesy: TOI
Mamata Banerjee-led Trinamool Congress government (TMC) has set up a 'grievance cell' and a toll free number, owing to the inefficient delivery of welfare schemes with complaints of irregularities and corruption. This has come in the wake of the overwhelming win of the Bharaitya Janata Party (BJP) in the recently conducted Lok Sabha elections that have given her not just a jolt, but are a wake up call. On June 10, Mamata Banerjee, at a press conference at Nabanna, announced the decision of its government to set up a committee to monitor the implementation of the state government run schemes.
As reported in
The Telegraph
, the grievance cell would be called 'Monitoring of Programme Implementation' comprising of state government officials and will be headed by TMC leader Colonel Diptangshu Chaudhury. A toll-free number (18000 345 8244) has been announced for this purpose, where anybody can call and lodge their grievances regarding state government run schemes. Apart from that, the citizens can also SMS their grievances on 9073300524 or email them at
[email protected]
. As per the government's directive, the issue has to be settled within seven days of receiving the complaint. Also, the Chief Minister announced that in order to ease the process and ensure timely redressal, one Deputy Magistrate could be appointed in each district.
A knee-jerk response to poor performance in 2019?
The decision of the TMC, especially after a poor performance in the 2019 general elections, may help the party achieve some brownie points considering that the state elections are just two years away. However, it appears to be an oblique admission by the TMC supremo of corruption in her own party, especially after major scams like the
Saradha Chit fund scam
which led to financial losses of thousands of poor and the
Narada sting operation
which also involved senior TMC leaders, came to light. Notably, some party sources claim that these scams and corruption in welfare schemes was the cause of its poor performance in the recently held elections.
Reportedly
, during the closed-door meeting of TMC members, Mamata pulled up a section of officials for the plight of the poor, who could not get the benefits of the social welfare schemes despite huge spending by the Bengal government. "I have come to know that some aged women were not getting old age pensions. We will conduct an inquiry to find out why they did not get it," the Chief Minister said at a news conference. She further added, "There will be zero tolerance for anybody taking money or benefits meant for the people. You will make money from government schemes depriving the people (of benefits) and when you are about to get caught, you will run away to another party. This will not be tolerated. We will strengthen our economic offences wing, police and civil officials."
One of the party members, who didn't wish to be named,
said
, "She asked the officials to initiate stern action against those who demanded money from the beneficiaries of different schemes without considering their political affiliation." Another TMC leader admitted that a section of party functionaries were demanding money from poor villagers to get them enlisted in schemes like
Sabooj Sathi
and
Kanyashree
in many districts.
"We did not win a seat in the Jungle Mahal though the government spent most of the funds under any welfare scheme there. This can happen only when there is a serious fault with the delivery mechanism," said a TMC MLA. "Maximum complaints had come up from north Bengal districts and the Jungle Mahal. The party was routed in those areas in the Lok Sabha polls," said another TMC MLA.
It took the post poll reality to initiate these measures, though there were regular complaints came from the beneficiaries. It can thus be an immediate response by the TMC supremo considering the unexpected performance of its party. Also, it appears to be a vote-bank move and a cautious approach keeping in mind that the Assembly elections are due in 2021.
Notably, even before the general public and the opposition could raise doubts on the implementation of this move in its full letter and spirit, the TMC members themselves have raised apprehensions. "The Chief Minister had repeatedly asked TMC leaders to stay away from syndicates or illegal trades of sand and coal. Even after her warnings, complaints had come up against many leaders. But no leader was punished,"
said
a minister. He admitted that taking action against party leaders was not easy particularly if he was important in the organisational set-up. "But time has come to initiate some harsh steps to save the party. Hope the Chief Minister will stand by her decision," the minister added.
Tracking performance of welfare schemes and grievance redressal
Mamata Banerjee-led TMC government has been speaking regularly about welfare schemes and also on how it has managed to reach the bottom-most sections. Some of the most popular welfare schemes are:
1.     
Kanyashree Prakalpa
An unmarried girl child who is 13 to 18 years old and reading in class VIII/IX/XI/XII will get annual scholarship of Rs. 750/- if annual income of her family is upto Rs. 1.2 Lac
2.
Yuvasree (Yuva Utsaha Prakalpa)
The objective of the scheme is to provide employment assistance to the unemployed youths of West Bengal for increasing their employment ability and skill.
3.
Sabooj Sathi Scheme
A scheme for distribution of bi-cycles to students of class IX to XII studying in Govt. run and Govt. aided Schools and Madrasas in West Bengal.
4.
Swasthya Sathi Scheme
It is a health insurance scheme for Contractual/ Casual/ Daily workers introduced in 2016.
A list of many such welfare schemes can be read
here
.
While it is clear that the state government has formulated various schemes-- some new and some a remake of the then Left government—we do not have either in Bengal or elsewhere real impact studies of these. Modi's regime works through high spending with public money and its own marketing apparatus. Essentially this pushes the Modi and Central government image. In Bengal, like the
Sabooj Sathi Scheme
which was re-created in 2016 was seen as a pre-poll eye catcher.
However, with an absence of independent and fair assessments of the impact and outreach study of these schemes, much depends on political rhetoric. For instance, the official website of the
Yuvasree (Yuva Utsaha Prakalpa)
and the 
Swasthya Sathi Scheme
doesn't have any records as to the number of beneficiaries till date or the impact of these schemes. Even in the case of
Sabooj Sathi Scheme
, an
assessment report
was published in the year 2017, the first year of its implementation. While the official website of the
Kanyashree Prakalpa
scheme displays the total number of beneficiaries till date, there is no detailed report except an
annual report
last published in 2016.
The list can be made longer and longer.
All in all, nobody can get information about the progress, fund utilisation and development regarding any of the government schemes from state government portals or websites. This implies that the information regarding the progress is in Chief Minister's word of mouth only. Though the track record appears in TMC's election manifesto, but this lacks authenticity for obvious reasons.
A unique move by the West Bengal government?
While many states as well as the centre has a generic or a departmental grievance redressal cell, the West Bengal government's initiative to set up a cell just for welfare schemes with a dedicated committee and contact details along with a time frame seems to be a different move. To give an example, the Maharashtra government has a
grievance redressal portal,
where a citizen can post any grievance related to the functioning of the government by logging in via an Email ID as well as a mobile number, which naturally requires basic knowledge of computers and an internet connection. This makes it difficult for the uneducated masses, who are the major beneficiaries of the welfare schemes, to approach the government. Also, the portal says that the grievances are "expected to be resolved within 21 days," but there is no definite mechanism to ensure this. In short, the portal is not citizen-friendly.
There is a
Public Grievance Commission
of the Government of Delhi in place which is said to have functional autonomy and independence as the Union Public Service Commission (UPSC). However, similar to the Maharashtra government, this cell is also comprehensive in nature, with no dedicated portals. Further, the
Public Grievance Monitoring System
of the Delhi government is all the more difficult to use. To lodge a grievance, one has to fill an online form and explain the concern in 2000 characters. Also, the complainant has to mention the department to which the grievance is addressed, which is really confusing for a layman. Again, there is no time limit mentioned for redressal.
All in all, it seems that the West Bengal government's move is the first of its kind. Whether, Mamata Banerjee will walk the talk is something we need to wait and watch.