Srinagar:
Nailing the Indian Army claims to parade
Farooq Ahmad Dar as a human shield by tying him to his jeep
, a report submitted by Jammu and Kashmir Police has contradicted and put a question mark on the claims made by the Army Major Leetul Gogoi in his defense.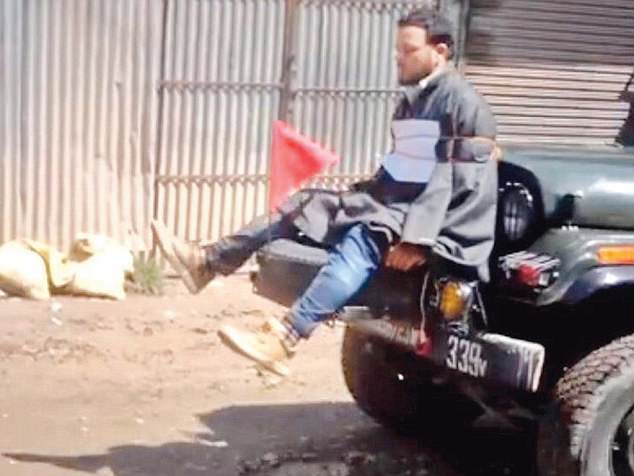 The report disassociates Dar from being a stone pelter and clarifies that he had cast his vote for the Lok Sabha by poll on April 9 before heading to a nearby village to attend a condolence meeting, and terms the action of army major as wrongful confinement of an innocent civilian.
"During investigation it came to surface that on 09-04-2017 during by-poll elections various stone-pelting incidents took place in the jurisdiction of police station, Beerwah, and on the same day the said Farooq Ahmad Dar s/o Abdul Rahim, r/o Chill accompanied by Hilal Ahmad Magray s/o Ghulam Mohammad r/o Chill (witness no. 01 above mentioned) proceeded to village Gampora for condolence and after spending some time left from village Gampora and reached Utligam crossing where from he was lifted by Army during stone pelting and was tied to bonnet of the army vehicle as human shield under threat," the two-page report says.
"He was kept under wrongful confinement and was paraded/moved around in the area," the report adds.
On April 9th during the Lok Sabha, by poll elections in Budgam district of Kashmir, Farooq Ahmed Dar, a shawl weaver, was picked and tied in front of an army Jeep, which the army had claimed to avoid stone pelting on it. He was allegedly beaten before he was lashed to the vehicle with a sign saying "This is the fate that will befall stone throwers" pinned to his chest.
Many BJP leader and Army had given clean chit to the officer and had, in fact, backed the actions of the officer, saying he had the responsibility to save the lives of those involved in the by-election that day.
The video of the incident had sparked intense debate in the state and around the world and many human rights activists had termed it as crimes against humanity. Later J&K CM Mufti had asked for a detailed report from the state. The Jammu and Kashmir police filed a First Information Report on April 15, following which the army formed a court of inquiry.
The findings of the latest report have once raked up the debate over the narrative promoted by the mainstream media which have hailed Major Gogoi over the human shield row and whether Dar deserved such treatment even if he was stone pelter.
Kashmir-based human rights activist and Chairperson of Asian Federation Against Involuntary Disappearances Khurram Parvez said, "There is a problem with this kind of narrative itself that he voted and he shouldn't have been used as a human shield, even if he was involved in stone pelting does that justifies the act of army using him as a human shield?"
"Everyone has rights, even prisoners have rights. what army has done is a serious rights violation," he added.
While speaking on the award given to the army Major Gogoi, he said, "Army giving an award to its officer, who is accused of human rights violations isn't the first case. The army officer involved in Pratibhal fake encounter, colonel Saxena was also awarded similarly, until his retirement despite the clinching evidence of his involvement. Even Jammu and Kashmir police who have submitted this report has a similar past."
When asked if he expects that Major Gogoi could be persecuted, he said, "As per our data, the forces here in Kashmir have been enjoying absolute impunity. There has not been even a single case in which a security force personnel could have been prosecuted by the civil court and the more concerning is moral impunity."
Gowhar Geelani, a Journalist, Political Analyst, and Commentator castigated the role of Indian electronic media who through debates had backed the actions of the army officer.
"The facts are only vindicating stand of the Kashmiri people. From day one it was known to local journalists, who had covered the by-election in Budgam district, that Farooq Dar had indeed cast his vote after which he was tied to a bonnet of army's jeep on Major Gogoi's directions. At that time, vast sections of Indian electronic media through vitriolic commentary and while cashing on propaganda and falsehood tried to construct a counter-narrative to a) deny the facts regarding the case, and b) to misinform the Indian people with the aim to boost Indian army's morale in Kashmir. However, a false narrative will never stand the test of time," Geelani told TwoCircles.net.
"Also, even if Farooq Dar were not a voter, what Major Gogoi did is a war crime and all sane Indians should feel ashamed of celebrating war crimes. This false sense of jingoism, patriotism, and nationalism at the expense of violating someone's human rights only showcases regression in Indian society. This is not the first case of human rights abuses or war crimes in Kashmir. Indian army is accused of planning extrajudicial killings; killing civilians in Pathribal and Machill in fake encounters and then passing them off as foreign mercenaries, a mass rape in north Kashmir villages of Kunan Poshpora etc," he added.
Chairman of the International Forum for Human Rights and Justice, Mohammad Ahsan Untoo, who had pleaded Dar's case before the State Human Rights Commission said, "What I was saying five months ago has been corroborated by the state government report today. I am not surprised at the outcome, but justice is still has a long way to come until the army officer involved in the incident is prosecuted."
The State Human Rights Commission had even asked the J&K government to pay compensation of Rs 10 lakh to Farooq Ahmad Dar which he still awaits.
"I filed an appeal before SHRC today against the state government for not paying him the compensation. The SHRC has summoned Chief Secretary and next hearing is on October 3, " Untoo added.
The State Human Rights Commission Chairperson (Retd.) Justice Bilal Ahmad Nazki in his judgment had said, "I have no doubt in my mind that Farooq Ahmad Dar was subjected to torture and humiliation, besides being wrongly confined. It is medically also established that Farooq Ahmad Dar did not suffer only humiliation publicly, but also faced a trauma which resulted in psychiatric stress which may remain with him for rest of his life."
It is pertinent to mention here that the state police recorded the statement of Dar on September 20th, only after Valley-based newspaper
Kashmir Reader reported how the police were yet to record
the statement of Dar even five months after the incident.
Courtesy: Two Circles