With nearly 1 lakh workers joining the mahapadav on the first day, most mass media outlets chose to ignore it – like an ostrich!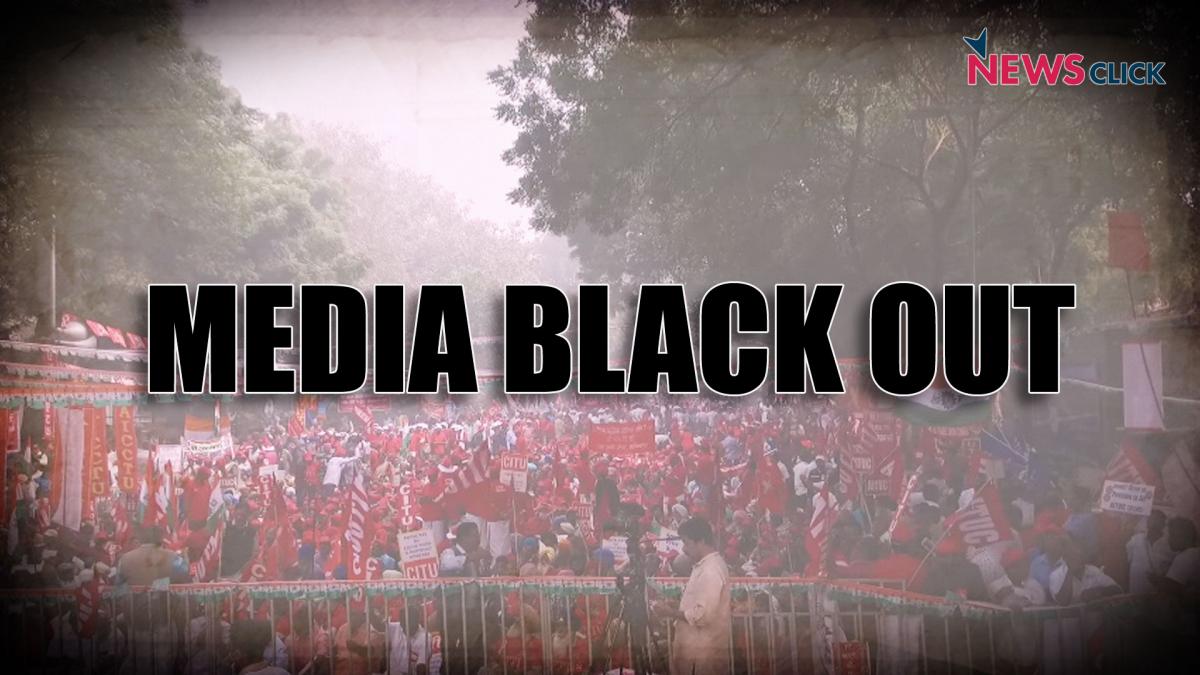 Nearly 100,000 workers gathered at Delhi's Parliament Street from 9 November 2017 to protest against the central government's policies that have adversely affected the working class of India. The protest – called 'mahapadav' or mega sit-in – will continue till 11 November. (See reports here:
https://goo.gl/1TSzYE
and videos such as:
https://goo.gl/WQvE8o
)
It is one of the biggest workers protests in recent times and comes as a culmination of a long campaign which covered practically all districts of the country. It is organised by 10 central trade unions and several workers' and employees federations representing about 10 million workers of the country.
But that's not "news" for the major media houses in India. Most newspapers and television channels did not carry any report on the protest or carried small items buried deep inside their advertisement filled pages. As far as one could make out, The Hindu, The Indian Express and The Hindustan Times had no report while there are small reports in The Times of India and The Business Line (which claims the protest is by "hundreds of workers" - without pictures so that people don't get to know of the real size of the gathering).
These are the same newspapers that spare no column inches in reporting about Prime Minister Modi's smallest statements and activities. They are at the forefront in discussing what the CII or FICCI has said on this and that. They go gaga over Satya Nadella and Sundar Pichai. But towards the suffering and anger of millions in this country, there is no ink to be spared.
What about the so-called alternative media? Sorry, but not a single report in The Wire, Scroll, Newslaundry and so on until this morning.
This is not the first time this is happening, of course. Mass protests by the working class have either been ignored by the Indian media, or denigrated as nuisance which causes traffic jams. There were two massive all India strikes – first in 2015 involving about 150 million workers and the world's biggest industrial strike in 2016 involving 180 million workers. But the media just reported it as partial or even failed strike. On the other hand, protests of 40 people led by an Anna Hazare or some NGOs or what Modi's followers are saying on his own app tend to make it to the front pages of these newspapers and web portals.
These are nothing but manifestations of the class bias and utter contempt for the working class – which is really fear of the working class and its organised actions. Businessmen who own these media outlets cannot bear the thought of printing or airing something that would harm their own interests. Most newspapers and TV channels themselves employ thousands of people, most of whom are on contract. They are paid low wages, they work long hours and they suffer humiliation and insecurity at their workplaces. While most of the journalists would sympathise with the workers' demands, they dare not write about it out of fear of their bosses and the owners. Also, Modi's policies of labour reform or privatisation are precisely the ones that are ardently supported by these media outlets.
To be fair, there are some honourable exceptions to this disgusting trend -
NewsClick.in
, which has been covering the protest extensively, the Latin American network
teleSUR English
, and non-English media outlets such as
Deshabhimani -
ദേശാഭിമാനി
, Janayugom, Ganashakti and so on.
Little do the mass media outlets, today so indifferent and scornful of workers and their demands, realise that tomorrow, when this govt. turns against any one of them and starts arm-twisting them – then it is these trade unions only that will stand by them. But probably this is a lesson everyone has to learn the painful way.
Courtesy: Newsclick