Gautam Thaker, a rationalist and civil libertarian has in an open letter to Morari Bapu, the Gujarat-based seer respected as Ram Katha-Kaar throughout India and the world has, in an open letter prodded him on his uncritical praise of the Modi Sarkar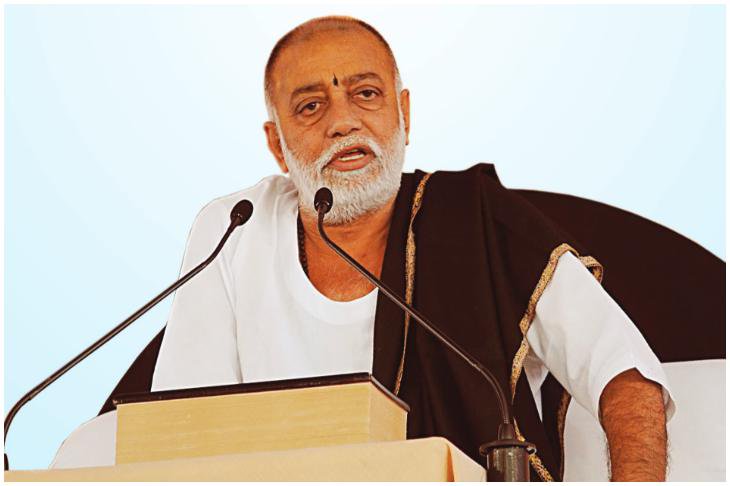 Morari Bapu is a much courted seer, drawing the ear and faith of thousands. A valuable asset and voice, especially in election year. And it is election year in the western Indian state of Gujarat that goes to the poll in 2017. Last month, May 2017, at a
Ram Katha-Manas Shankar
held in the holy mountain region of Kedarnath, Morari Bapu has been quoted as saying that 'three years of the Modi regime' are the best that India has seen.  
While accepting the seer's right as a citizen to hold this view, Thaker was prompted to write an open letter, raising crucial issues of democratic dissent, financial accountability and transparency and non-performance.  
Excerpts from the Open Letter:
"If one looks carefully at the reports of the Comptroller Auditor General (CAG),"  it is clear, "that these agencies haveunearthed many irregularities." " In short, if you go through the last three years' reports of these agencies then it shall be clearly evident that there is No 'Good Governance' in the country.  "  
Democratic Dissent is being Quashed:
"Civil Liberties and Human Rights activists like us apprehend that "New Independence" (Nayi Azadi) in 1977 which was secured, is going to be snatched away once more. Democratic values, fundamental rights, freedom of speech, expression and the press and independence are gradually annihilated. During last three years, Civil Liberties, fundamental rights and human rights are visible nowhere.  
"Freedom for peaceful, non-violent, collective resistance or for demonstration has also been grabbed away through suppression and excesses by the police.  Violation and breach of various human rights of the dalits, weaker section, down-trodden and deprived masses are seriously tangible during these years. It is quite well known that Gandhiji had struggled for their cause, all throughout his life. Gandhiji and Jayprakash Narayan maintained that a human being should also have liberty. Man's life is incomplete, handicapped and atrophied without the liberty.  
"Present rulers have not proffered liberty to the people. To talk of rights of minority is quite out of place. Hence, how can one call it 'Good Governance' ?  
No Lok Ayukta Appointed
"..Even after lapse of three years since the NDA regime has come to power, appointment of Lokpal has not been made. The rulers are afraid that if appointment of Lokpal or Lok-Ayukta is made then they may be shunted out of power and that their corruption may get exposed. If the Govt. makes appointment of these two, then their corruption or financial malpractices may get exposed. The Supreme Court had to reprimand the Govt. on this matter. "  
Six Pointers to Modi-Govt's Non-Performance
(a)  All the steps aimed at employment generation have turned out to be hopeless. As against assurance of one crore jobs, hardly 2.13 lakh jobs created in the year 2016.
(b) Complete failure on the front of women's security
(c)  Failure in checking or controlling inflation. Unbearable rise in the prices of food grains and essential commodities, hitting hard, middle-class and poor people.
(d) Failure on the front of foreign policy, resulting into obstinate, arrogant stand by Pakistan, China and other countries.
(e)  Failure in establishing peace in Kashmir  
Flop of De-Monetisation
"Flop-show, the Demonetization plan: Issue of black money, corruption, terrorism, counterfeit currency notes have remained as they were before."  
(The author is associated with the Radical Humanist Association and the PUCL)