At least
11 people were killed
and several were wounded after police opened fire at protest against copper mining company Sterlite in Tamil Nadu's Thoothukudi (Tuticorin) on Tuesday, May 22. Locals have alleged that the Sterlite plant there
spread pollution in the groundwater
. The Supreme Court in 2013
levied a Rs. 100 crore fine
on the plant that is to be used for
compensation and rehabilitation
of the environment.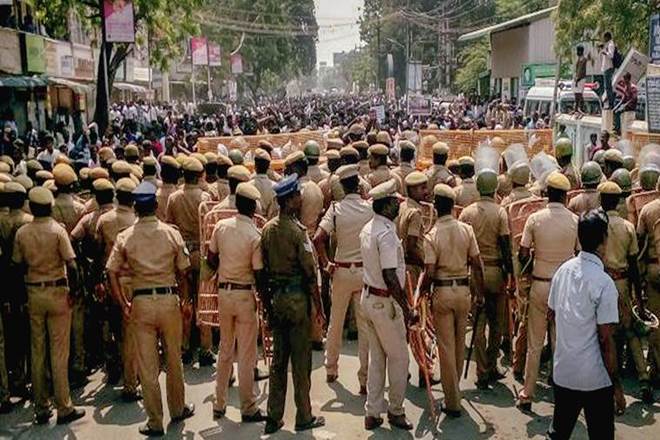 Initially peaceful, the protests turned violent after a crowd of
nearly 20,000 people
, who were barred from marching to the Sterlite plant, decided to surround the Collector's office, and even set a police vehicle ablaze. Police resorted to
lathi
-charge and using tear gas to disperse the crowd. The demonstrators resorted to stone-pelting, after which the police allegedly opened fire. Section 144 of the CrPC has been imposed in the city, and large numbers of police personnel have been deployed there.
Prominent citizens have issued a statement condemning the police violence that occurred, stating that the "tragedy" was "totally avoidable," and placing the blame on Tamil Nadu's state government, the Union Ministry of Environment, Forests and Climate Change, the Tamil Nadu Pollution Control Board, as well as the Thoothukudi District Administration "for allowing the situation to get to this unfortunate state by allowing Vedanta Sterlite to violate environmental and land use planning laws with impunity for over two decades." The statement said that "the people who died are just ordinary people who have been forced to take to the streets, and march to the Collectorate to demand action from an administration that has systematically and for decades failed to enforce the law on Sterlite." It also noted this was "the second time in two months more than a lakh residents of this coastal town have taken to the streets" to demand the "immediate and complete shutdown of Sterlite." 
Signatories to the statement include writers, publishers, activists, professors, filmmakers, and journalists, and retired officials. Among the the signatories are the retired Justice D. Hariparanthaman, and retired IAS official MG Devasahayam, as well as Henry Tiphagne, advocate and National Working Secretary, Human Rights Defenders' Alert - India, and Executive Director of People's Watch. 
A protest against the police violence has been called at 4pm on Wednesday, May 23, at the New Tamil Nadu House in Chanakyapuri. 
Click here to read Citizens' Statement condemning this unprecedented brutality. If you wish to endorse the statement, please send your Name, Affiliation and Place to

[email protected]