Mumbai Shia clerics, leaders and some Shia Muslims, have in a paid advertisement that has been published in the widest circulation daily, INQUILAB condemned the widely reported move by the Shia Wakf Board to agree to give up the land that once housed the now demolished Babri Masjid. Recent reports have indicated that, in an affidavit filed in the Supreme Court in the case, the Shia Wakf Board, has said that it has no problems if a Masjid was built some way away from the demolished 425 year old Mosque.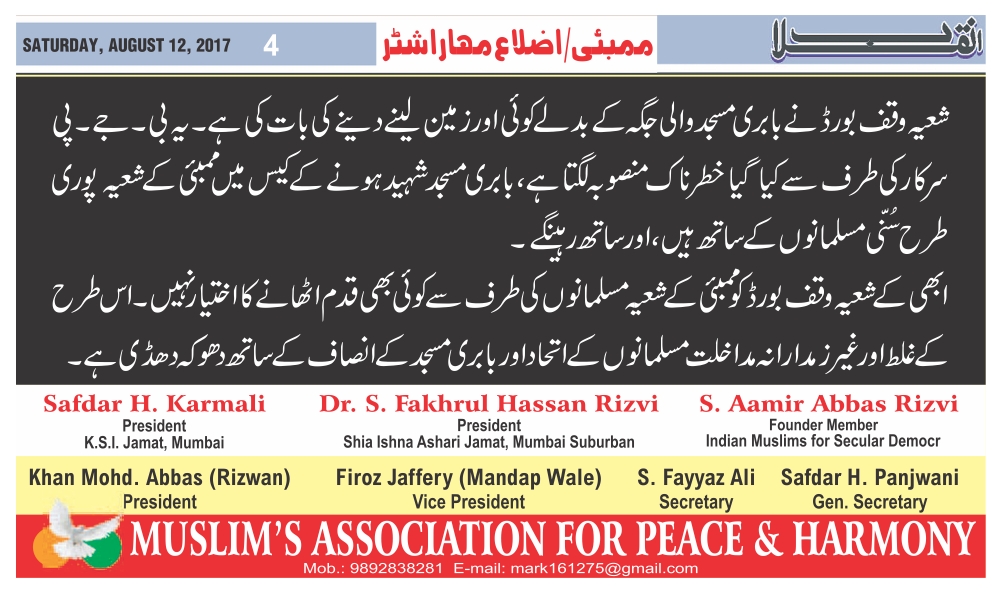 The text of the advertisement says:
We, the Shia Muslims of Mumbai, condemn the alleged intervention and affidavit in the Supreme Court by the Shia Wakf Board. We have got to know through news reports that Shia Wakf Board is trying to exchange land of the demolished Babri Masjid. This seems like a dangerous plan by the BJP government.
All the Shias of Mumbai are fully with the Sunni Muslims in the Babri Masjid case and will remain together forever.
The present Shia Wakf Board has no right to take any decision on behalf of the Shia Muslims of Mumbai. This kind of irresponsible and illegal intervention is a betrayal of the process of justice in the Babri Masjid case and also harmful for overall Muslim Unity.
We, the Shia Muslims of Mumbai, cannot be tricked into this trap by communal forces. We will work shoulder to shoulder with Sunni brothers for unity and justice.  
Signatories:Safdar Karmali
, President, Khoja Shia Ithna-Ashari Jamat (K.S.I.) Jamat, Mumbai.
Dr. S. Fakhrul Hassan Rizvi
, President, Shia Ishna Ashari Jamat, Mumbai Suburban.
Khan Mohd. Abbas (Rizwan)
  President, Muslim's Association for Peace & Harmony, Mumbai
Firoze Jaffery
(Mandap Wale), Vice President, Muslim's Association for Peace & Harmony, Mumbai
S. Fayyaz Ali
, Secretary, Muslim's Association for Peace & Harmony, Mumbai
Safdar H. Panjwani,
Gen Secretary. Muslim's Association for Peace & Harmony, Mumbai 
Amir Rizvi
, Member, IMSD, Indian Muslims for Secular Democracy