ABVP takes law into its own hands, tries to disrupt meet in Sholapur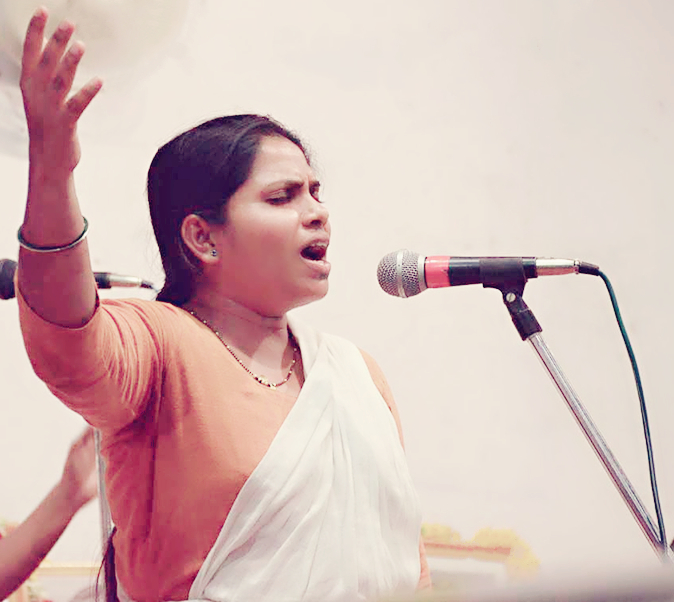 Activists of the Akhil Bharatiya Vidyarthi Parishad (ABVP) tried to disrupt Dalit feminist protest singer, Sheetal Sathe's programme at Sholapur on January 2, 2016 but had to retreat when organisers ensured the programme went ahead. However, the Maharashtra state joint secretary of the ABVP, Ram Satpute threatened on Maharashtra 1 television's newshour programme on January 8, 2016 that "we will disrupt her programmes everywhere in the state." The justification for the ABVP's taking the law into its own hands is that she is 'anti national.'

Sheetal was at pains to tell us that she is out on bail, fully observing the conditions of the court and to dub her 'anti-national' was a falsification of the case that is still on. "I respect the Court and its decision, who are these people to act this this?" she demands. She is determined to carry on with her programmes despite such blatantly unlawful threats.

Nikhil Wagle, senior journalist and Editor and head of the Maharashtra 1 television questioned the ABVP secretary on unlawful attempts to take law into his own hands on the newshour programme. "I have observed their work and heard her sing," Wagle told Communalism Combatonline. "The court case is on but how can a vigilante group take the law into its own hands?" Wagle asks.
 
Sheetal and her group's performances recorded first in Jai Bhim Comrade¸Anand Patwardhan's award winning documentary on Dalit protest music have become iconic for the Dalit youth of Maharashtra. (see https://www.youtube.com/watch?v=r7JRWE64CEw: Jai Bhim Comrade (Excerpt - Kabir Kala Manch) by Anand Patwardhan.mov). Mainstream Marathi television also now calls her troupe in for performances on historic occasions like the birth date of Dr Babasaheb Ambedkar (December 5, 2015). See ABP Majha, Bhima Tujhe Navane: Shahir Shital Sathe & Team tributes to Dr Babasaheb Ambedkar.



Sheetal was released on bail on June 27, 2013 while eight months pregnant after being incarcerated for about two months. Three of her colleagues, including husband Sachin Mali, are still in jail. Sheetal is part of the cultural protest group Kabir Kala Manch (KKM). KKM was founded in 2002 as a response to the Godhra riots and the ensuing rise in communal tensions. "Ramesh (Gaichor) was one of the founding members, along with Yogendra Mane, Amarnath Chandaliya, Haroon Sheikh, and a few other people," says Deepak Dengle, who joined the group in 2004. "They thought that after the Gujarat riots, something must be done to promote Hindu-Muslim unity." 

The group did a number of shows around the city under the 'Awaaz Do' banner. But by the time Sathe and her cousin Gorkhe joined the group, new talent had come in who also focus on Dalit and workers' rights.