Nandu Gond has been arrested in an allegedly second false case even after HC has protected him against arrest before in another related, reportedly malicious case.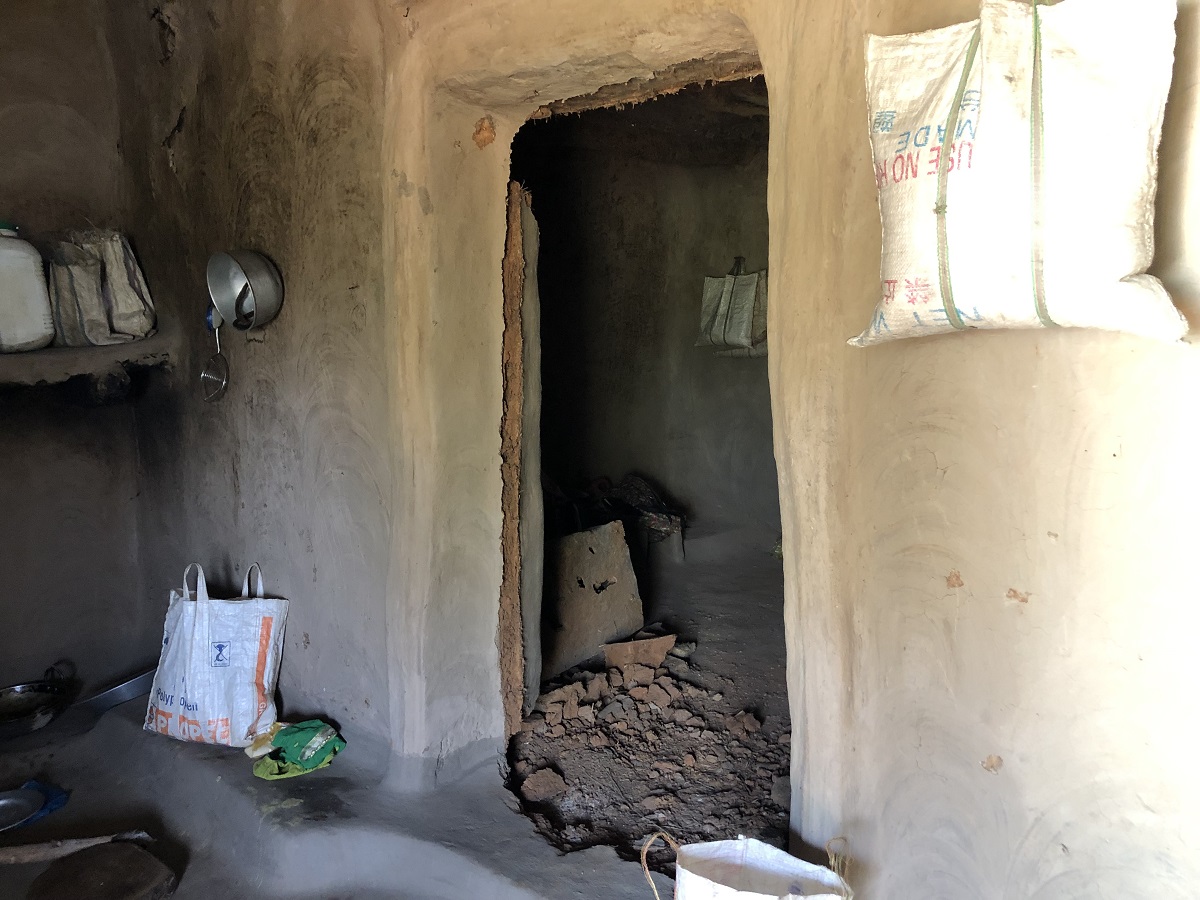 Nandu Gond's only crime seems to be is that he is an assertive land and forest rights activist and is president of Forest Rights Committee (FRC), Lilasi area, thana Nevarpur. For the past four months, he was forced to be on the run for about four months, even after the Allahabd High Court directed on a stay against his arrest (February 8, 2019). He his family used to live in the village with his wife, two sons, two daughters and his brother. His activism and involvement in the organisation is being used to target him.
When we spoke to DSP Sunil Kumar Vishnoi (Sonbhadra, CO-Dudhi), he said he could not confirm any such arrest as he was in Allahabad and directed us to speak with the thana (police station) incharge. At Dudhi police station, the Inspector was unaware that such an arrest had taken place as he was busy with a 'programme.' Later there was no response from the Dudhi police station. Inspector Shiv Kumar who was earlier posted in Nevarpur thana said that he was transferred on February 15, 2019. But he seemed pleasantly surprised that he was arrested. He spoke with great pride and detail on the Kurki done on Nandu Gond's house. Rahul Mishra, listed as the DSP on 
https://uppolice.gov.in/frmOfficials.aspx?sonbhadra said
that he was not aware of any such arrest.
Gyan Prakash Rai (CO-Obra) said no such case was registered in his jurisdiction.
Cjp.org.in
has, after ateam visit to Lilasi village recently reported how terror was unleashed on his home in December 2018 and his family
and the belongings targeted.
 The story titled, "Forest Rights: A daughter awaits her father's return in Sonbhadra's LilasiNexus of UP Police, Forest Dept. officials and brokers destroy Nandu Gond's home" was first published on cjp.org.in. We reproduce it here with due credit.
It was a windy day with fragmented, asymmetrical clouds spread across the sky. Yellow mustard plants swayed with the force of the wind, as did the wheat crops. We visited Lilasi village, a site of bitter conflict, even bloodshed, between state forces, the forest department and the forest dwelling community (Gond Adivasis).
It was February 11, just two days before the Supreme Court order that 
directed the eviction of millions of Adivasi families
 whose land claims had been 'rejected'. The SC verdict that made a mockery of the Forest Rights Act(FRA) 2006, also overlooked a bare-faced reality; that a heavily imbalanced power structure within state governments and their administration misused the 'process of rejection'. In fact the process itself is questionable and replete with loopholes and factual inconsistencies.
Lilasi, located at a distance of about 80-90 kilometres from the Robertsganj district headquarters, and 30 kilometres from Dudhi railway station is a cluster of 300-400 hutments, constructed in sets of 2-3 together, along with small self-sustaining plantations of grains, vegetables and spaces for cattle- cows, goats etc.
In June last year, a brutal face off between the local police aided by a mafia and members of the All India Union of Forest Working Peoples (AIUFWP) had left Kismatiya Gond injured. When union members and other forest dwellers effectively defended their land, they were entrapped in malicious cases and jailed. It took Kismatiya a month and Sokalo Gond over five months to be released from jail.
As we proceeded to speak to the residents of the village, a few people pulled us into one of the huts to show us the inside. It was as if the outside structure had survived somehow, but the interiors had crumbled into smaller rocks, soil and dust. The place had a morbid feel about it. The site of a violent demolition and deliberate destruction lay bare in front of our eyes.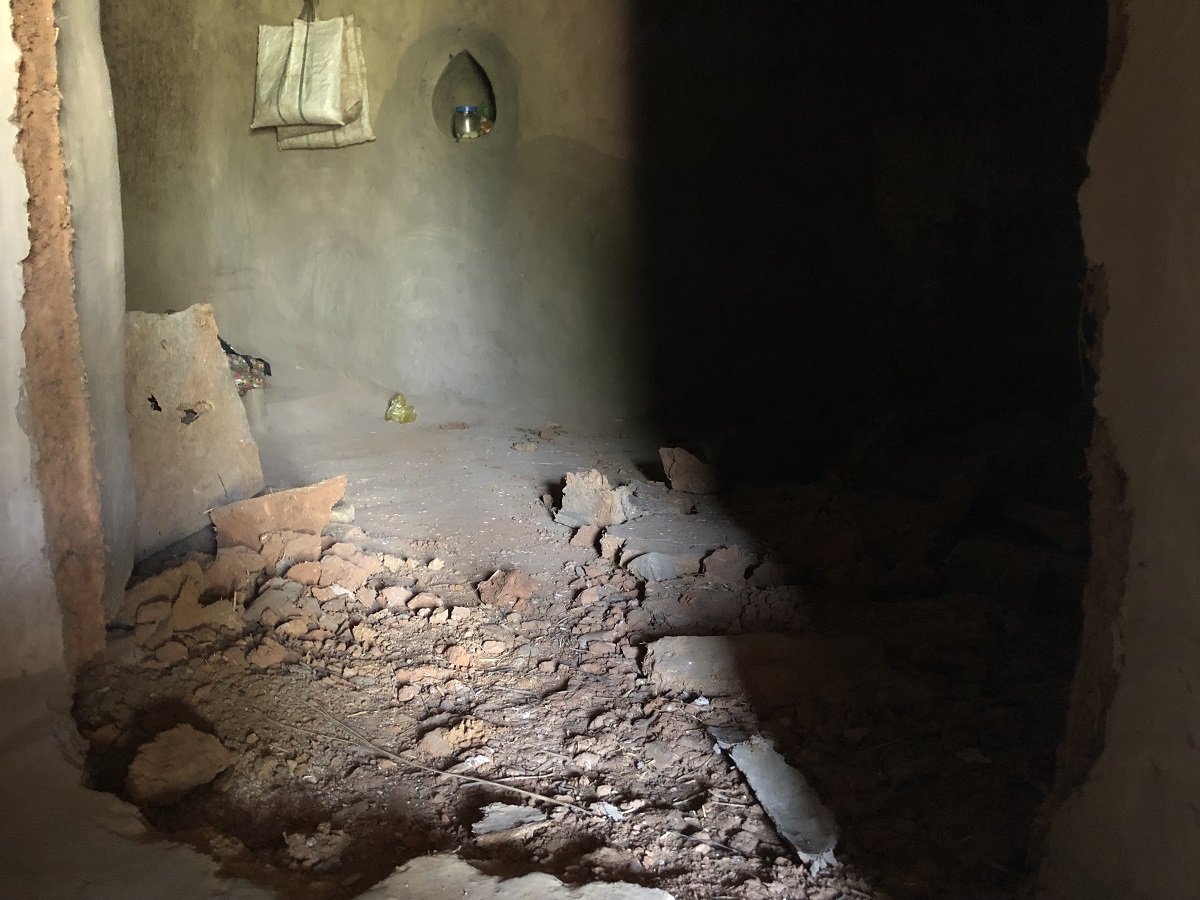 "I was not at home when this happened", said Nandu Gond's wife Sukhwariya Gond. "My daughter saw everything", she added.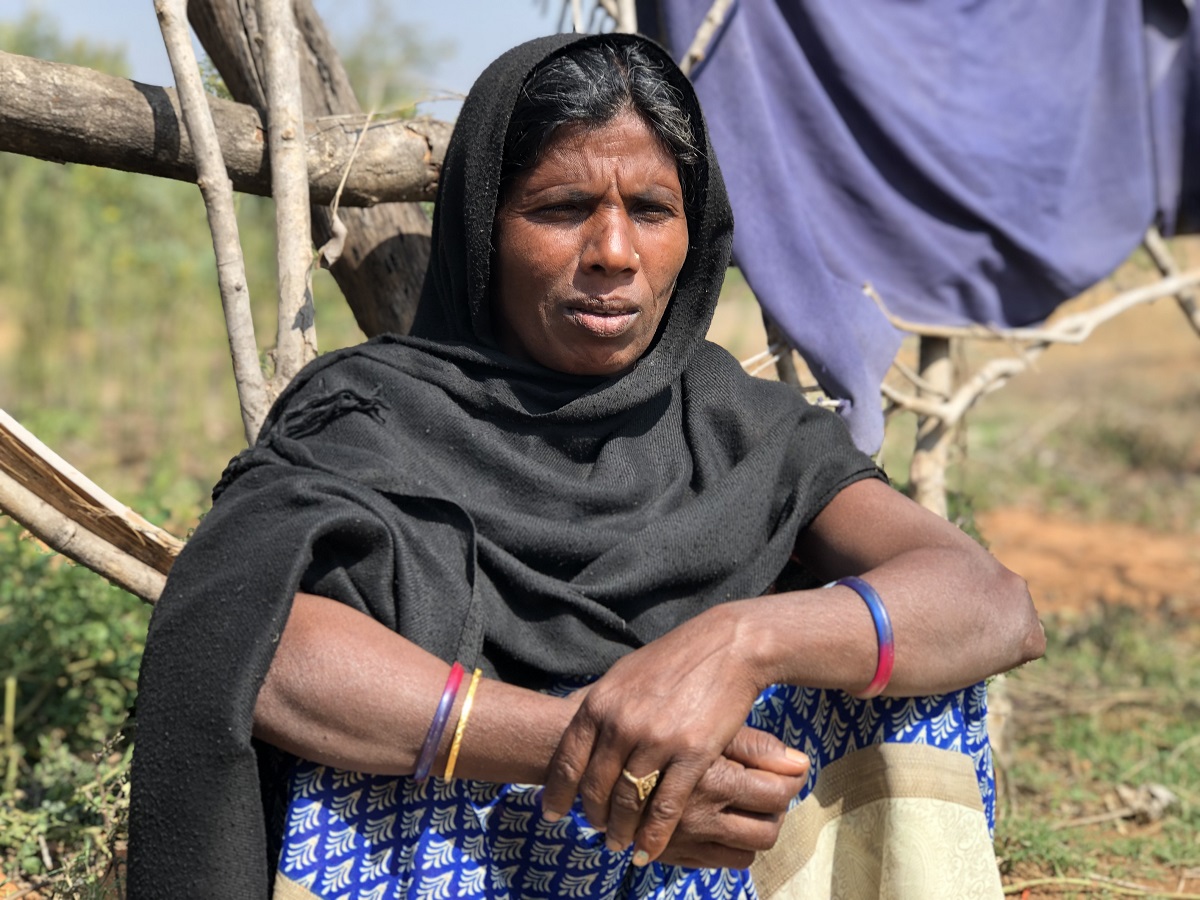 Nandu Gond is the president of Forest Rights Committee (FRC), Lilasi area, thana Nevarpur. He has been on the run for about four months now. He used to live in the village with his wife, two sons, two daughters and his brother. His activism and involvement in the organisation is being used to target him.
His 14 year old daughter Anita, sits on a raised platform just outside the hut. Several people, as is the custom, gather around. Anita is visibly anxious and perhaps a little shy. She recalls the day the police came and assaulted their small hut with utmost clarity, slowly, pausing after every sentence.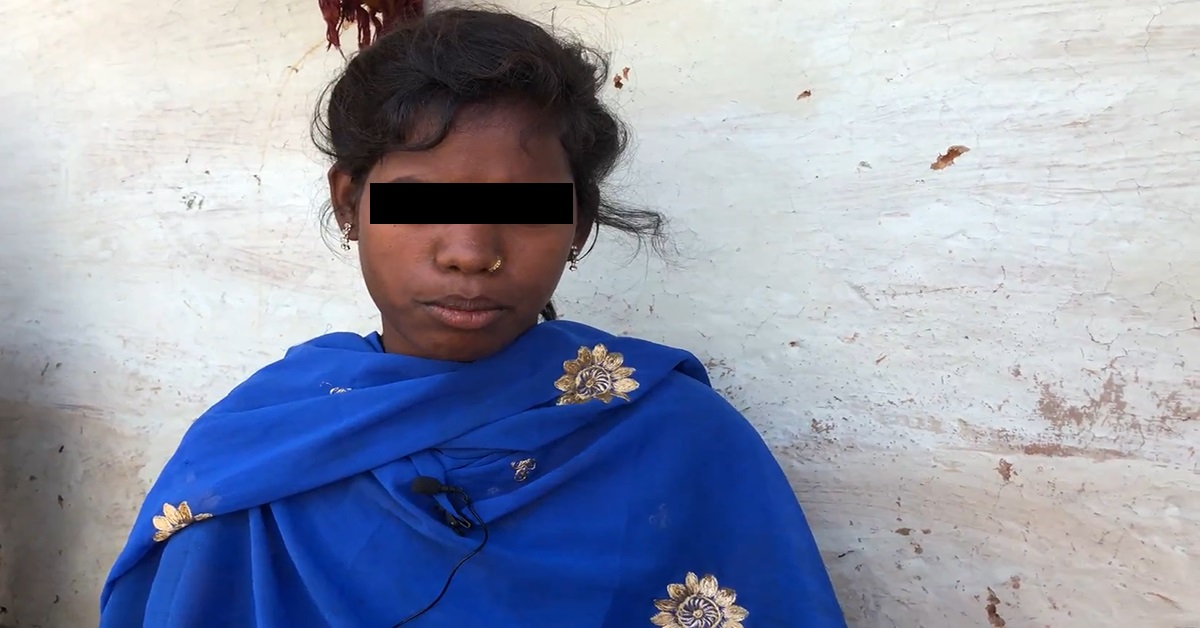 "We will not let you live; you have to die. You will die of hunger. Get the bail [for Nandu] fast otherwise we will beat you up", shouted the members of the force that came to attack their house on December 25, recalls Anita dressed in a blue salwar kurta.
"They were even recording [the whole exercise]. After recording they entered the house, they broke the locks of our 
baksa 
(aluminium suitcase). They started beating us. They said call your father otherwise we will beat you more. Sit and watch [how we ruin your household]", she recalls.
When I ask Anita how those who came to her house were dressed, she says, "There were about 15 of them dressed in 
Khaki 
clothes. There were six others who were in pant-shirts (plain-clothes). Two of them were the 
pradhans
. Their names were Balram who belongs to the 
Baniya 
caste and Ramsevak who belongs to the 
Yadav 
caste."
"There was another man, Rajesh", at this moment Anita pauses to mention his caste, "
Baniya
" and continues, "He said, we will beat you, get out [of the hut]".
When they came outside they threatened Anita and her younger sister to take them to Nevarpur 
thana
. As per Anita they threw away the food kept in their plates. They threw all their vessels, mixed all their grains and threw everything on the ground, alleged Anita and her mother.
"My sister was crying, she asked [me], how will we go to the school now? They took all our books?" she pauses, and continues "They even broke the 
ghada
 (earthen pot). I felt scared."
"They heckled us out and were constantly beating us", when Anita asked the police forces why were they being beaten they merely asked her to get 
zamanat 
for Nandu. They took away even the winter wears under the guise of 
Kurki
. Winters in these areas are harsh and severe.
Legally, 
Kurki
 translates into property seizure if an 'accused' with a criminal record is absconding. However, Nandu's only 'crime' seems to be that he is the president of the FRC constituted as per the Forest Rights Act (FRA), 2006 and is the one under whose name community forest rights claims were filed in March 2018 from Lilasi village in Robertsganj's District Magistrate's office. In March 2018, several other villages too had filed the claims.
Since then the village has seen immense brutality. Initially, the residents of the village allege, police and forest department officials came to the village and tried to lure the villagers saying, "Why don't you just take the money for NREGA (National Rural Employment Guarantee Scheme)?" The villagers explained what was meant by this: people should settle for meagre amounts instead of claiming their community forest rights over the forest land under the FRA, 2006.
In 
the aftermath to the violence that was unleashed at Lilasi
 in which several women and children, including Nandu's daughters and sons, who were present in the village at the time, were hurt, false and fabricated cases were lodged on the residents of the village, to rub salt into their wounds. Nandu was booked under sections of Indian Penal Code (IPC) pertaining to rioting and attempt to murder (sections 147 and 307) among others. Their only crime was their robust efforts in claiming their land rights.
Despite 
the bail that was granted to Sukhdev
 and Kismatiya in another one of many fabricated cases over several residents of Lilasi village, the police, reportedly hand in glove with the forest department and the 
"dalals
" (a term used by villagers for people acting like mediators or brokers between the two arms of the state), continued its systematic harassment of Lilasi villagers.
Nandu has been harassed for a long time. The police 
had stuck a notice
 on Nandu Gond's house saying "बेल करवा लो नहीं तो कुर्की कर देंगे (You better get bail for him otherwise we will confiscate his property)"
The brazenness of the 
kurki
 done comes nowhere close to a mere property seizure. It appears to be a clear attempt to terrorise the family members and send across a warning signal to other villagers agitating peacefully for their legitimate land rights.
Recently a stay order has been received which prevents any arrest. Quoting from 
Joginder Kumar versus State of U.P.; 1994 Cr. L. J. 1981,
 and taking cognisance of the nature of allegations and the provisions of Section 157 Cr. P. C., the judge said, "it is directed that the petitioner shall not be arrested in above mentioned case, till credible evidence is not collected by the investigating officer during investigation."