As many as eight eminent citizens, including scholars, a retired senior Army officer, a Magsaysay award-winning activist, writers, classical singer and a legal luminary have lent their weight to the draft that they say is humane and egalitarian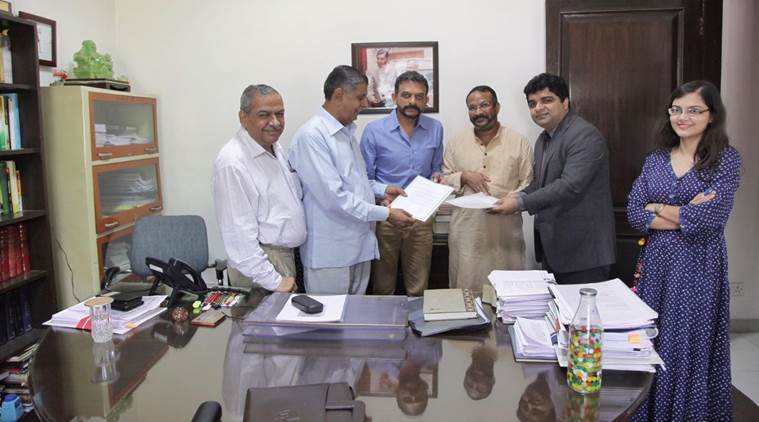 Image: Indian Express
Shifting the debate away from
the majoriatarian discourse on the issue generated by the present regime,  a draft of a potential Uniform Civil Code, termed the 'Progressive Uniform Civil Code' (PUCC) was presented to the Chairman of the Law Commission, Justice (retd) BS Chauhan by a group of eminent citizens today. The indian Express reports on this development today.
Last year, Justice Chauhan was tasked with helping formulate a draft on Uniform Civil Code, that the government could consider later. The Law Commission sent out a questionnaire to several faith groups, leading to some hostility and concerns over ensuring that Constitutional values apply to all personal laws. Sources close to the Commission said that the Draft UCC is a work in progress.
 
Eight eminent citizens, including scholars, a retired senior army officer, Magsasay award winning activist and a classical singer, writers and a legal luminary have lent their weight to a draft that purports to provide "equal rights in marriage, divorce, child custody, guardianship, inheritance and succession", that too "irrespective of their gender, sex and sexuality, religious or cultural traditions or beliefs." It sets out at the onset to bring about progressive uniform laws, "in line with globally accepted values of human rights".  
The signatories include TM Krishna (singer and artiste), S Irfan Habib (historian), Mukul Kesavan (writer), Dushyant (lawyer), Maj Gen S Vombetkere (retd), Nilanjana Roy (writer), Gul Panag (actor) and Bezwada Wilson (Safai Karamchari Andolan).  
Krishna told the Indian Express that "The idea of a UCC has been floated by people for sometime now. But under the present political dispensation there has been a conscious attempt to use it to create a Hindu majoritarian country. The targets of such an agenda are the minorities, which include religious, sexual and socially marginalised citizens of India whom they want to homogenise as per upper-caste Hindu norms. This needs to be challenged with robustness. We have therefore proposed a UCC that is progressive, forward thinking and creative. It looks at the wonderful possibilities that exist in such an idea."  
Magsaysay Award winners, TM Krishna, Bezwada Wilson and lawyer Dushyant met the Chairman of the Law Commission on Wednesday to submit a draft proposal to him for his perusal.This draft, defines marriage as "a legal union" between straight and gay couples. On many matters, like divorce, it aims to provide perfect equality between both partners, irrespective of gender.  
"I have been grappling with the question of personal laws of various religions, and the need for an UCC which is not only uniform but more importantly progressive. Inequities caused by one set of laws should not be replaced by inequities and discrimination of another type in the garb of UCC. The group came together on that fundamental premise," said Dushyant who drafted the proposal.  
If brought into force, Triple Talaq, unequal rights of men and women to parental property, polygamy, and unequal privileges like the Hindu Undivided Family (HUF), which allows for special tax concessions to Hindus would go.  
"We need a UCC that rejoices in humanity, a law that attempts to equalise the inequalities inherent in our society, a code that celebrates and protects every individual, their rights, faiths, sexualities and choices. This draft is such an attempt, which is open to discussion and debate," Krishna added.  
Article 44 of the Constitution (Directive Principle of State Policy) states that 'The State shall endeavour to secure for citizens a uniform civil code throughout the territory of India'. UCC has been an article of faith with the ruling BJP and a core issue with them since the 1980s, ever since the Congress government under Rajiv Gandhi was seen to have sided with the Muslim orthodoxy on the question of maintenance given to divorced women and reversed the Supreme Court order in the Shah Bano case in 1987.